General Motors Diesel Division F59PH diesel locomotive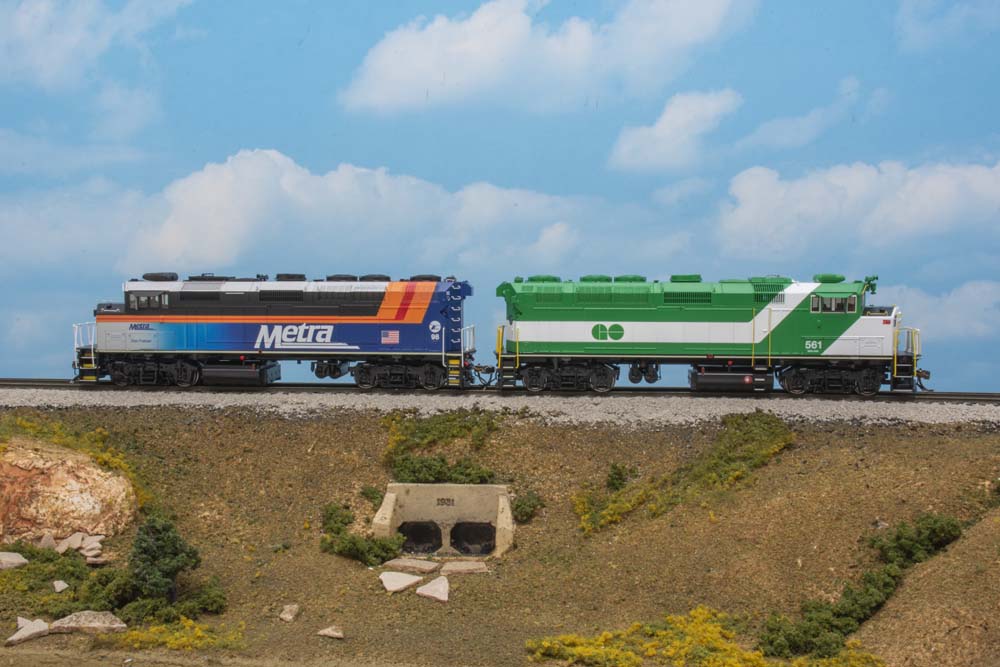 Scale: HO (1:87.1)
Price: Direct-current model, $225; with dual-mode ESU LokSound sound decoder, $335
Era: 1988 to present (varies depending on scheme)
Manufacturer: Rapido Trains Inc., 500 Alden Road, Unit 21, Markham, Ontario L3R 5H5 Canada, 905-474-3314, rapidotrains.com
General Motors Diesel Division F59PH diesel locomotive features:
American units have functioning red marker lights
Assorted underbody details (traction motor cables, piping, and separately applied parts)
Die-cast metal chassis
ESU LokSound decoder (sound-equipped models only)
Etched-metal grills
Full cab interior
Metal end handrails with plastic stanchions
Operating headlights, rear lights, ditch lights, and full tri-color class lights if applicable
Available now
Paint schemes: GO Transit (as-delivered scheme in eight road numbers, with angled side herald in one number), Metra, Metrolink (as-delivered, teal stripe, and ribbon schemes), Trinity Rail Express, AMT (Montreal), and ex-GO Transit lease (unnumbered). Three numbers per scheme unless noted.
Company information: Rapido Trains Inc. manufactures locomotives, freight cars, passenger cars, and vehicles in N and HO scales. The company was founded by Jason Shron and Sidura Ludwig in 2003.
News & Products is a regular feature of Trains.com for model railroad operators and builders to get the latest information about locomotives, freight cars, passenger cars, tools, track, and more. Model railroad product news may include HO, N, O, S, and Z scales. Product release dates and prices will vary according to each manufacturer.
If you are a manufacturer and have new product releases, please email Senior Editor Cody Grivno at cgrivno@kalmbach.com for more information. Click the following link to view more News & Products.