General Electric C30-7 diesel locomotive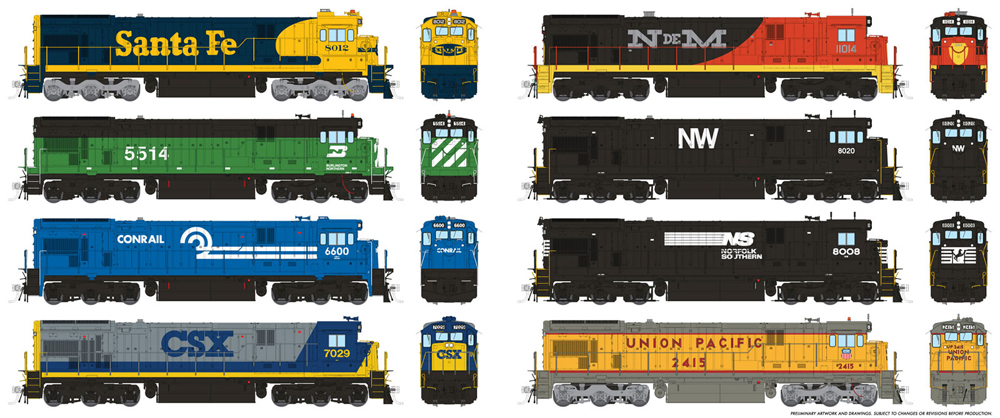 Scale: HO (1:87.1)
Price: Direct-current model, $239.95; with dual-mode ESU LokSound V5 sound decoder, $349.95
Era: September 1976 to present (varies depending on paint scheme)
Manufacturer: Rapido Trains Inc., 500 Alden Road, Unit 21, Markham, Ontario L3R 5H5 Canada, 905-474-3314, rapidotrains.com
General Electric C30-7 features:
Adirondack or Rockwell trucks as appropriate
Five-pole motor with dual flywheels
Heavy, die-cast metal weight
High or low headlights as appropriate
New traction motor casings details
Operating rooftop beacons and class lights, where applicable
Separate grab irons and handrails
Underbody piping and conduit
Release date to be announced
Road names: Atchison, Topeka & Santa Fe (blue and yellow warbonnet); Burlington Northern (Cascade Green and black); Conrail (blue with "can opener" herald); CSX (yellow, blue, and gray [YN2] scheme); National Railways of Mexico (orange, green, and yellow); Norfolk & Western (black); Norfolk Southern (black); and Union Pacific (Armour Yellow and Harbor Mist Gray with road name and number on long hood). Four road numbers per paint scheme.
News & Products is a regular feature of Trains.com for model railroad operators and builders to get the latest information about locomotives, freight cars, passenger cars, tools, track, and more. Model railroad product news may include HO, N, O, S, and Z scales. Product release dates and prices will vary according to each manufacturer.
If you are a manufacturer and have new product releases, please email Senior Editor Cody Grivno at cgrivno@kalmbach.com for more information. Click the following link to view more News & Products.