45-foot logging flatcar
Scale: N (1:160)
Price: $29.95
Era: 1942 to 1978+ (varies depending on paint scheme)
Manufacturer: Atlas Model Railroad Co., 378 Florence Ave., Hillside, NJ 07205, 908-687-0880, shop.atlasrr.com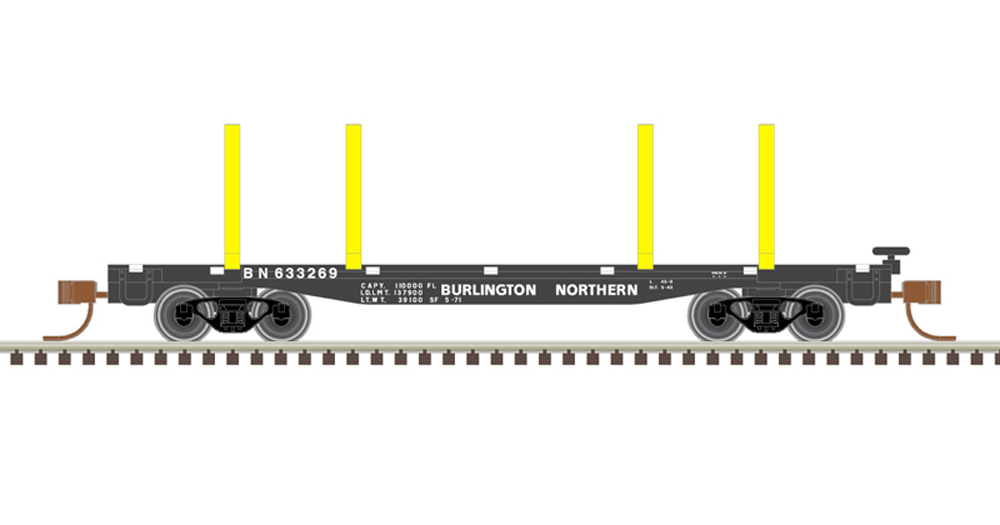 45-foot logging flatcar features:
Separate, factory-applied brake wheel
Solid-bearing trucks
Release date: Scheduled for release in second quarter 2023
New road numbers: Burlington Northern (black and yellow), British Columbia Ry. (fictional green scheme), Great Northern (Big Sky Blue), Milwaukee Road (brown), and Northern Pacific (black). New paint schemes: Minnesota, Dakota & Western (fictional green-and-white scheme); Ontario Northland (fictional blue-and-yellow scheme); and Weyerhauser (brown and white). Three numbers per scheme.
News & Products is a regular feature of Trains.com for model railroad operators and builders to get the latest information about locomotives, freight cars, passenger cars, tools, track, and more. Model railroad product news may include HO, N, O, S, and Z scales. Product release dates and prices will vary according to each manufacturer.
If you are a manufacturer and have new product releases, please email Senior Editor Cody Grivno at cgrivno@kalmbach.com for more information.