Amtrak Rohr Turboliner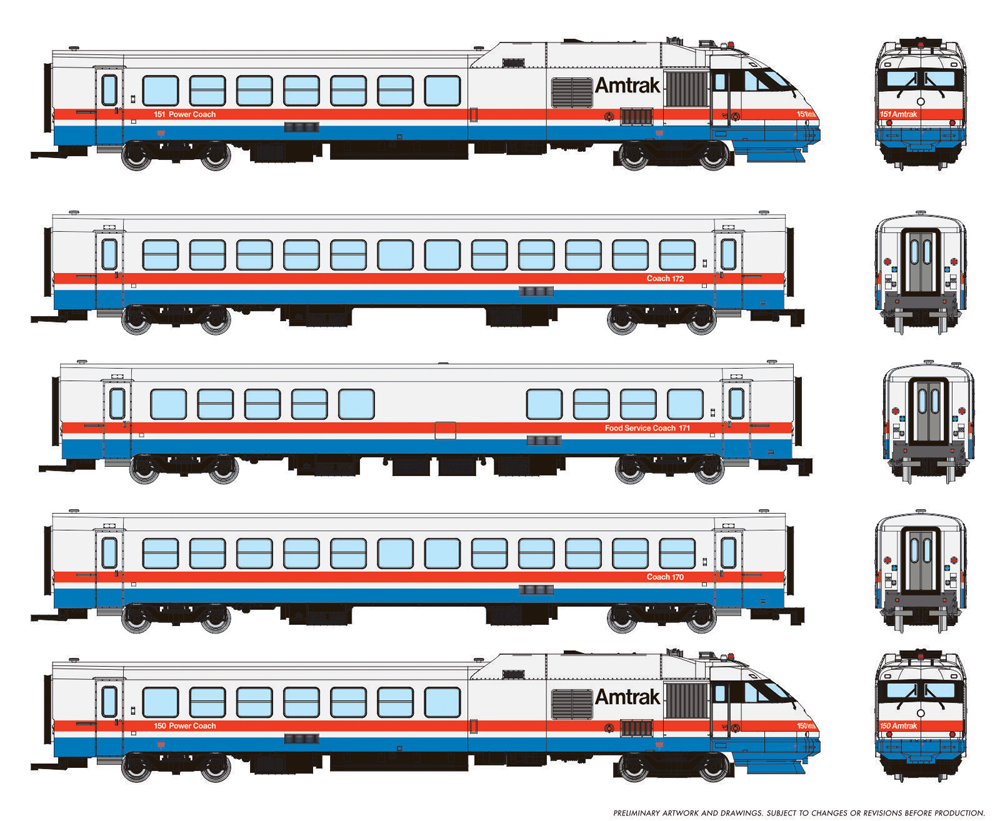 Scale: N (1:160)
Price: Five-car set (direct-current model, $449.95; with dual-mode ESU sound decoder, $679.95). Single car, $64.95
Era: 1976 to 2004 (varies depending on paint scheme)
Manufacturer: Rapido Trains Inc., 500 Alden Road, Unit 21, Markham, Ontario L3R 5H5 Canada, 905-474-3314, rapidotrains.com
Amtrak Rohr Turboliner features:
All-wheel electrical pickup (including coaches)
Both power cars have drive systems
Digital Command Control models have ESU sound decoder in each power car
Illuminated interior
Individual add-on cars sold separately
Interior details
Separate, factory-installed grab irons
Tinted window glazing
Trucks with third-rail shoes
Working headlights, marker lights, and cab-mounted strobe lights
Release date to be announced
Road names: Amtrak (Phase 3 [early and late] and phase 5 [models in phase 5 scheme have an RTL-I body style])
News & Products is a regular feature of Trains.com for model railroad operators and builders to get the latest information about locomotives, freight cars, passenger cars, tools, track, and more. Model railroad product news may include HO, N, O, S, and Z scales. Product release dates and prices will vary according to each manufacturer.
If you are a manufacturer and have new product releases, please email Senior Editor Cody Grivno at cgrivno@kalmbach.com for more information. Click the following link to view more News & Products.