40-foot American Car & Foundry boxcar
Scale: HO (1:87.1)
Price: $31.98 (undecorated, $29.98)
Era: 1960s to 1980s
Manufacturer: Wm. K. Walthers Inc., 5601 W. Florist Ave., Milwaukee, WI 53218; 414-527-0770; walthers.com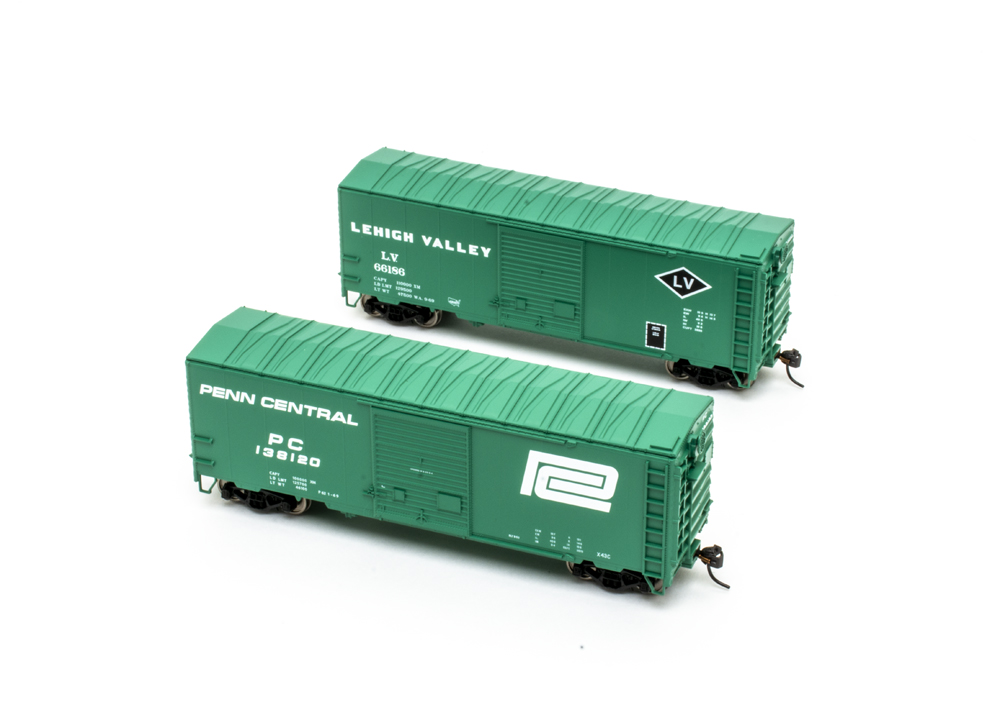 40-foot American Car & Foundry boxcar features:
Injection-molded plastic 10-panel body
Tall ladders on the B (brake wheel) end
Short ladders on the A end
8-foot Youngstown doors
Late Stanray 4/4 Dreadnaught ends
Stanray diagonal-panel roof without running boards or mounts and molded corner grab iron on B end
33" turned metal RP-25 contour wheelsets
Proto-Max couplers
Release date: Available now
Road names: Lehigh Valley (United States Railway Equipment Green with black diamond herald), Penn Central (Deepwater Green with "worm" herald), Erie Lackawanna (brown with white lettering), Green Bay & Western (yellow with black lettering), Illinois Central (orange with pre-merger "split rail" herald, "Mainline of Mid-America" slogan, and DF2 stencil), Pennsylvania RR (brown with keystone herald and X46C class stencil), Reading Co. (green with yellow lettering), and Southern Ry. (brown with white lettering and "Southern Serves the South" slogan). Three road numbers per scheme. Undecorated model also available.
News & Products is a regular feature of Trains.com for model railroad operators and builders to get the latest information about locomotives, freight cars, passenger cars, tools, track, and more. Model railroad product news may include HO, N, O, S, and Z scales. Product release dates and prices will vary according to each manufacturer.
If you are a manufacturer and have new product releases, please email Senior Editor Cody Grivno at cgrivno@kalmbach.com for more information.