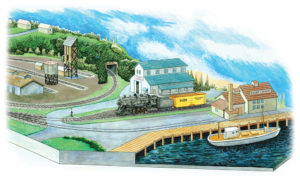 N scale model railroads are often small layouts based on 4 x 8-foot sheets of plywood, for obvious reasons. A flat tabletop is a lot easier to build than L-girder benchwork, and almost any home has room for a 4 x 8 table at one side of a bedroom or basement.
Great things have been done on a single sheet of plywood. However, that shape does impose certain limitations. Cutting a sheet of plywood into two or three pieces opens up interesting possibilities.
The Housatonic Valley Railway
For this N scale track plan, one straight and one S-shaped cut into the standard plywood sheet yields three long pieces of plywood that assemble into an 8 x 9-foot, U-shaped, walk-in layout. Using 9-1/2″ and 11″ curves lets us plan loops at the end of the two peninsulas for a basic dog bone design. Setting the railroad in the rolling terrain of New England gives us a rationale to conceal the return track, and even a couple of staging tracks, under forested hills along the outer edges of the layout. (If you build this layout along the walls, be sure to make your hills removable for access.)
Rather than attaching the track and roadbed directly to the plywood, this plan calls for a layer of rigid extruded foam insulation on top of the plywood. The foam can then be cut away to model water features below the level of the track, like the Housatonic River and the docks at Eastport.
This design is for a steam-era road linking an industrial seaport to an inland agricultural town. Using the hidden track, you can run the layout as a continuous loop, or as a point-to-point road with the staging representing outside connections at both ends.
A cutoff connecting to a section of track exposed between two tunnels stands in for an interchange track with a second railroad. This track lets the home road ship in or out any kind of cars desired. The cutoff can also be used as a reversing loop to turn a consist.
Industries on the Housatonic Valley help to establish a sense of place. The seaport in Eastport features a fishing boat docked at a cannery, a warehouse, and a team track. A linen mill, a gravel quarry, an iron foundry, and a creamery represent industries common to the area, while autumn foliage, Cape Cod-style houses, and a covered bridge over the tracks near Middleboro evoke well-known New England sights.
One corner of the layout includes another common New England landmark, a small hydroelectric dam. The trick here is that the upper reservoir's water level is actually above the hidden track. The easiest way to model this water would be with commercial plastic water sheet. Just be sure to paint the bottom or back it with opaque material, so your guests don't see trains moving through Davy Jones' Locker!
From the article "Three track plans for one sheet of plywood" from the August 2008 Model Railroader.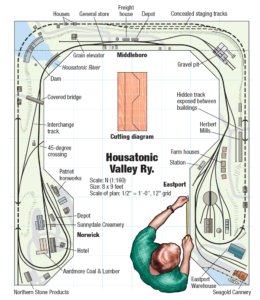 Click here for a PDF version of the track plan.
Track plan at a glance
Name: Housatonic Valley Ry.
Scale: N (1:160)
Size: 8 x 9 feet
Prototype: freelanced
Locale: New England
Era: 1930s
Style: walk-in
Mainline run: 43 feet
Minimum radius: 9.5″
Minimum turnout: no. 5
Maximum grade: none
Suggested structures
Fishing boat: Sea Port Model Works H114N 83-foot sardine carrier
Seagold Cannery: GC Laser 507 Brennon Seed Co.
Eastport Warehouse: American Model Builders 604 transfer building
Herbert Mills: Wm. K. Walthers Modulars sets 933-3295 and 933-3283
Gravel tipple: Wm. K. Walthers 933-3241 Glacier Gravel Co.
Covered bridge: GC Laser 418
Patriot Ironworks: Model Power 1546 Holland Iron & Steel, 1573 National Casket, and 2608 General Electric Co.
Aardmore Coal & Lumber: Branchline Trains 893 Valley Fuel & Supply