Most recent ready-to-run locomotives use acetal (sometimes called 'slippery' or 'engineering') plastic handrails. These handrails feature a scale profile and fine detail, but they're also prone to snapping. Traditional liquid plastic cement and cyanoacrylate adhesive will not bond acetal plastic, but Loctite's plastics bonding system will.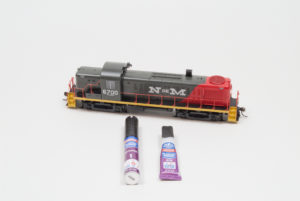 1. This two-part system makes it easy to fix broken handrails in less than two minutes. It is available at most hardware stores and home supply centers. The pack contains an activator/primer and glue. Here's how it works.
The handrails need to be clean and dry before making the repair. Once they are, apply the activator/primer to both sides of the break, and let it dry for 1 minute, 2.
Then sparingly apply the glue to one side of the break, 3.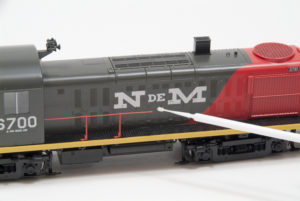 A toothpick or a superfine (white) Microbrush works well in applying the glue [Superfine Microbrushes (no. 84061) can be purchased from the Kalmbach Hobby Store website, KalmbachHobbyStore.com. – Ed.] Hold the joint together for 30 seconds, being careful not to get the glue on your fingers, 4.
According to the manufacturer's instructions, if you bond your fingers, apply cooking oil to the area and gently roll your fingers back and forth until they separate.