Welcome to the first of a three-part series where I'll show you the various modeling information you can learn from postcards. The cards in this series are all from Crookston, Minn., my hometown and the focus of my modeling research. Similar postcards can be found for most communities.
Online auction websites like eBay are a great starting point for finding postcards. A couple of other websites I like to search, both of which cater to postcard collectors, are HipPostcard and CardCow. If you know of other postcard resources, please share them in the comments field below.
The view from above. Today, satellite views and drones make it easy to get an aerial view of nearly any location in the world. In the days before those technologies, it took an enterprising person with a camera and access to an airplane or hot-air balloon to take pictures of a city from above.
Thankfully, some of those images wound up as postcards. One of the first cards I purchased as I began researching my hometown was an image made by Three Hawks Aero Foto in Minneapolis. If I were to guess, the east-facing view is from the 1920s or early 1930s, no later than 1934 as the auditorium had yet to be added to the high school. Thanks, Mrs. Wentzel, for jogging this old yearbook editor's memory!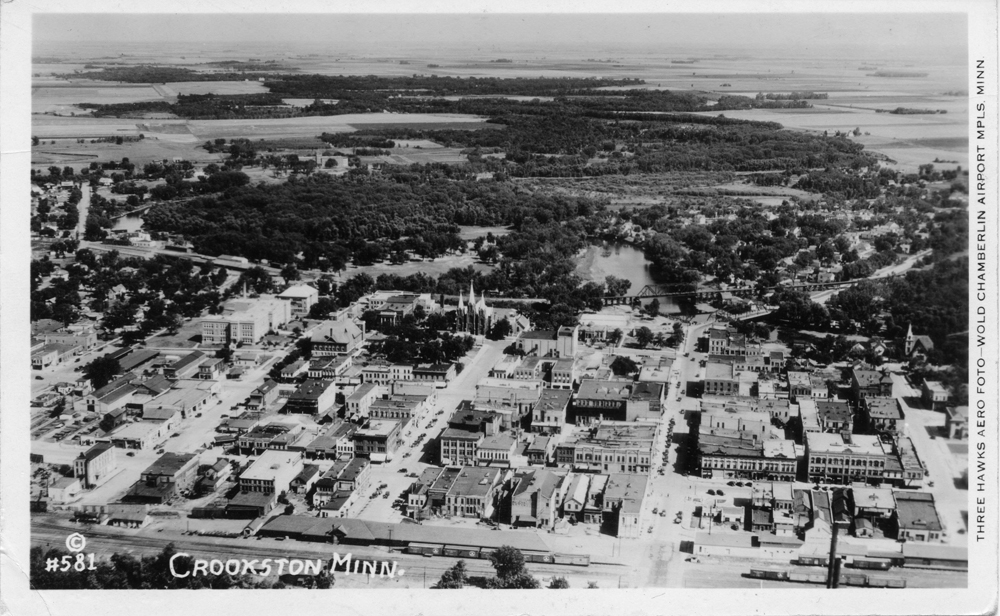 Though the postcard was made several decades before my modeling period, I like it because it shows the Northern Pacific (middle) and Great Northern (bottom edge) lines through downtown. The NP's large bridge over the Red Lake River and Robert Street is easy to see, as is the GN depot and freight house. Four GN double-sheathed boxcars and a Western Fruit Express wood refrigerator car are visible by the freight house. Across the street to the south (right), two GN boxcars are being loaded at the A.G. Sandberg Elevator, a feed mill and seed warehouse.
The Three Hawks Aero Foto card is an example of what collectors call a Real Photo Postcard, or RPPC. The image was printed on postcard paper. Since this is an actual photo, the details hold up well when the card is scanned or observed under magnification.
Looking west. A later addition to my collection was an aerial view looking west. The card has a postal cancellation dated August 25, 1952, but I would guess the image was made in the late 1940s. The card is of value to me because it shows the NP's depot and freight house and the few rail-served customers it had in town. The warehouse, oil, and gasoline tanks for Cities Service Oil Co. are visible, along with some coal sheds and the Central Lumber Co. warehouse. Parts of the GN line can be seen through the middle of the card. The large industry to the right of center is the Crookston Milling Co.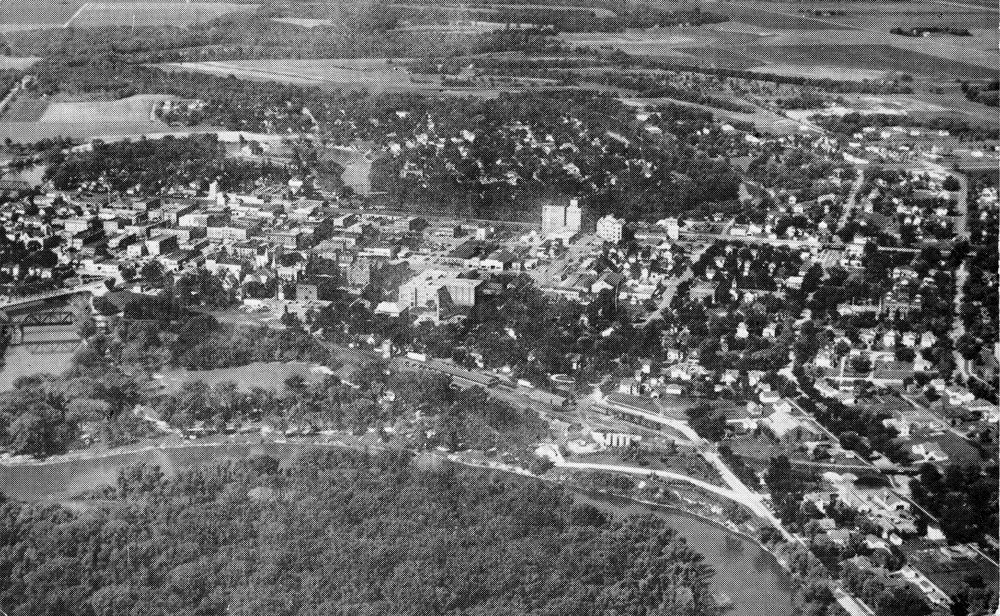 The unattributed card is an example of photo-lithography, which uses a series of dots to separate an image into light and dark areas. From a production standpoint, the process is cheaper than printing RPPCs. However, the details don't hold up as well. When viewed without magnification, I can see there are four freight cars across from the tanks by Cities Service Oil Co. When examined with a loupe, all that's visible are rough shapes and a bunch of dots.
Greetings from home. In the next installment, I'll take a look at cards showing town and country scenes. Town scenes are common postcard subjects, and they contain many useful nuggets of information that you can apply to your modeling.