Locomotives and freight cars in fresh paint
Locomotives and freight cars in fresh paint. Many modelers, myself included, enjoy accurately weathering locomotives and freight cars. I've written several articles on weathering for Model Railroader in my time with the magazine, including "How to weather with acrylics" in May 2016 and "How to weather a covered cement hopper" in November 2021.
Though soot-stained locomotives and grime-covered freight cars are commonplace, at some point every piece of railroad equipment is brand new. In some cases, locomotives and freight cars receive a fresh coat of paint. Regardless the situation, don't let the shiny paint fool you. There's still weathering to be done.
Locomotives and freight cars in fresh paint: From C&NW to CN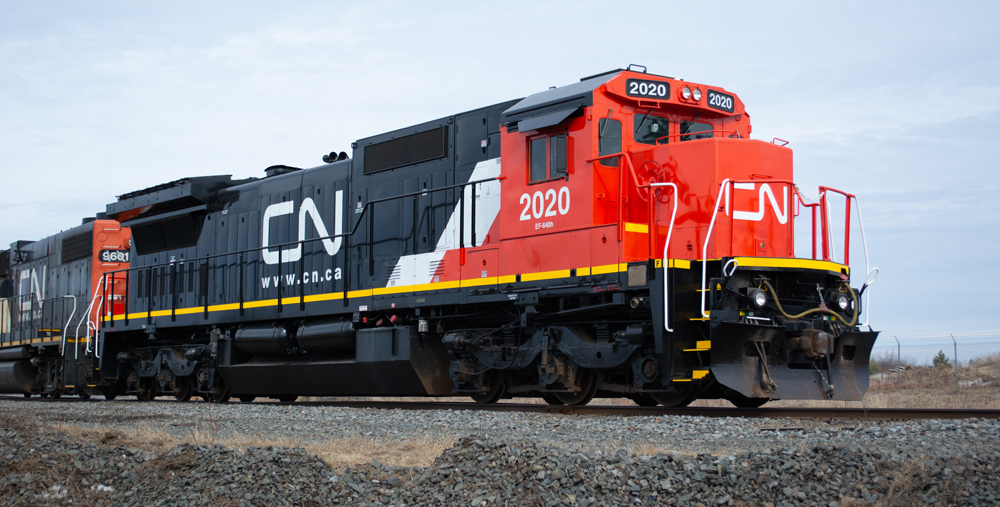 Whether brand new or in fresh paint, it's hard to pass up a chance to photograph a clean locomotive. Even though it was overcast in Prentice, Wis., on March 15, 2015, I stopped to get photos of recently repainted Canadian National General Electric C40-8 no. 2020.
The 2020 was built as Chicago & North Western no. 8521 in July 1989. The unit became part of the Union Pacific fleet after the merger in 1995. The diesel was renumbered UP 9043 in January 2000. Eight years later the six-axle road locomotive was retired by UP. It then joined the Citicorp Railmark lease fleet, retaining its UP paint and number. In April 2013 the locomotive was acquired by Canadian National and renumbered 2020.
I couldn't find an exact repaint date for the diesel. Based on photos it was either December 2014 or January 2015. When I caught up with the locomotive in March 2015, the paint was still relatively clean. There was wheel spray on the snow plow, pilots, and fuel tank ends. The truck sideframes were dusty and the fuel tank had stains under the filler neck. The wheels and couplers were a rusty, dark brown color, suggesting they weren't replaced while the diesel was in the shops.
Locomotives and freight cars in fresh paint: Factory new covered hopper
My route to and from the Kalmbach Media offices conveniently allows me to railfan the Canadian National, Canadian Pacific, and Union Pacific. On my way home from work on a sunny, mild March 18, 2018, I caught a CN train setting out freight cars in Pewaukee, Wis. In the cut of well-traveled freight cars were 11 three-bay covered hoppers lettered for The Andersons. The lease cars, built by National Steel Car in Hamilton, Ontario, Canada, were stenciled "BLT-03-18". The shiny gray cars were just days old, perhaps on their first trip after leaving the factory. I couldn't spot any dirt or grime on the sides, ends, or underbody. Even the Barber S-2-HD-9C truck sideframes were neatly painted black.
However, take a close look at the wheels and couplers. These items are typically not painted on freight cars or locomotives. The fresh rust on the wheel faces stands out behind the black sideframes. Compare the covered hopper's wheels to the one visible on the bulkhead flatcar at left, which has weathered to a dark rust color. The lower-shelf couplers on the covered hopper are similarly a light rust color.
Locomotives and freight cars in fresh paint: A repainted boxcar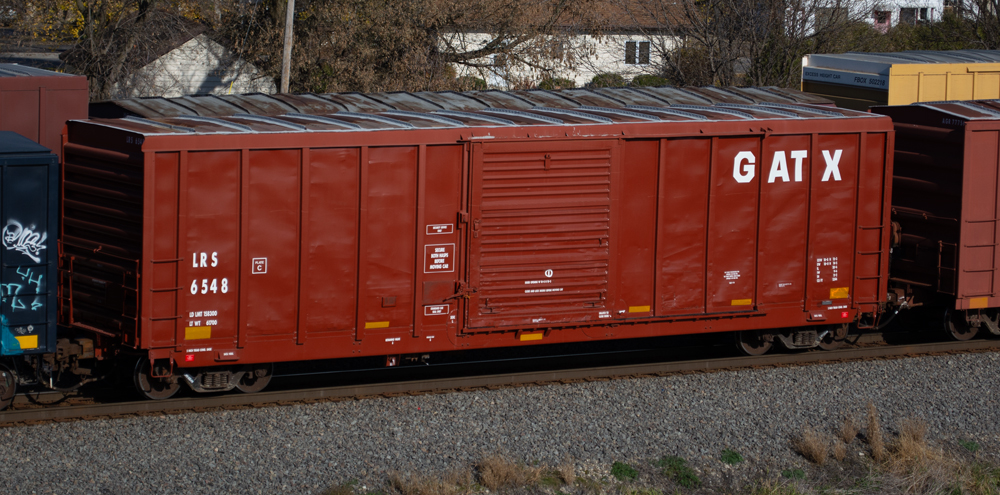 When I spotted Laurinburg & Southern Pullman-Standard 5,344-cubic-foot capacity boxcar no. 6548 in a Canadian National freight, I immediately took a picture. The car was in fresh paint and graffiti free, a combination you don't often find in today's railroad scene. But don't let that fresh coat of Oxide Red fool you. The boxcar was nearly 40 years old when I photographed it in November 2018 at Ackerville, Wis.
When you take a close look at the body panels, an assortment of dings and dents from years of loading and unloading are visible. Thanks to my vantage point on a hillside, you can also see that the unpainted metal roof has started to rust. The light gray around the perimeter of the roof and on the seams is sealant.
Locomotives and freight cars in fresh paint: On your layout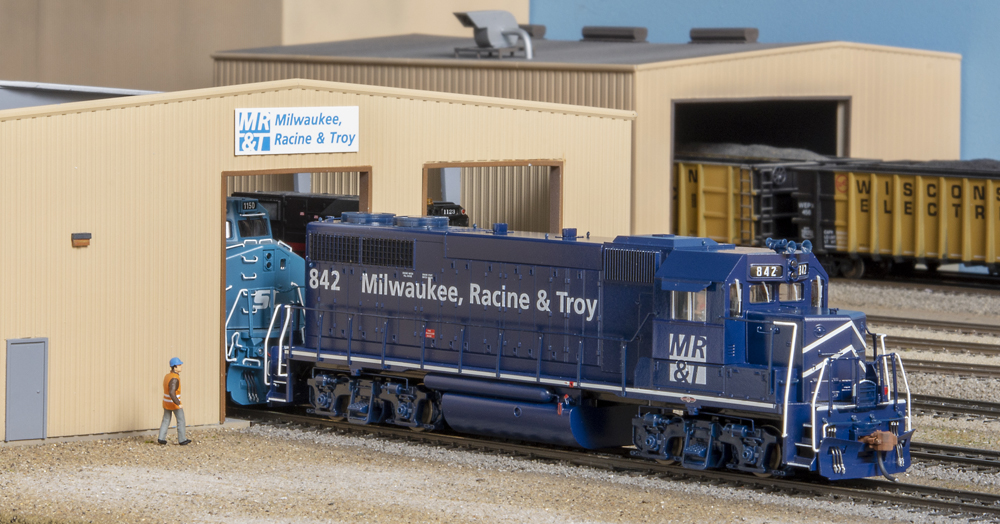 Do you want model some clean equipment for your layout? Check out my article "How to model a locomotive in fresh paint" in the November 2018 issue of Model Railroader. In the story, I show how to give the locomotive a glossy (but not too glossy) finish, weather the wheelsets, simulate rust on the couplers, and more.
Having the 842 in fresh paint also adds to the MR&T's story. It suggests that the older blue-and-white diesels, dressed in a paint scheme used by the railroad from 1989 to 2004, are in the process of being repainted. The clean 842 happens to be the latest graduate from the railroad's paint shop. The shiny locomotive certainly does stand out, whether on its own or in a consist with weathered road locomotives.