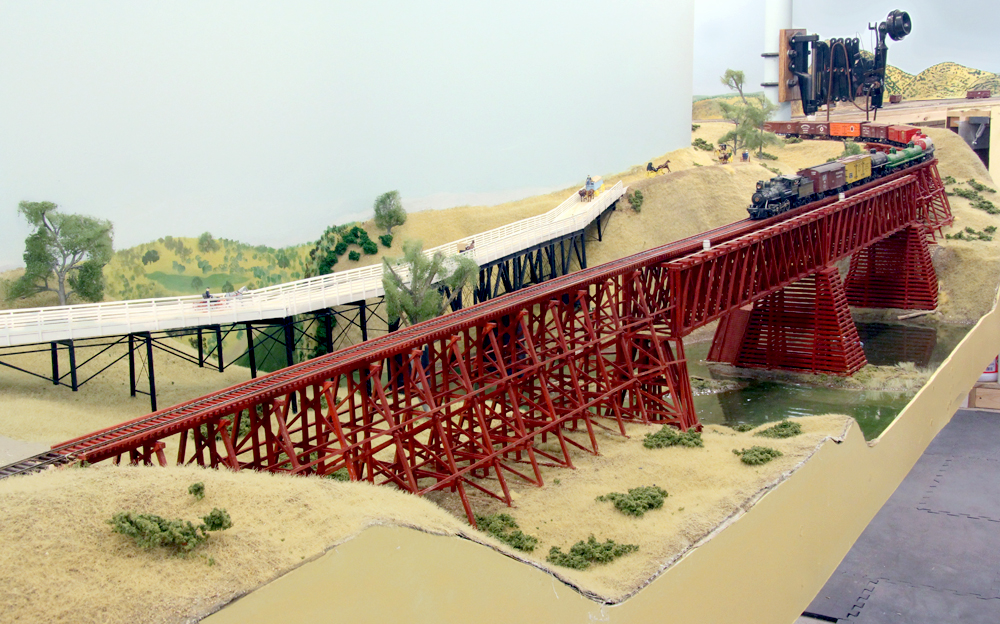 The Stanislaus River bridge was a signature scene on Don Ball's HO scale Stockton & Copperopolis layout. He scratchbuilt the structure following prototype photos and plans. The project was covered in the August 2016 MR article "Scratchbuild a wood trestle and truss bridge."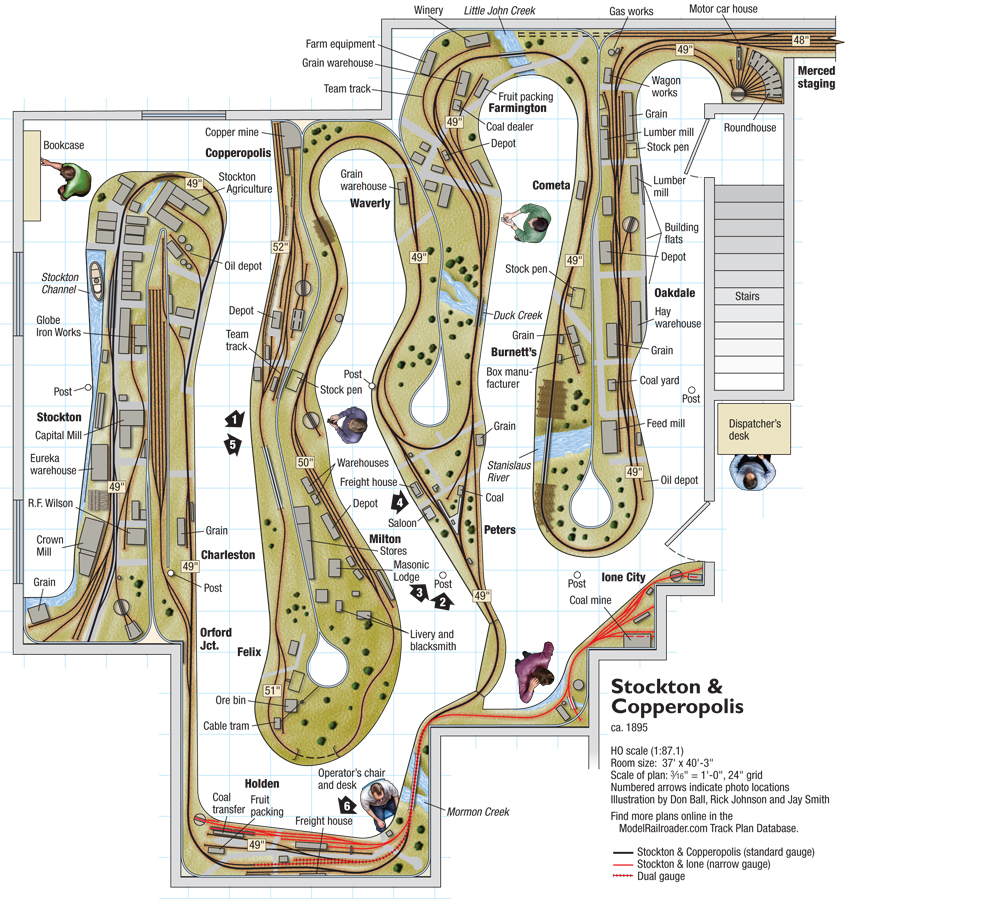 The track plan for Don's 37'-0" x 40'-3" HO scale Stockton & Copperopolis was published in Model Railroad Planning 2011. The model railroad, set in California in 1895, featured a 240-foot mainline run and Micro Engineering code 55 flextrack with handlaid turnouts.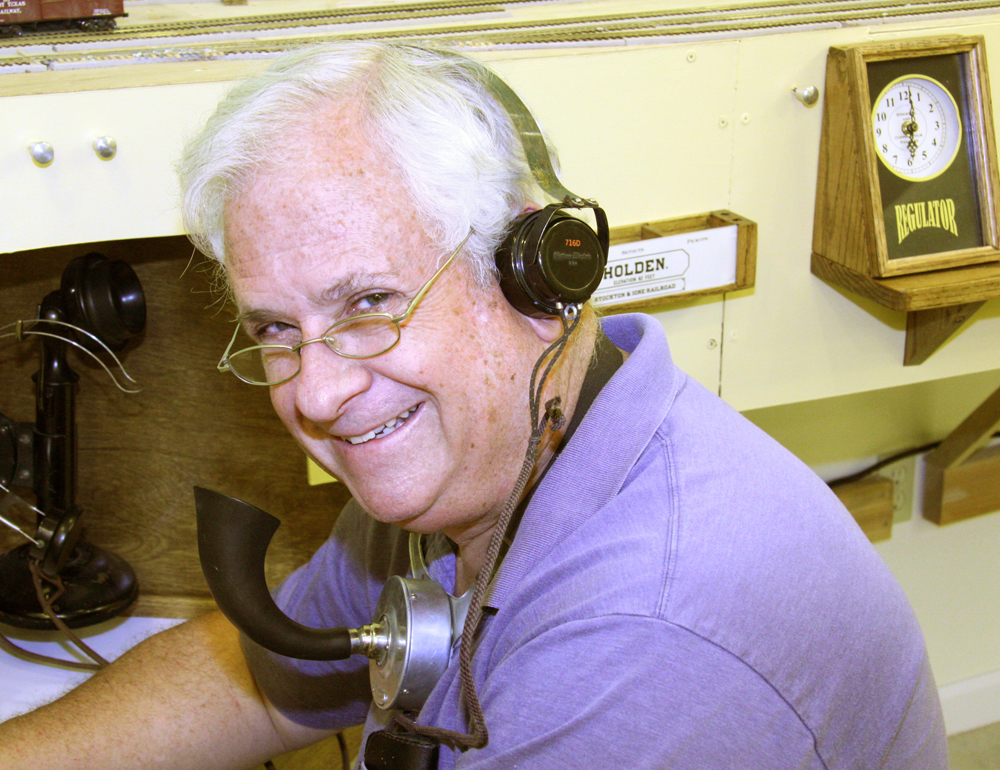 Don wrote "Building a model railroad telephone system" in the November 2015 issue of MR. In the story, Don explained how he combined vintage equipment and modern components to get a working system. Don, using a breastplate transmitter and headset, is shown copying orders at the operator's desk at Holden, Calif., on his HO scale Stockton & Copperopolis.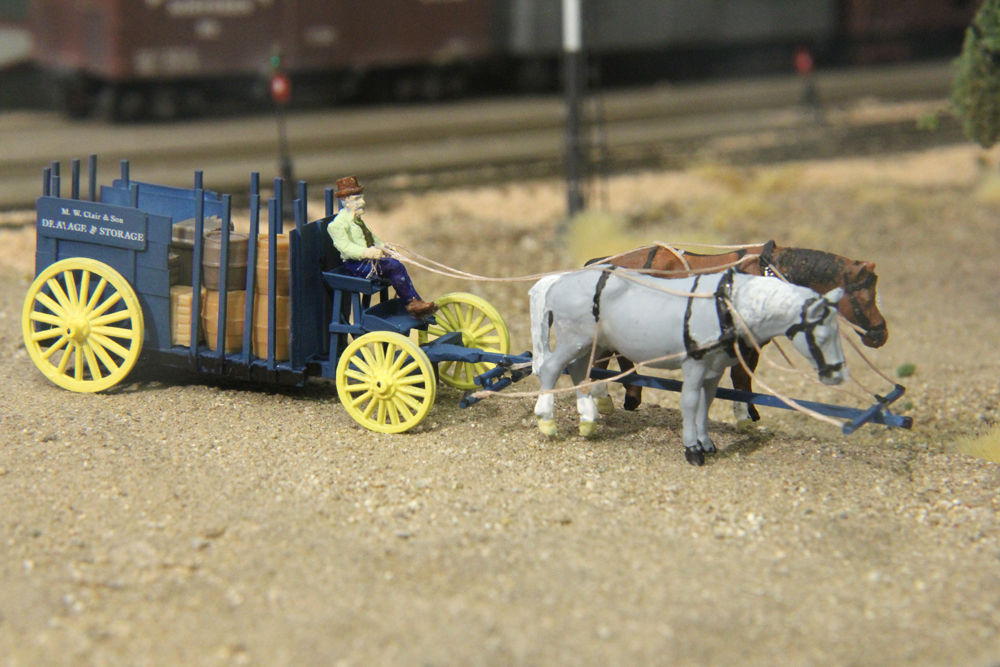 Horse-drawn wagons were the order of the day in 1895. Don's highly detailed models were the subject of the
July 2015
MR story "Model horses and wagons for a steam-era layout." Here we see an example of a dray wagon, designed to load heavy objects.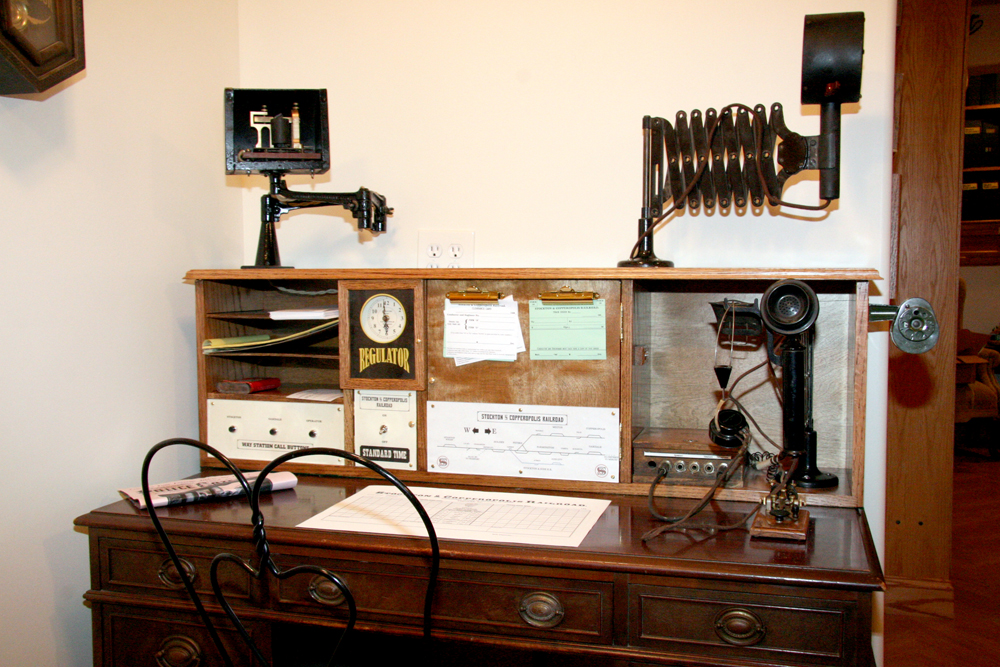 Don Ball reinforced the 1895 setting of his model railroad with a period-correct dispatcher's console. Features on the desk included a telephone connected to the dispatcher, a buzzer to call the dispatcher, a fast clock, a control system to operate the train order signals on the railroad, a form storage area, and a telegraph sound and key connected to the dispatcher. Learn more about the console in "Build a dispatcher and operator desks" in the
October 2017 issue
of Model Railroader.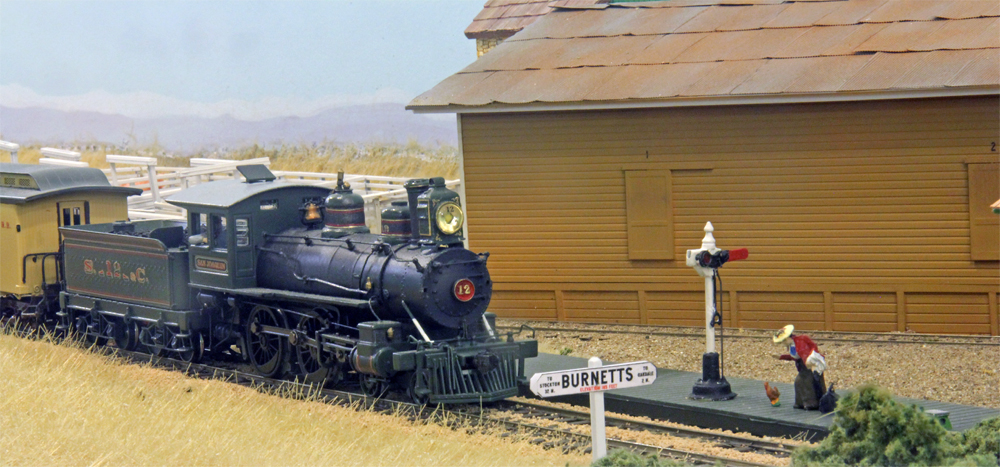 Don added interest to operating sessions for passenger crews by installing working signals for flag stops. After engaging the flag signal on the platform, a woman gathers her bags in preparation for boarding the train. Don shared how he scratchbuilt the detail in the
January 2018
MR article "A signal for flag stops."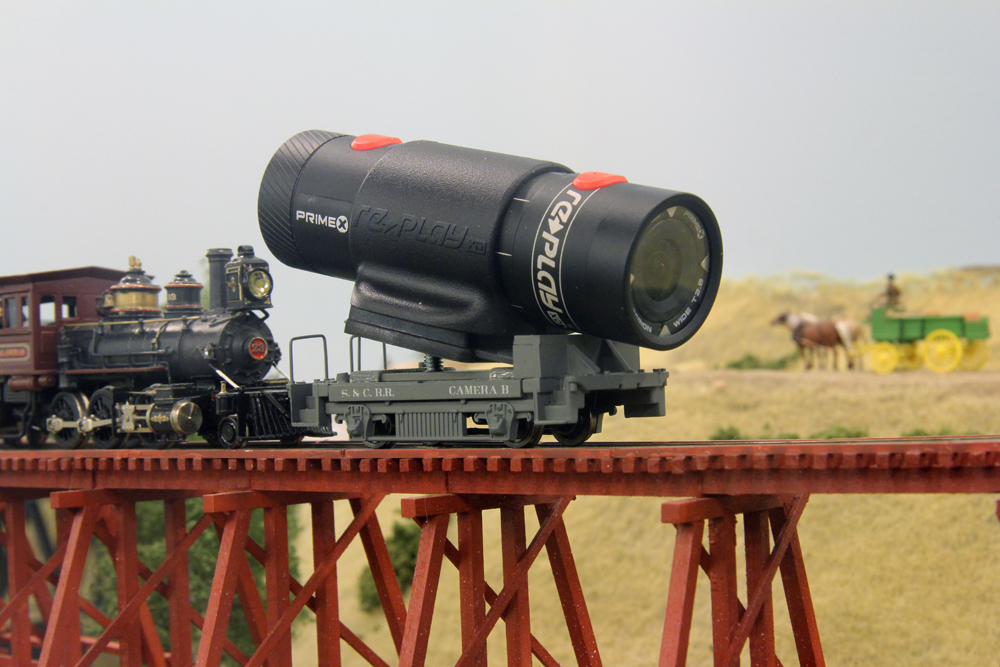 Don's layout may have been set in 1895, but he added a modern twist with Camera Car B. He made the car by modifying a Mantua four-wheel bobber caboose so it could carry a video camera. You can read about the project in "A camera car for the railroad" in the
February 2019
MR.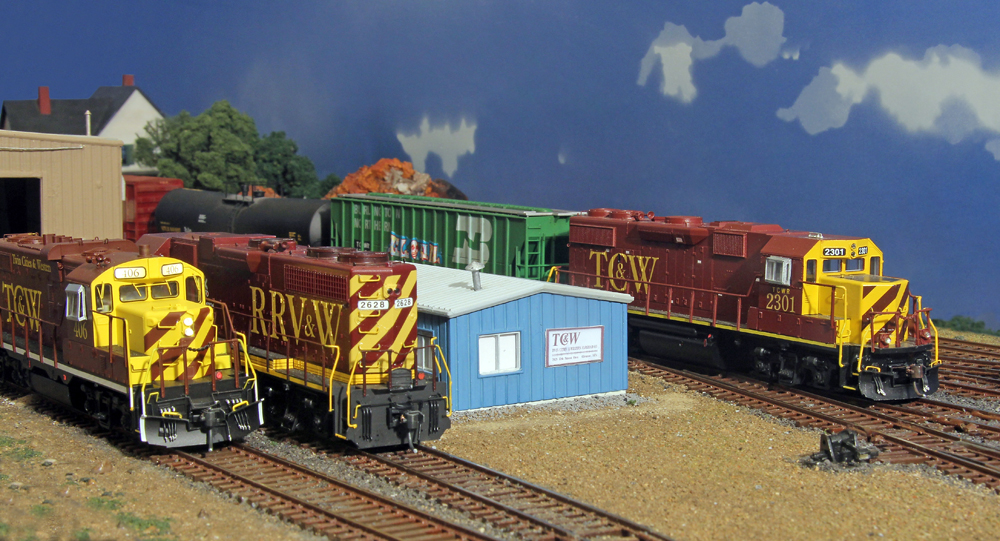 In addition to writing about his own modeling efforts, Don also penned features on other modelers. In his June 2019 article "Modern Minnesota short line," Don shared the story Alan Saatkamp's 11'-6" x 21'-0" HO scale Twin Cities & Western. In this scene, diesels from the Twin Cities & Western and sister railroad Red River Valley & Western are gathered in front of the enginehouse in Glencoe, Minn.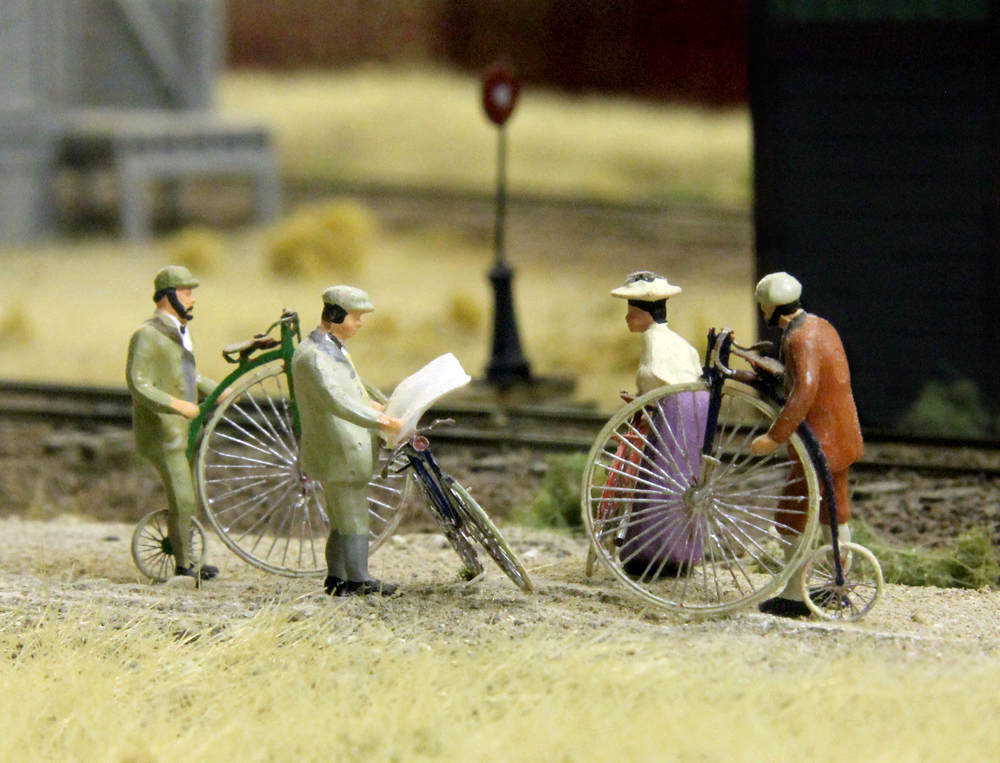 Though Don's HO scale Stockton & Copperopolis was large, he drew visitors into the layout with scenes like this one of a cycling club. Check out "Add interest with mini-scenes" in the
March 2020 issue
of Model Railroader for more information.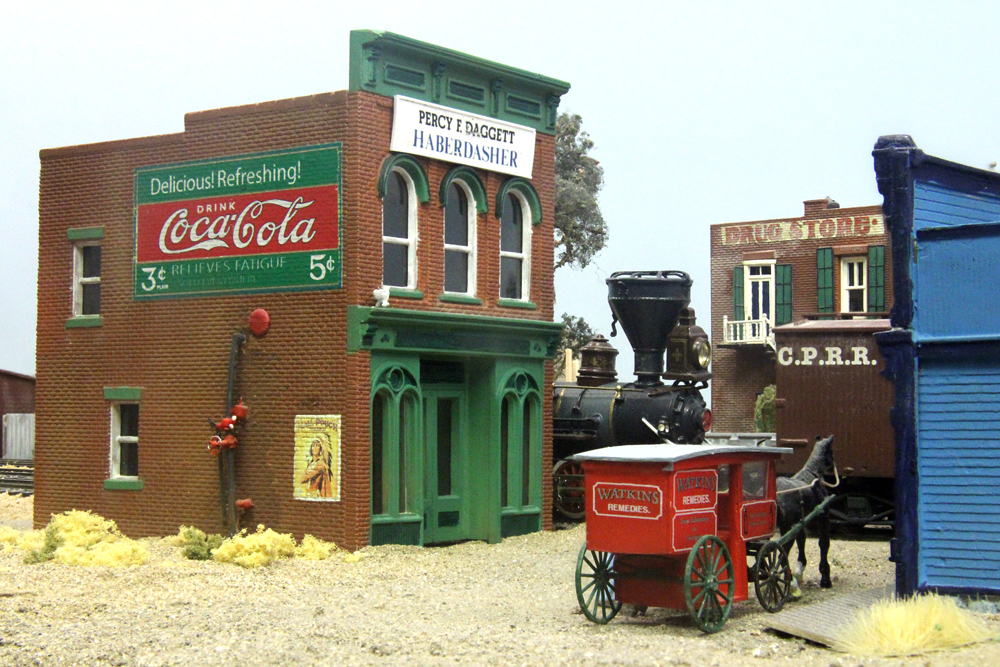 Don's final published article was "Add automatic sprinkler details to buildings" in the
May 2021 issue
of MR. In this photo, automatic sprinkler equipment can be seen on the building's exterior.
Don Ball model railroad images
Don Ball model railroad images: Don Ball, a contributor to Model Railroader and Model Railroad Planning magazines, died on January 21, 2022 at his home in Blue Springs, Mo. He was 73 years old. Through the pages of our magazines, Don shared his passion for modeling the 1890s. He wrote about his 11-1/2 x 12-foot Moraga Springs Northern in the 1995 and 2000 editions of Model Railroad Planning. The HO scale layout was inspired by the Sacramento Valley RR in California's Sierra foothills.
In Model Railroad Planning 2011, Don introduced his 37'0" x 40'-3" HO scale Stockton & Copperopolis. In the years following, Don penned more than a dozen articles for Model Railroader on both his modeling efforts and those of others.
In this photo gallery, we'll take a look at some of the images Don took for stories that appeared in MR and MRP, as well as the track plan for his Stockton & Copperopolis layout.
Send us your photos
Trackside Photos is a showcase for the work of Model Railroader readers. Send your photos (digital images 5 megapixels or larger) to: Model Railroader, Trackside Photos, P.O. Box 1612, Waukesha, WI 53187-1612; or upload them to fileupload.kalmbach.com/contribute. For our photo submission guidelines, contact Senior Associate Editor Steven Otte at sotte@kalmbach.com.