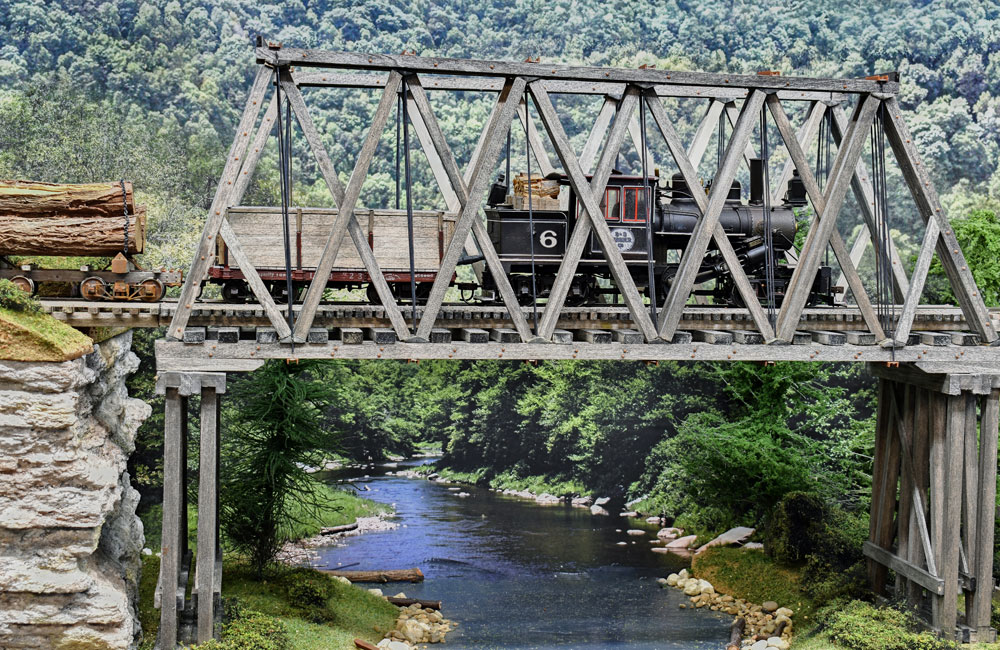 D&B Lumber Climax no. 6 crosses Eagle River on the lumber branch. Larry Burk of Holly, Mich., photographed the scene on his On30 layout. The scene is only 12" deep but seems deeper because of how Larry blended the foreground river into the photo backdrop, which is from Trackside Scenery. The locomotive is by Bachmann and the bridge was built from an S scale Hunterline kit.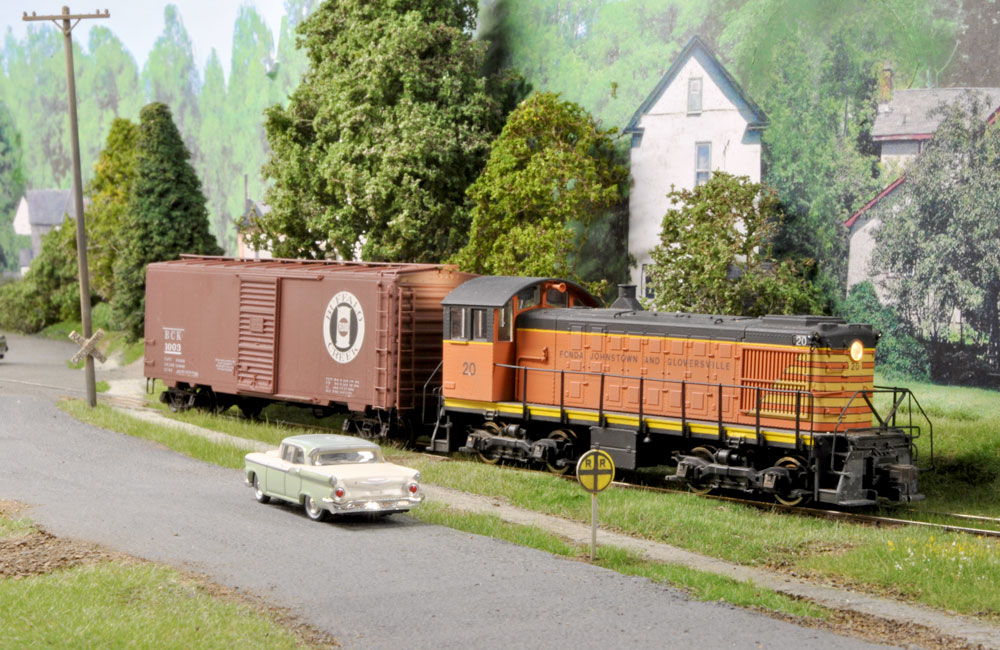 Fonda, Johnstown & Gloversville Alco S-2 no. 20 crosses West 10th Avenue in Broadalbin, N.Y., with a single boxcar for Broadalbin Feed in July 1958. The scene is part of Stephen Lamora's HO scale FJ&G layout. The locomotive is a custom-decorated Alco model; the boxcar is by Kadee. Johnathan Munster shot the photo.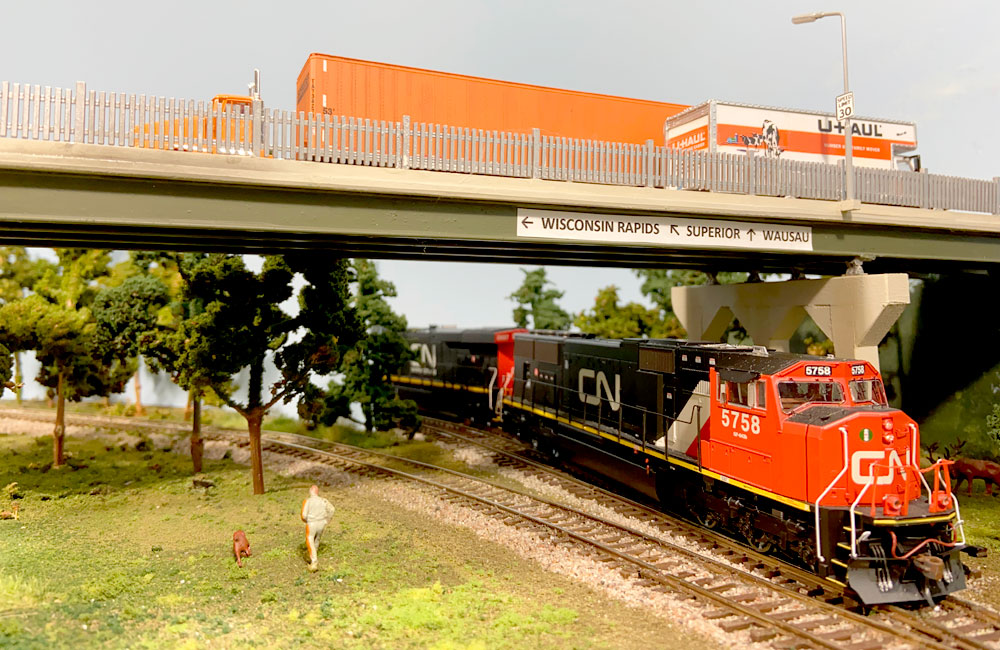 Canadian National SD75i no. 5758 leads train No. L588 back from Wausau into Stevens Point Yard. The action takes place on Alan Saatkamp's HO scale Wisconsin River Division. The locomotive is an Athearn Genesis model. Alan, of Normal, Ill., shot the photo.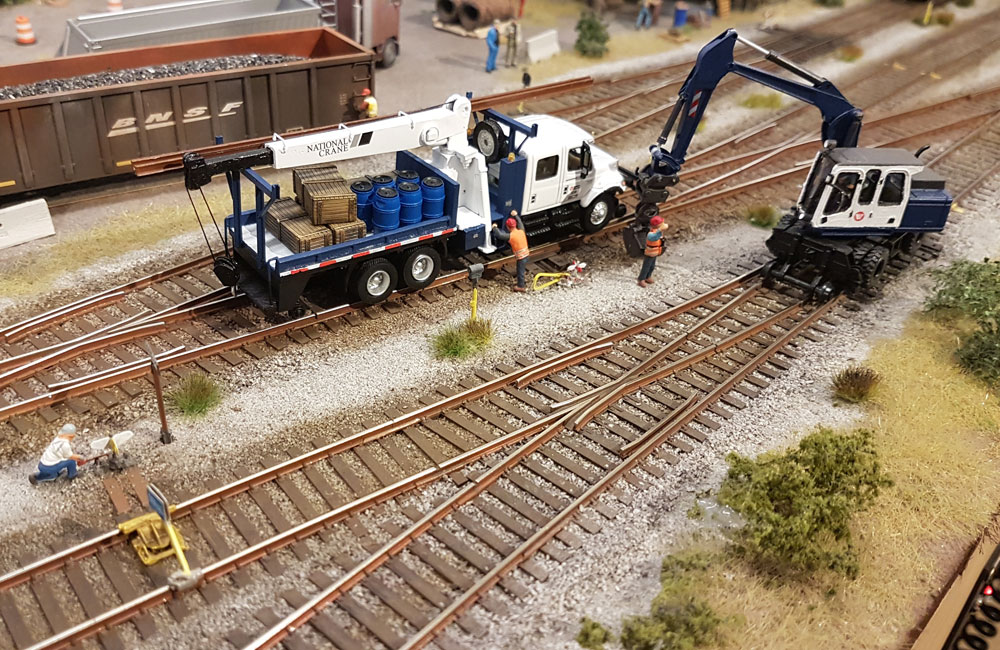 The track gang prepares for some maintenance work in the yard. Florian Rheinard of Bad Breisig, Germany, staged and photographed the scene on his Montana Rail Link-inspired HO scale shelf layout, which is set between 2010 and the present. The Hi-Rail truck, which is based on an MRL prototype, is custom-built from parts of two Walthers SceneMaster International trucks and parts from Custom Finishing Models. The excavator is a freelanced Kibri kit repainted for the MRL.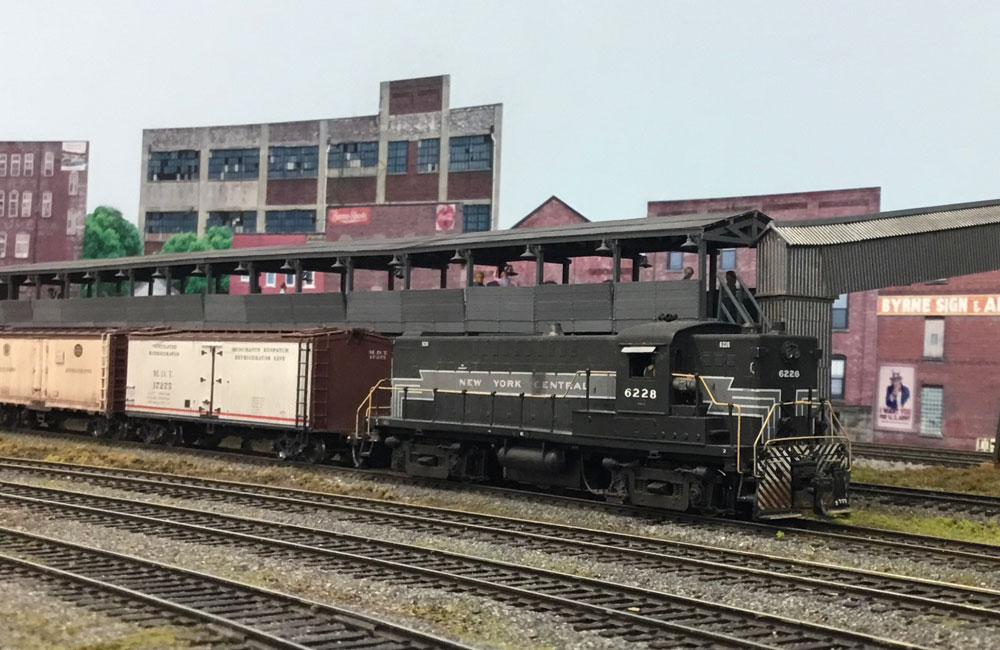 New York Central no. 6228, a Baldwin RS-12, shoves the last reefer cars up to the icing platform at East Buffalo Yard. Soon, it will tie onto NY2, the NYC's hotshot perishable train to New York City. Steve Lasher and Russ Weis built the HO scale Tichy Train Group ice dock and scratchbuilt the conveyor from the ice house over the main. Russ, from Louisville, Ky., shot the photo.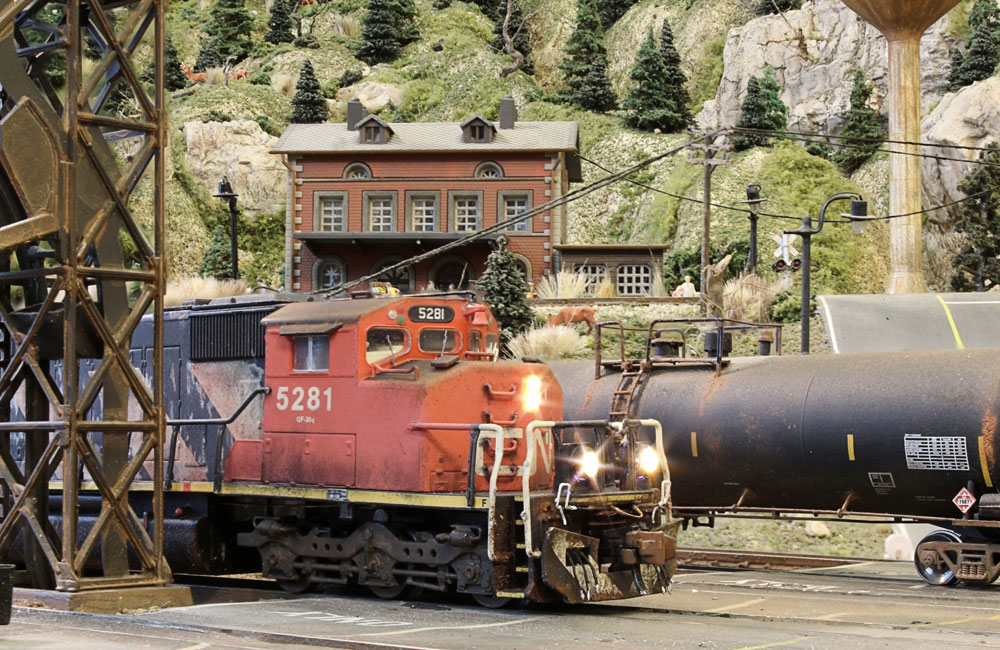 Canadian National no. 5281, an Electro-Motive Division SD40-2W, idles in a small transfer yard while waiting for its next assignment. John Collins of Hartland, Wis., staged and photographed the scene on his N scale layout, using Helicon Focus image-stacking software to improve the depth of field. The locomotive is an InterMountain Ry. model John superdetailed and weathered with oil paints, mineral spirits, powdered pastels, and clear coats. He also installed a Digital Command Control decoder and operational ditch lights.
Send us your photos
Trackside Photos is a showcase for the work of Model Railroader readers. Send your photos (digital images 5 megapixels or larger) to: Model Railroader, Trackside Photos, P.O. Box 1612, Waukesha, WI 53187-1612; or upload them to http://fileupload.kalmbach.com/contribute. For our photo submission guidelines, contact associate editor Steven Otte at sotte@mrmag.com.