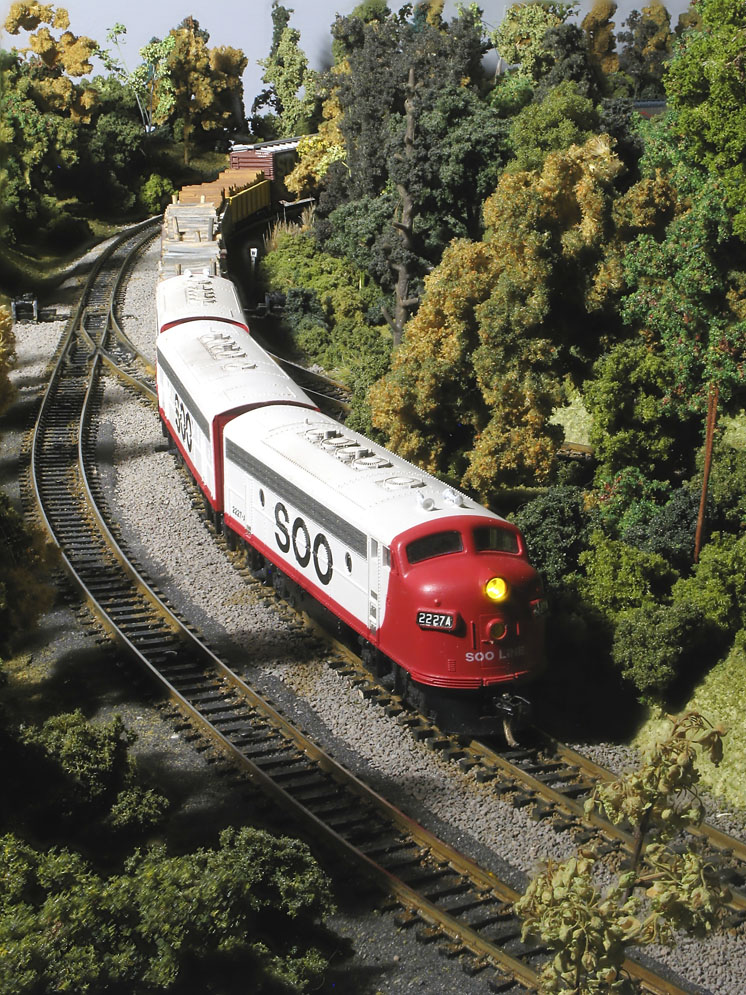 Steve Miazga's updated N scale Missabe Junction is featured in the September 2018 Model Railroader. Check out This first article about Steve's layout from the November 2013 Model Railroader.
Steve Miazga grew up less than two blocks from the Soo Line main in Rhinelander, Wis. As a kid, he saw the Soo's first Geeps and F units. As an adult in the 1980s, he remembers the Wisconsin Central's purchase of Soo Line's Lake Shore Transportation Division, and the parade of equipment lettered for the WC and its subsidiaries, including Fox River Valley RR, Green Bay & Western, and Algoma Central. There were also Duluth, Missabe & Iron Range ore trains in the mix. In 2001, the Canadian National bought the WC and the railroad landscape changed once again. This 40-year transformation provides the theme for Steve's freelanced Missabe Junction Ry. in N scale.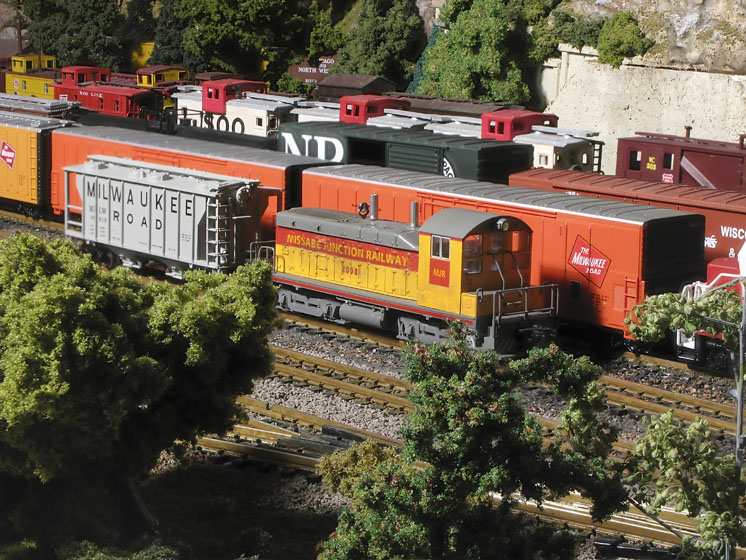 Getting started
Steve's journey into N scale model railroading began with a gift from his wife, Jenny, in the mid-1970s. Jenny wanted Steve to have a hobby other than making homemade wine, so she bought him an N scale tank engine, a few cars, and a circle of track. The couple lived in Toronto at the time, and one of Steve's co-workers introduced him to George's Trains, a popular local hobby shop. As luck would have it, the shop was close enough for lunch-break visits. Steve has been an avid N scaler ever since.
In 1976 the couple moved back to Steve's hometown of Rhinelander. By 1979, Steve started work on a double-deck N scale layout focusing on the Soo Line in the steam-to-diesel transition era. In October 2002, a new job in Milwaukee meant that Steve and his family had to move again. Although he had to tear down the old layout, he'd a learned a lot in 23 years. He put that knowledge and experience to good use building a new and improved N scale railroad.
Steve couldn't move into his new house for 6 weeks, so he stayed in Milwaukee during the week and made the 4-hour drive back to Rhinelander on the weekends. During the work week he stayed in a motel and spent his nights coming up with a list of features for his new layout. Armed with the measurements of his new basement, Steve drew his new layout using computer-aided-drafting (CAD) software.
The 14 x 18-foot Missabe Junction is a freestanding walk-in layout with staging along both sides. Several industries are spread out along one peninsula, while Northwoods scenery and a large lake dominate the other peninsula. The layout also features a large classification yard and an engine terminal with a turntable and roundhouse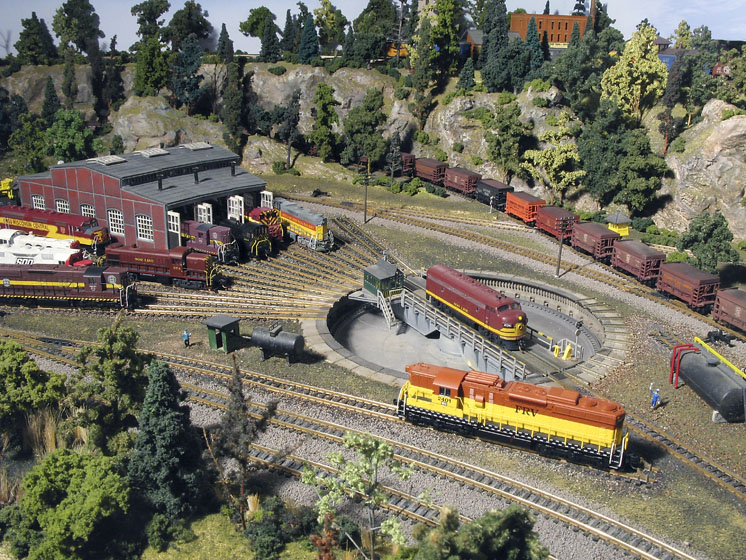 Benchwork, track, and DCC
Instead of using open-grid or L-girder benchwork, Steve uses trays made of 1 x 4 lumber that are supported on legs made of 2 x 4s. He also doesn't use any plywood for a benchwork tabletop. Instead, he layers two pieces of 2″ thick extruded-foam insulation board cut to fit into each tray.
Steve built the layout for relatively easy disassembly if he has to move again. The benchwork is sectional and all the pieces bolt together. The foam benchwork top is easier to cut than plywood.
For roadbed, Steve used Woodland Scenics Track Bed. He finds this foam material provides better noise dampening than cork.
Steve built up all the track grades using Woodland Scenics SubTerrain incline sets. Also made from foam, these sets make it easy to construct a consistent grade for straight or curved track.
All the track on the layout is Atlas code 80 flextrack and turnouts controlled by Caboose Industries ground throws. Steve weathered the track with Polly Scale Railroad Tie Brown acrylic paint and Mountain Model Craft Ballast Grime weathering powder (www.modeltrain.com). He also used thinned Polly Scale Oily Black on the ties and ballast between the rails.
Originally, Steve wired the layout for direct-current (DC) block control using Atlas Model Railroad Co. selectors. In 2007 he converted the layout to Digital Command Control (DCC) by installing a Digitrax Empire Builder system with two walkaround DCC throttles. He didn't disconnect the selectors, as he finds it useful to have the layout divided into separate power districts, especially when he needs to figure out where there's a short or other electrical problem.
The layout at a glance
Name: Missabe Junction Ry.
Scale: N (1:160)
Size: 14 x 18 feet
Prototype: Soo Line Lakeshore Division
Locale: northern Wisconsin and eastern Minnesota
Era: 1960 to 1990
Style: walk-in
Mainline run: 110 feet
Minimum radius: 15″ (main line), 11″ (sidings and yards)
Minimum turnout: no. 4
Maximum grade: 4 percent (Highland Hill)
Benchwork: 1 x 4 trays
Height: 44″ to 50 1⁄8″
Roadbed: Woodland Scenics Track-Bed
Track: code 80 flextrack
Scenery: extruded foam insulation board with Woodland Scenics SubTerrain for grades
Backdrop: painted 1⁄4″ plywood
Control: Digitrax DCC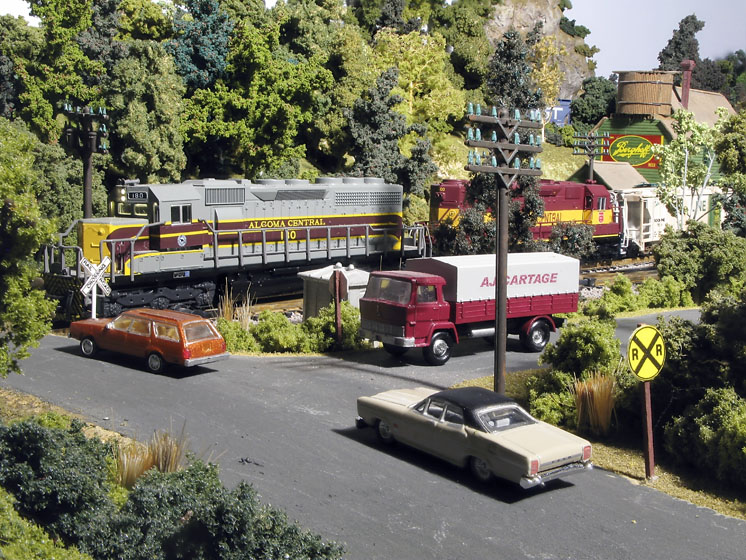 Scenery and structures
Steve carves valleys out of the foam scenery base and builds up hills using layers of foam insulation board attached with construction adhesive. He then covers the entire scenery base with an even layer of Sculptamold.
Most of the ground cover on the layout, including the tall grass, is from Woodland Scenics. Steve also uses some Insta-Foliage turf in various textures from Mountain Modelcraft.
Using a hot-wire cutting tool, Steve carved the rock faces from foam insulation board. He covered the carved foam with Hydrocal prior to painting. To model the reddish rocks of northwestern Wisconsin, he painted the rocks with a mix of burnt raw sienna, light gray, and black acrylic paints.
Most of the trees are made of dried weeds, such as goldenrod. Steve also uses model tree armatures from Scenic Express and Woodland Scenics.
To add foliage, Steve first sticks the armatures into a scrap of Styrofoam. He then sprays the armatures with diluted white glue and sprinkles on various shades of ground foam. After shaking off the excess material into a cardboard box, he lets the trees dry for several hours.
The lake and river are prominent scenes on the Missabe Junction. Steve made the lake bottom out of two coats of spackling compound and the river bottom out of Sculptamold. He painted both surfaces with darker colors near the center and lighter colors along the edges to create the illusion of depth.
Steve used Woodland Scenics Realistic Water in both locations. For best results, Steve suggests pouring the material in 1⁄8″ layers, allowing each layer to cure for a day before pouring the next one.
All the paved roads on the layout are made of spackling compound over a layer of Sculptamold to add elevation. For each road, Steve spread the material with a putty knife. When dry, he painted the road black to represent new asphalt or gray for an older road. He modeled dirt roads using painted Sculptamold.
Industries and towns are made of kit-built and kitbashed structures. For most of the structures, Steve built a matching styrene base with locator pegs in the corners that fit into holes at the structure's layout location. That way, he doesn't have to glue down the structures, so they are easy to remove for maintenance. He scratchbuilt the sidewalks around the buildings from styrene.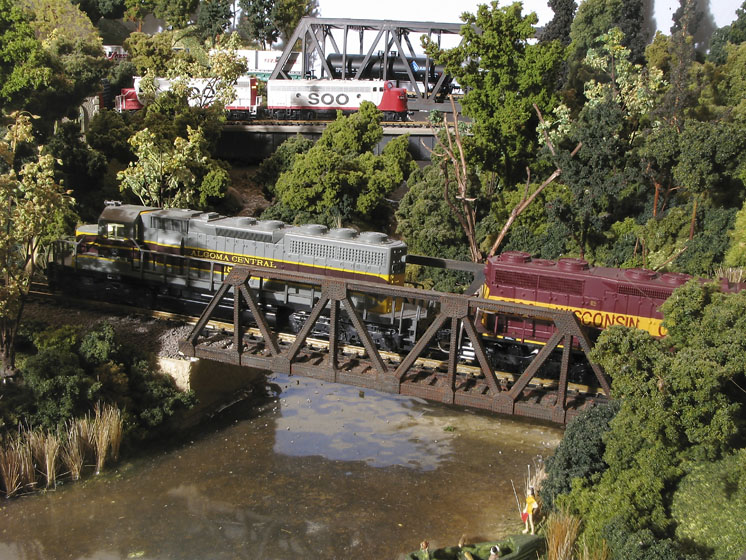 Locomotives and rolling stock
Steve operates a variety of locomotives from Athearn, Atlas, and Kato. He's impressed at how far N scale locomotives have come since he purchased his first models, although he still runs some old Arnold Rapido engines. He painted, decaled, and detailed about three quarters of his locomotive fleet to better match the railroads he models.
Steve likes the realism of sound systems, but finds it cost-prohibitive to add sound decoders to all his locomotives. Instead he's looking into adding a SoundTraxx SurroundSound system to his layout. This system uses transponders installed in locomotives to trigger individual locomotive sounds from speakers installed around the layout.
Although he prefers cars from Micro-Trains, Steve has rolling stock from several manufacturers, including some that he's had since the 1970s. He added Micro-Trains couplers and wheelsets to all his rolling stock and detailed older equipment with brake wheels and stirrup steps.
Steve used Iwata-Medea acrylic paints to weather his locomotives and rolling stock. He mixed several different colors and applied them with a brush. He also used powdered artists' pastels to add weathering effects.
Some of Steve's favorite models are the ore cars used in the taconite train. He added high sides and painted the cars to match Duluth, Missabe & Iron Range prototypes. The cars' decals are from the DMIR Historical Society.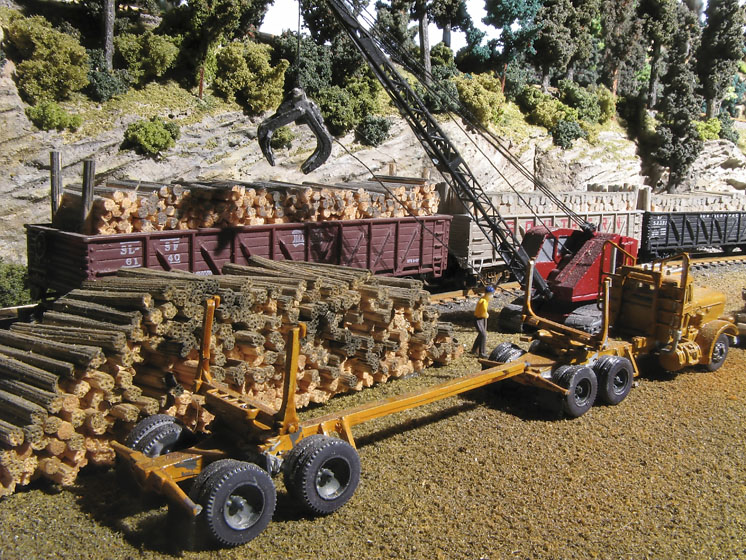 Running trains
Steve learned a lot about prototype railroad operations over the years. He became friends with several trainmen on the Wisconsin Central. A few times Steve rode with the crew on trains LO38 and 39, which moved Kennecott copper ore from the mine at Ladysmith, Wis., to Escanaba, Mich.
Although he hasn't finalized the layout's operating scheme yet, Steve is planning through freights, passenger trains with four station stops, and four local freights. He thinks that running the locals would provide the most fun jobs and could keep several operators busy switching industries.
Rocky River Minerals is one interesting rail-served customer. This large industry is based on a prototype roofing granule manufacturing plant at Kremlin, Wis., that was on the former WC line between Pembine, Wis., and Gladstone, Mich. The plant ships out its products in covered hoppers.
To keep track of his cars, Steve has started using Railbase, a rolling stock inventory program from Albion Software. He's using this roster to develop a simplified car-card freight routing system.
Although his layout era spans 40 years and he runs equipment from several railroads, Steve also plans to hold prototype- and era-specific operating sessions. During one session he could model Soo Line trains of the 1960s, and during the next, the theme might be the present-day Canadian National.
Steve is looking forward to meeting fellow N scalers interested in operation, and hopes to develop a core group ofoperators for the Missabe Junction.
Back to the beginning
For more than 35 years Steve has enjoyed the growth of the model railroading hobby, and his own development as a modeler, which he considers ongoing. He plans to replace plastic structures on the layout with craftsman kits as well as to improve its physical plant. He'll also keep going over the Missabe Junction looking for places to add details and ways to make the scenes more realistic. However, he won't be expanding the layout any time soon.
"My wife controls the real estate," Steve said. "But that's all right because if she hadn't have bought me that N scale train set back in the 1970s, I might still be making homemade wine instead of running trains."