Jools Holland and his railway empire
Like many of you, my interest in model railways started as a young boy. In the Swinging Sixties, my father built me a small layout in our tiny, terraced house in not particularly swinging Greenwich on the River Thames in old Southeast London. Over the years I maintained an interest, and as my circumstances improved, I kept some sort of layout set up in a shed or basement of wherever we were living.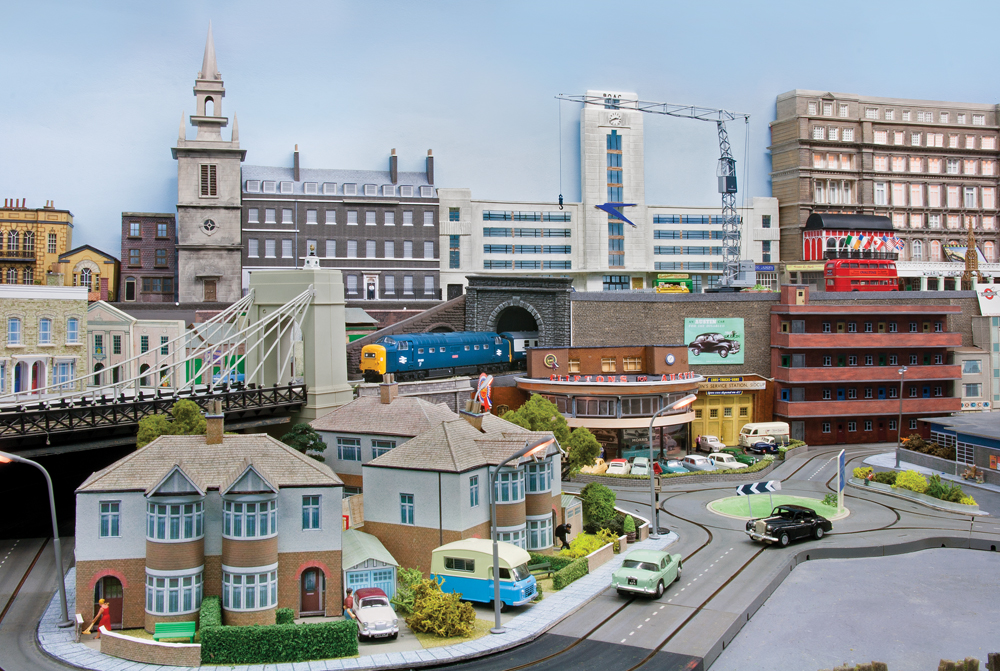 The big turning point, however, came in the early 2000s following a chance encounter with the top layout builder, modeling guru, and noted vocalist Sir Rod Stewart. I told him about my 5 x12 foot setup and how I was considering starting again in a larger room. He listened and gave me some very good pieces of advice.
Firstly, he told me a layout must be placed in the largest room available. This, he assured me, was because even with the biggest layouts, the modeler still has to make compromises and compress certain scenes.
Secondly, and most importantly, he said the act of creating a large model brings enormous happiness and a sense of wellbeing to the builder.
Lastly, he told me to subscribe to Model Railroader magazine, explaining that generally American homes were larger than in Britain. Because of this, America leads the world in large sized home-based layouts. This was all very good advice.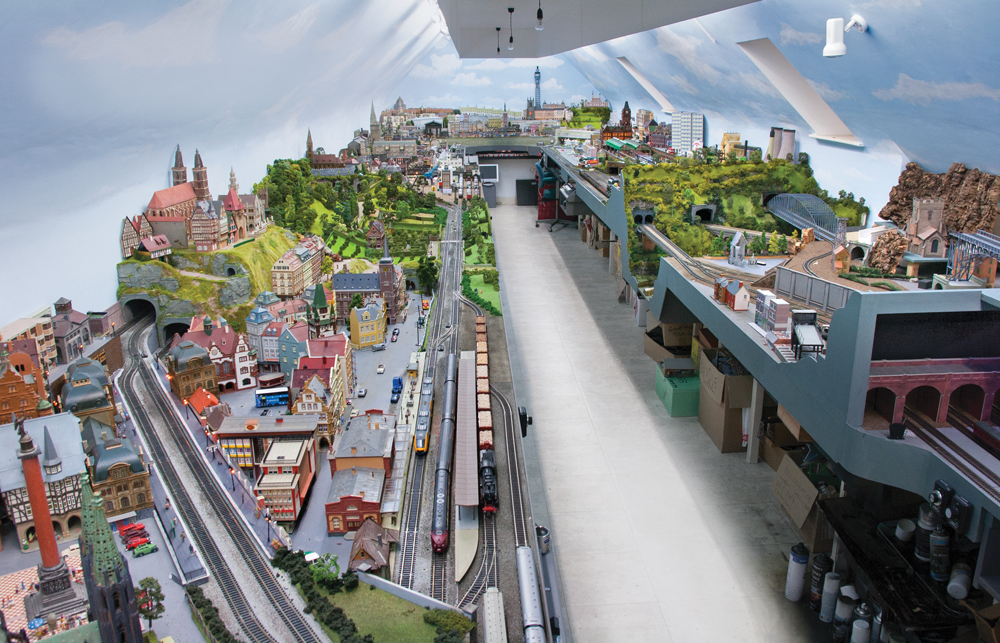 Thankfully my family were very understanding, and looking back, they seemed quietly delighted that I was going to be out of the way. I was enjoying myself in a new room, approximately 14 x 50 feet, that was nearing completion above an extension to our house.
As a working musician, I have spent my life touring. Early on I was on the road with Squeeze in the USA, and more recently I have toured around the British Isles, mainland Europe and the world with my big band. When the opportunity arises, I liked to explore the local model shops. This meant that I had accumulated boxes of buildings, accessories, etc. I worked on the well-known hoarder's rule: buy it when you see not when you need it.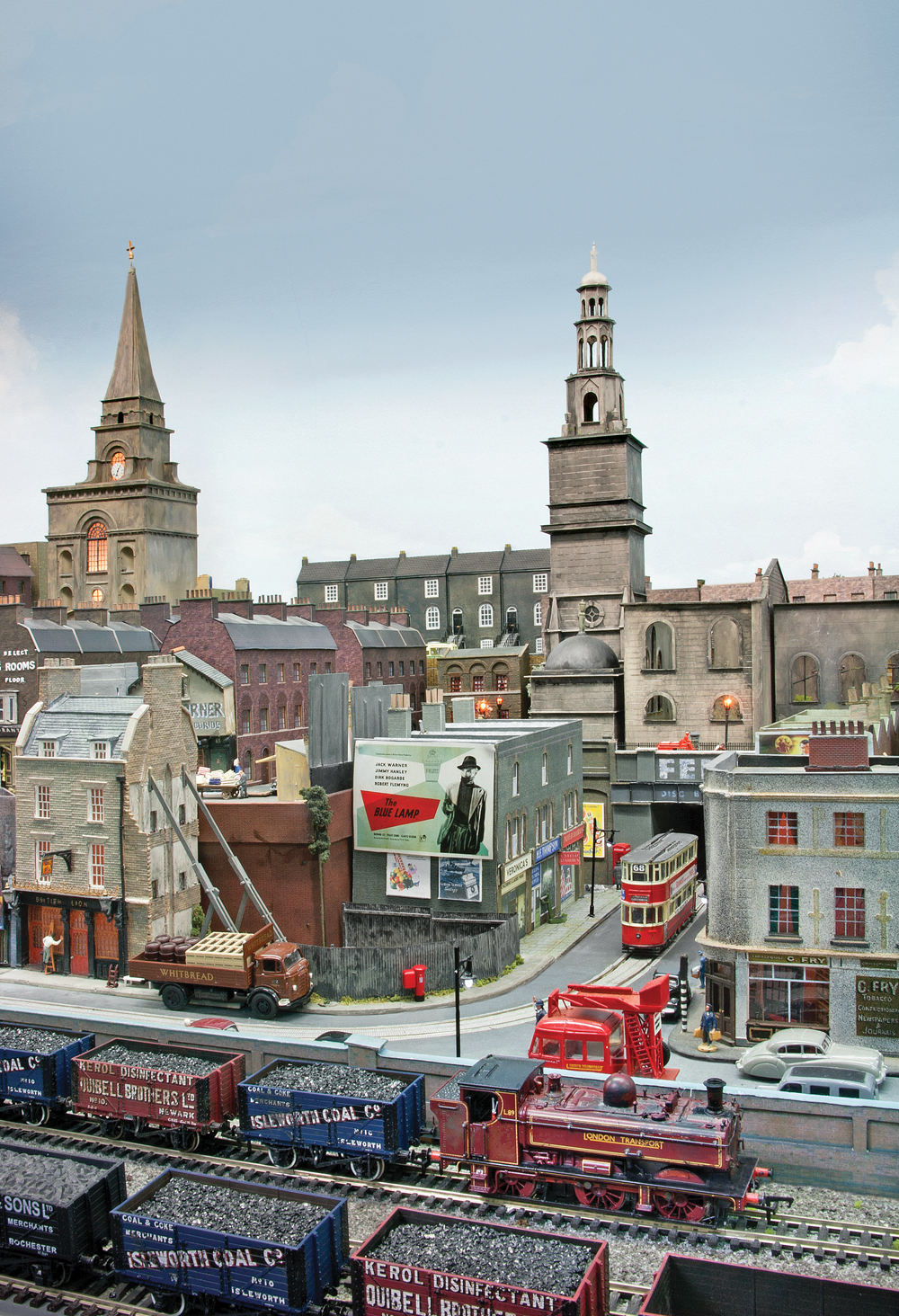 Whenever possible, I like to travel by train. One of the train journeys I always enjoy is going from London to Paris, Amsterdam, or Brussels on the Eurostar. This modern-day express travels though highly contrasting landscapes, cities, and towns over a relatively short distance of a few hundred miles.
So, my idea was to somehow fit an impression of this into the new room.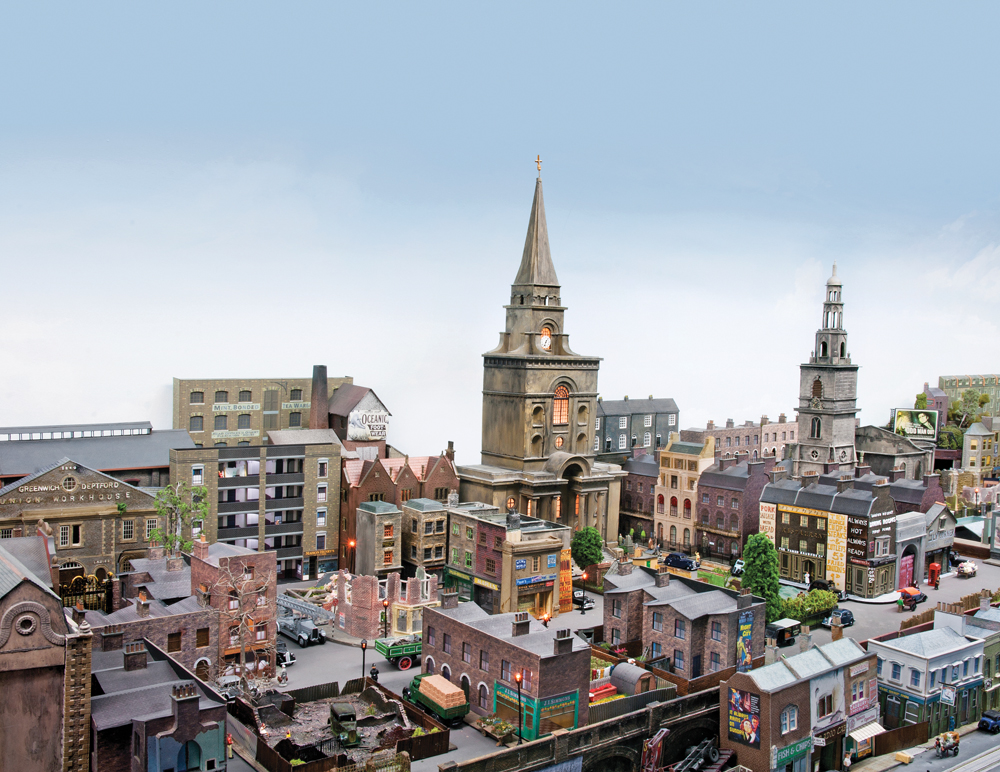 The room was a good length and width, able to accommodate almost 100 feet of layout in a long narrow u-shape. The internal pitch of the roof starts at five and half feet from the ground. The benchwork at its lowest level is 35", slightly lower than ideal, but this allows for tall buildings and hills to sit against a flat wall. The benchwork started at 4 feet wide, but in many areas my track plan evolved, and the baseboard got extended out by a further 9" to a foot.
I got some friendly set painters to create the sky and had some help with laying my preliminary track design. One long loop around the whole room comprised the Eurostar. Five further smaller loops run around London and its suburbs. Separated by water is continental Europe, including its docks, countryside and towns. This was later expanded with a working tram, an operational underground loop, a working arterial road, and a motor racing circuit. Above the benchwork a facia board valence concealing powerful strip lights (see "Add a valance and dust cover," June 2012) was fitted.
Now I was ready for the creation of cities, towns, hamlets, farms, valleys, mountains, and rivers. Docks and industries would be served by the operational transport links of sea, road, and rail.
For me the most enjoyable part of the creative process has been laying out boulevards and town squares with attractive buildings, then picking them up and starting again to hone down a particular scene. I wonder if many modelers, like me, are frustrated town planners. The generous size of my layout has allowed me to have the room divided into different sections separated by scenic breaks such as hills, rivers, and valleys. I have about 25 feet of mainland Europe.
At the far end is Cold War-period Berlin with Checkpoint Charlie, the British embassy, KGB, and CIA headquarters. A Berlin Wall reflects in a strategically placed mirror (see "Mirror, mirror on the layout, September 2005). A university and art museum appear on the layout, the latter featuring small and changing contemporary art shows. A theater, concert hall, and nightclub called "Vertigo" are included to provide the inhabitants with an evening's entertainment.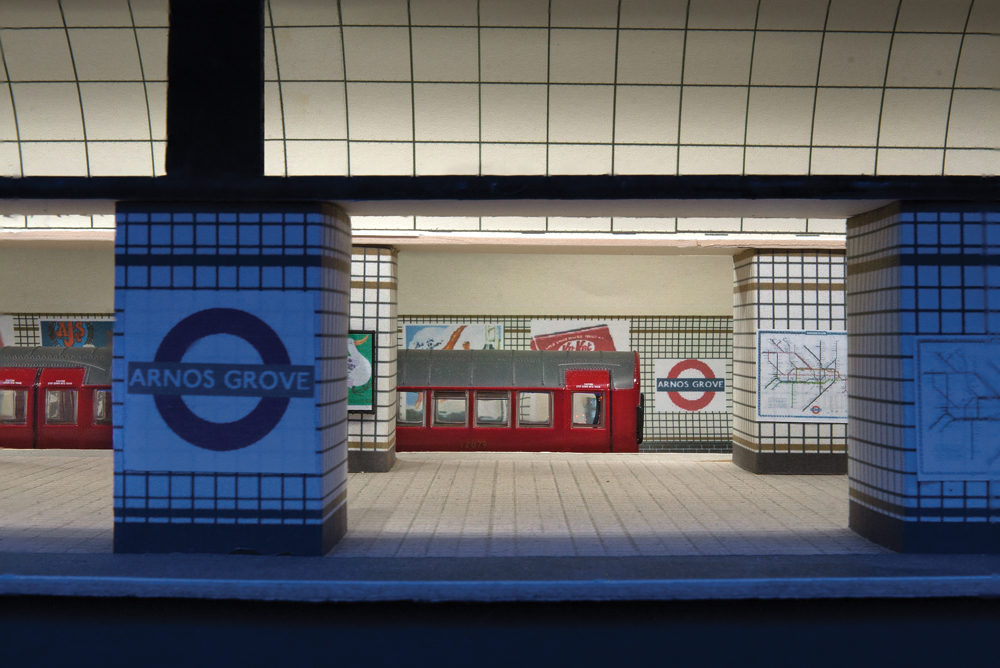 The main square has a fine replica of a triumphal column, which in reality sits outside the hermitage museum in St. Petersburg Russia. I bought mine in the gift shop when I was fortunate enough to visit. Surrounding the base of the column is a market scene set up by my youngest but now grown-up daughter Mabel. A station next to the main market square on the upper level welcomes international trains.
On the lower level, Mittlestadt station services the commuter trains and goods wagons on the Berlin inner and outer ring. From here we travel past the first scenic break which is the hilltop medieval town of Rothenburg ob der Tauber, the inspiration for Ian Fleming's "Chitty Chitty Bang Bang." Then we go on through a picturesque Flemish landscape past Rubens's house and into the Port of Ghentwerp. Here, the architecture is Dutch and Flemish typified by step and bell-shaped gables. As one might expect in a port, we have docks, bars, a red-light district, hotels, and Django Reinhardt's caravan.
The next scenic break is between mainland Europe and Great Britain, or to be more specific, my stylised Ghentwerp Port and the riverfront of my 1950s Greenwich. An ocean or sea really does present great challenges of compression to the modeler, so I decided not to bother and was content for the strip of water to represent London's Thames on one side and Scheldt, the great working Flemish River, on the other.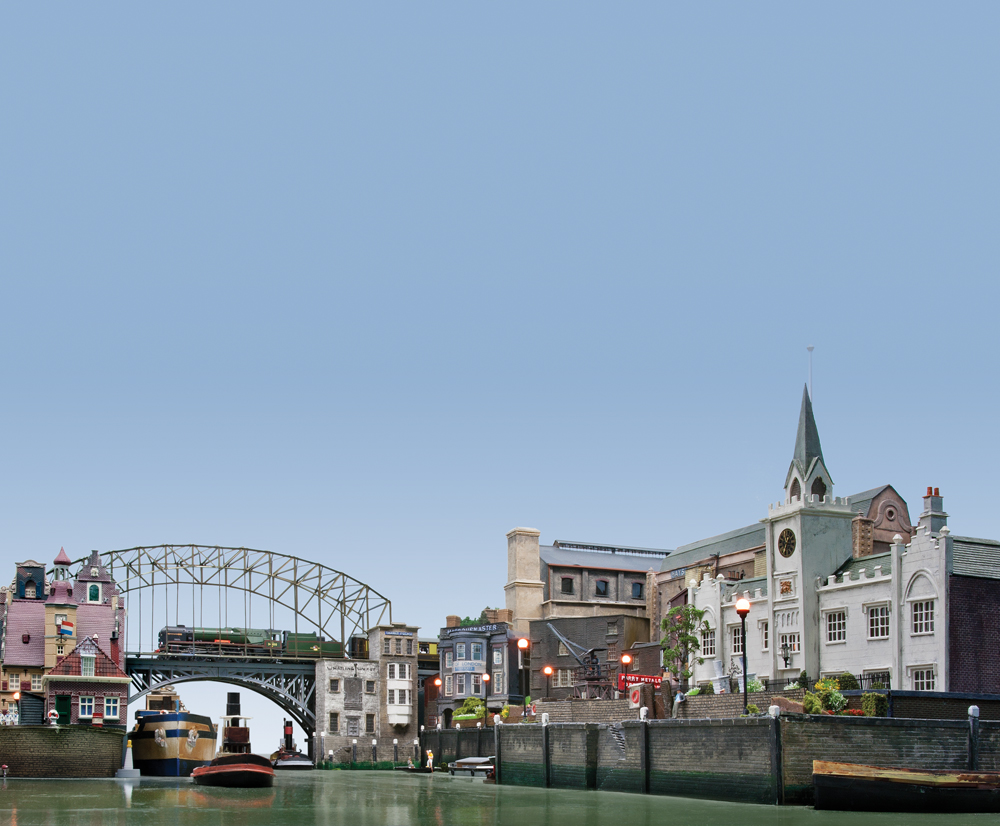 Some of the buildings seen in Greenwich and old London are particularly fine examples of work by the late Doug Hudson and a few kitsbashed by myself. The river police station was copied from a print by artist Rex Whistler.
John Howe built the operational London tram for me.
The last trams in London ran in 1952, therefore, in this section the scenes date from that period. It includes fine models of important 17th- and 18th-century London churches before they were repaired after being damaged in the Blitz. Various London pubs, working men's cafes, shops, houses, bomb sites, and a workhouse add to the post war atmosphere. One the great pleasures for me has been creating cityscapes, especially re-creating lost and demolished buildings both large and small.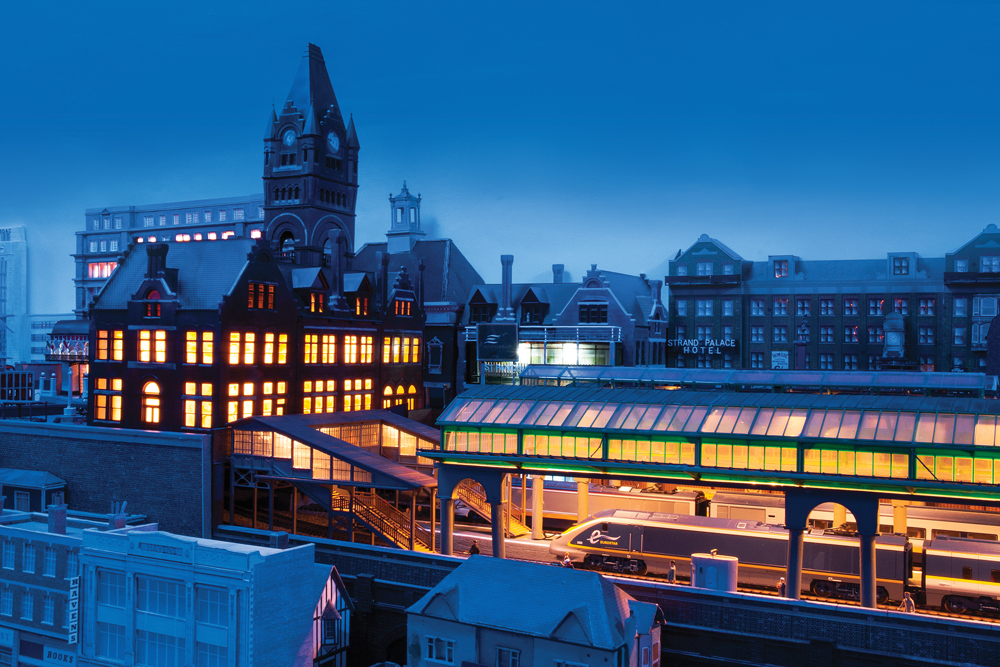 I have a model of my grandmother's fruit and vegetable shop, which was bulldozed to make way for a new road and the wonderful Euston railway arch. The latter was built in the mid-19th century and was the magnificent portal to the northwest and Scotland from London. It was demolished despite huge protests in the early '60s. It's a fine model built to a slightly smaller scale of 3mm per foot instead of 4mm. This scale was also applied to the city churches, as I feared otherwise they might dwarf their neighbours.
The grander neighbourhoods of central London are represented with garden squares and associated mews houses, as well as the American Embassy. These charming, cobbled mews homes were originally built for the servants and horses. They were later used by the upmarket motor trade and as homes for pop stars, artists, and spies. Many of us fondly remember them as the settings of groovy 1960s TV shows, where they were inhabited by Danger Man, the Avengers, and Men in Suitcases.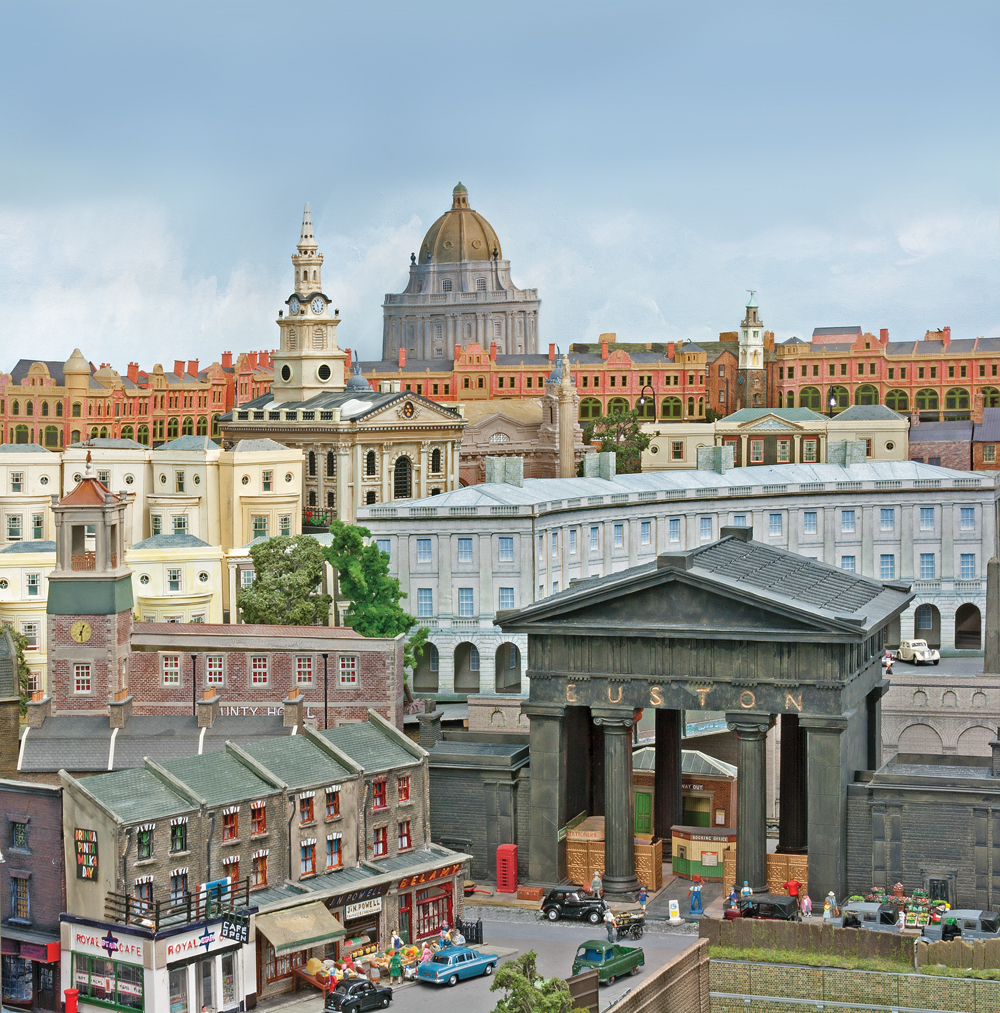 As in full size cities, the centers tend to be the earliest part. As we venture farther into the suburbs, everything becomes more modern. This has allowed me to put in 1930s buildings, including a copy of the art deco Arnos Grove underground station and a working overground suburban loop. Above this sits my St. Pancras International Station. From here, the Eurostar can embark on its journey around the long loop to Ghentwerp and Berlin. Beyond this there are modern blocks of flats and Walthamstow Greyhound racing stadium. The end of this scene is my industrial area home of Slag Effluents (industry) Works.
The last and most recently finished section gives us a break from the crowded mess and smells from the city. A lush valley spanned by viaduct and other bridges leads up to a hilltop castle. Finally, at a height of 50 feet is an operational motor racing circuit. It is an OO scale 1960s slot car system, Minic motorways. The cars can be competitively raced; this seems to give enormous pleasure to many of our visitors. Below this is a fiddle yard from where the rolling stock can be fed into different parts of the layout. In the last year, I have converted to DCC, which has improved operations enormously.
In conclusion, I must thank my friends, family, and professionals who have helped me to achieve my object. The wonderful thing about the big layout is that there is always some corner to redevelop or improve. Thirty years ago a kindly, old, white-bearded gentleman who ran a now long-closed model shop in Southeast London advised me not to try to hurry through things but to enjoy the creative process. He said, "it's your modeling time which will give you the greatest pleasure." I would agree.
Layout at a Glance
Name: Mr Holland's Layout
Scale: OO in London, HO in Europe
Size: 12 x 50 feet
Prototype: London St Pancras/Euston via Ghentwerp to Berlin
Era: 1950 to 1999
Style: Post war London/Europe
Mainline Run: Trans Continental Loop 110 feet
Minimum Radius: 33"
Maximum Grade: None
Benchwork: MDF at a maximum width of 55 inches and a minimum of 48 inches
Height: Underground: 28 inches, local loops: 35 inches, transcontinental loop: 39.5 inches
Roadbed: Directly onto baseboard
Track: Peco/Hornby
Backdrop: Painted sky
Control: Z21 Digital Command Control
Jools Holland is a musician and broadcaster and a founding member of the rock band Squeeze. For the last 25 years he has toured and recorded with his big band and has a long running music TV show on the BBC. He has four grown children and a new grandson who he is hoping to introduce to the pleasures of railway modelling.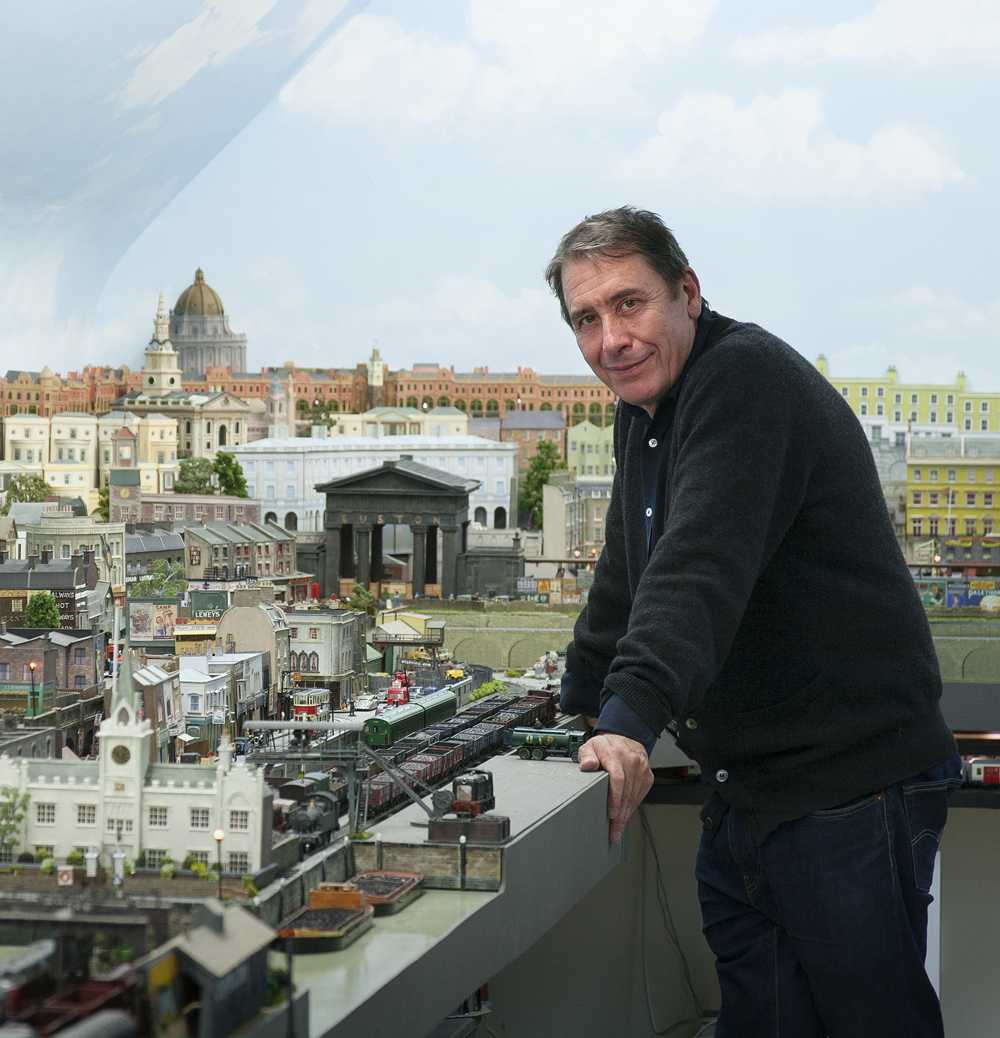 Editor's note: Railway Modeller shared their January 2019 article and photographs with us. The text comes from communications between Jools and former Model Railroader editor, Carl Swanson.