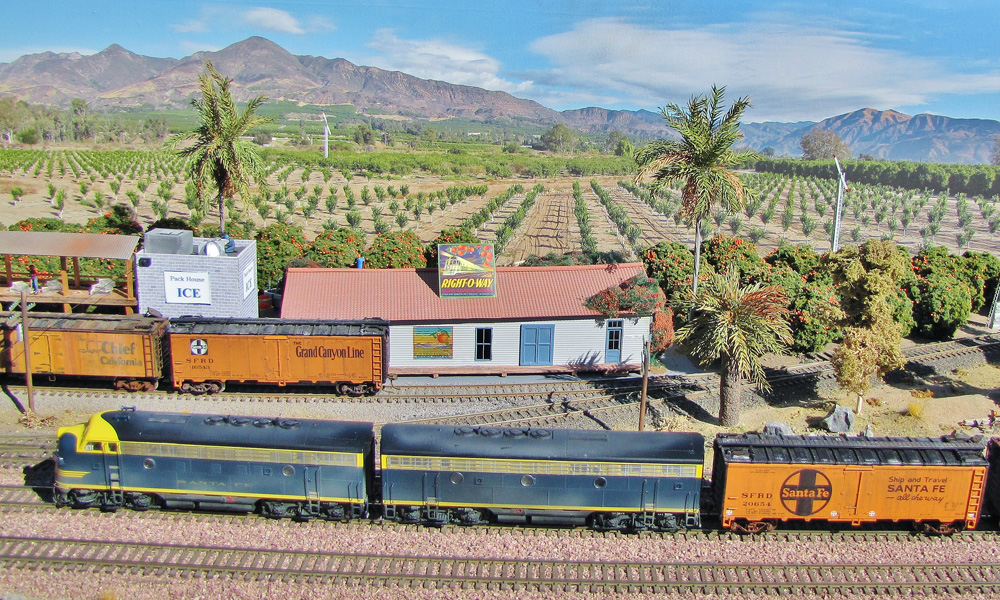 A pair of dusty Electro-Motive Division F3 diesels in the Atchison, Topeka & Santa Fe's blue-and-yellow "cat whisker" freight scheme roar by with a time freight while, in the background, reefer cars are iced to receive the citrus grove's harvest. John Parrish of Upland, Calif., photographed the action on his 2 x 4-foot HO scale module. The locomotives are Athearn Genesis models; the packing house is a modified Walthers kit. The icing platform was scratchbuilt from stripwood and Evergreen styrene.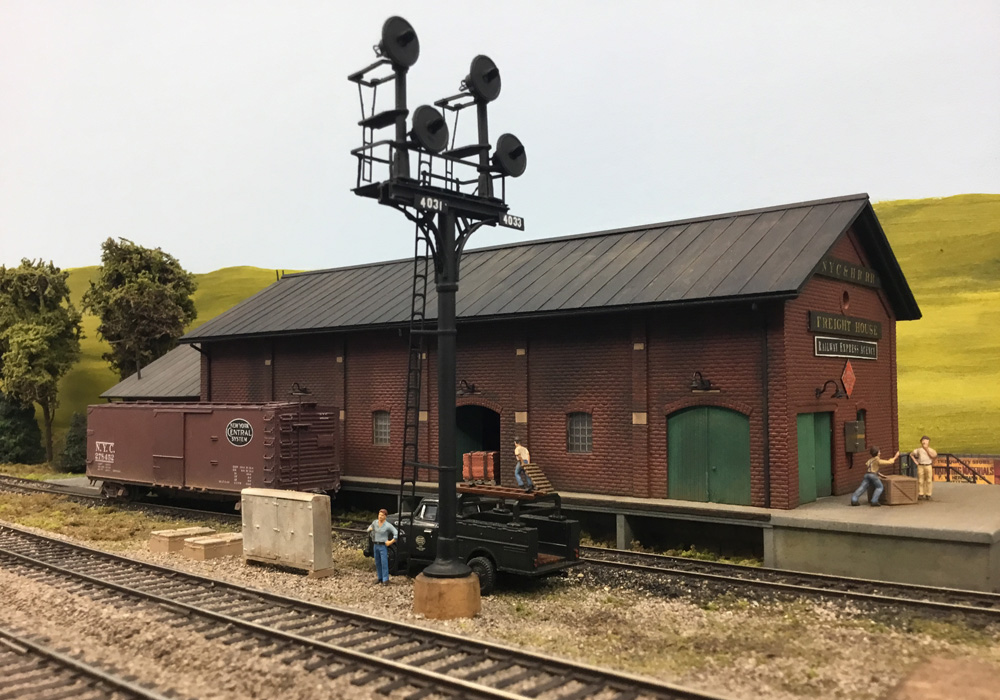 The signals are dark at Batavia, N.Y., but they won't be for long, as this is New York Central's busy main line east of Buffalo. Russ Weis of Louisville, Ky., kitbashed the freight house from a Kibri kit, following plans in a June 1988 Model Railroader article by senior editor Jim Hediger. Russ' friend Steve Lasher scratchbuilt the bracket mast signal and Russ shot the photo.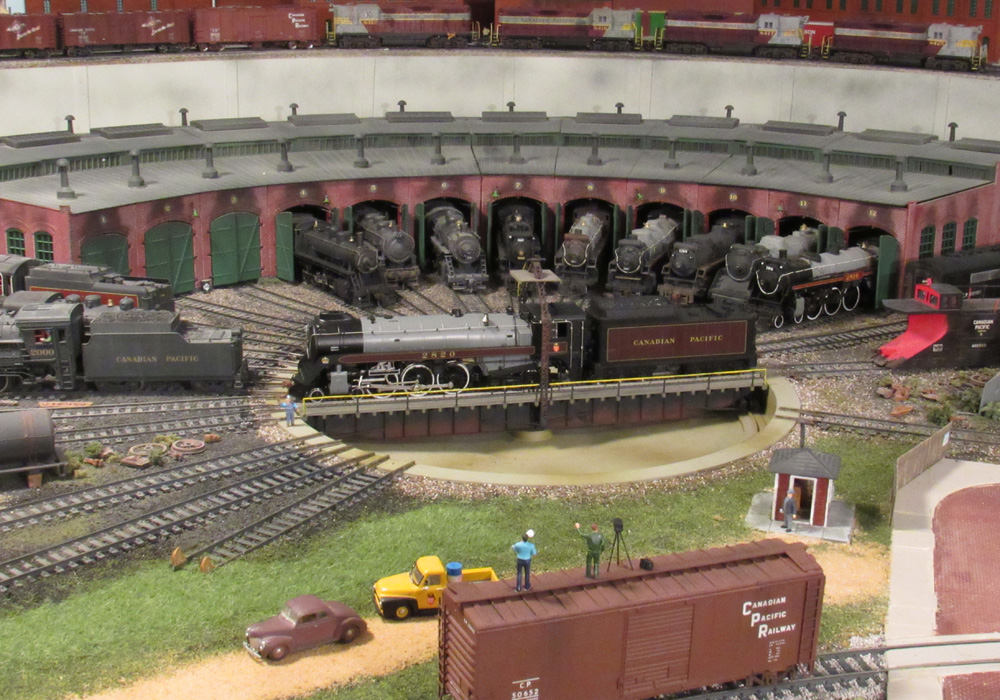 It's the summer of 1957, and Nicholas Morant, company photographer for the Canadian Pacific, has his large-format camera set up on top of a boxcar to get the best vantage point for this official portrait of the last steam locomotives still in service on the CP. Jean Montour of Terrebonne, Que., set up the shot on his HO scale layout. The Royal Hudson on the turntable is a Rapido model. Jean rigged the roundhouse doors to open remotely, using wire linkages and Tortoise by Circuitron switch motors.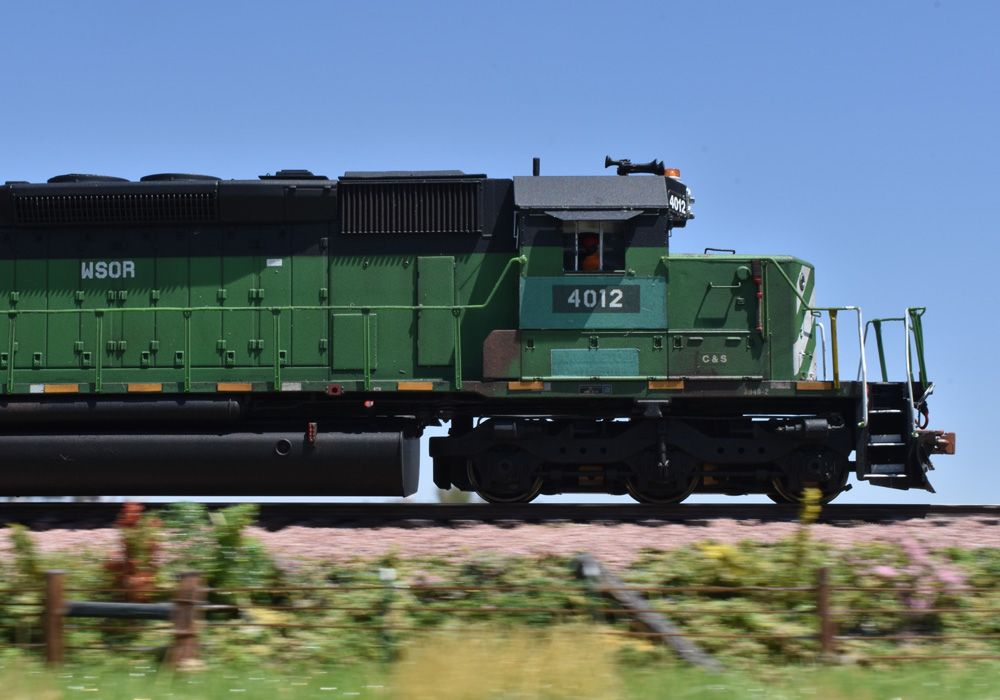 Wisconsin & Southern train T008, led by patched-out ex-Burlington & Northern EMD SD40-2 no. 4012, clears the restricted-speed zone and gets up to track speed just east of Spring Green, Wis., on a muggy July morning in 2012. The HO scale scene was staged and photographed outdoors under natural light by R.G. Hough V of Mount Morris, Ill. The locomotive is a custom-decorated Scaletrains.com model.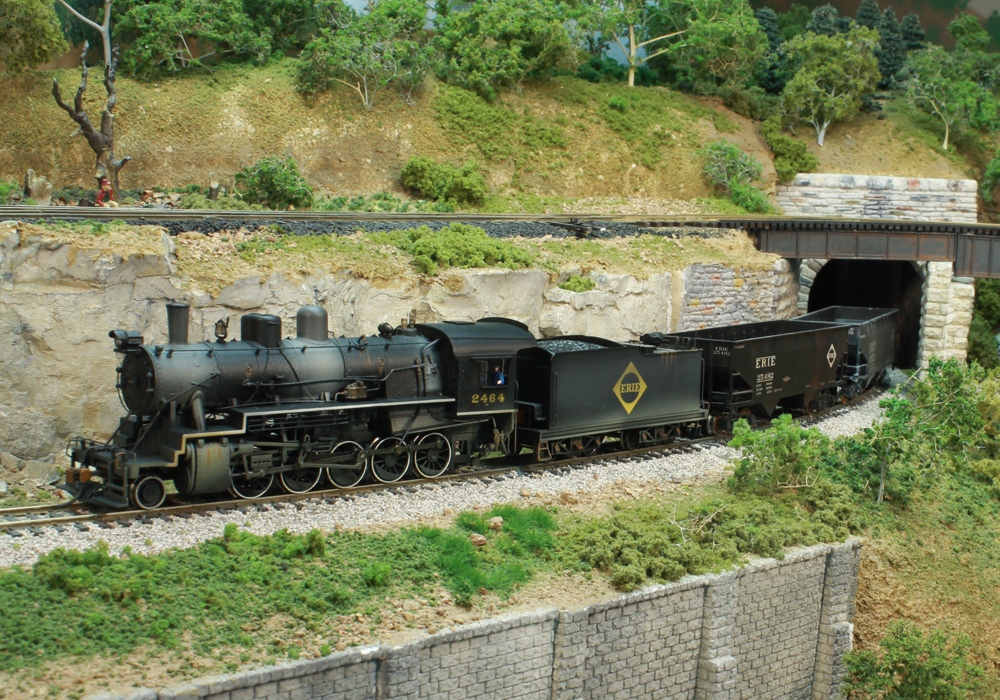 Erie Railroad no. 2462, a 2-10-0 decapod-type steam locomotive, leads a train of empty coal hoppers out of a tunnel on its way to the Beaver Falls Mine. Gary Reynolds of East Amherst, N.Y., photographed the action on his HO scale Grand Allegheny Railway. The rock face and tunnel portals are cast plaster.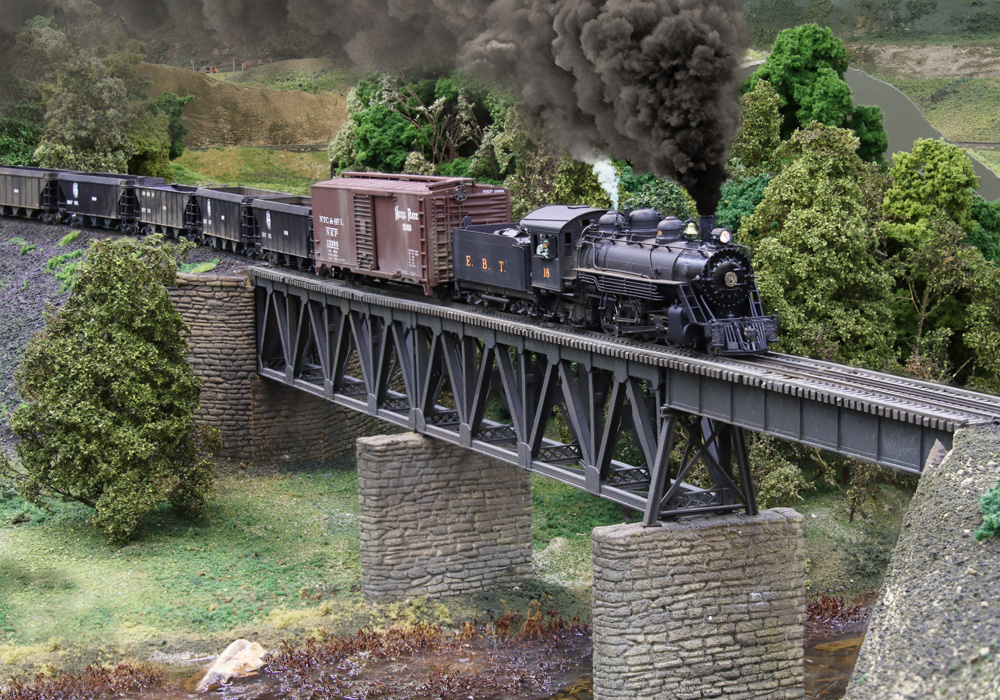 East Broad Top's newest locomotive, 2-8-2 Mikado no. 18, crosses Pogue Bridge with a train made up mostly of empty hoppers bound for the mines at Robertsdale. Behind the locomotive is a Nickel Plate Road boxcar recently perched on narrow gauge trucks at the Mount Union Timber Transfer. The odd juxtaposition takes place on the East Broad Top portion of Linn Moedinger's Hon3 layout in Lancaster, Pa., which also models the Rio Grande Southern and the Colorado & Southern in September 1957, a date after all three prototypes no longer operated. The locomotive is a Hallmark brass import with a Faulhaber micro-motor and Pacific Fast Mail sound.

Trackside Photos is a showcase for the work of Model Railroader readers. Send your photos (digital images 5 megapixels or larger) to: Model Railroader, Trackside Photos, P.O. Box 1612, Waukesha, WI 53187-1612; or upload them to http://fileupload.kalmbach.com/contribute. For our photo submission guidelines, contact associate editor Steven Otte at sotte@mrmag.com.