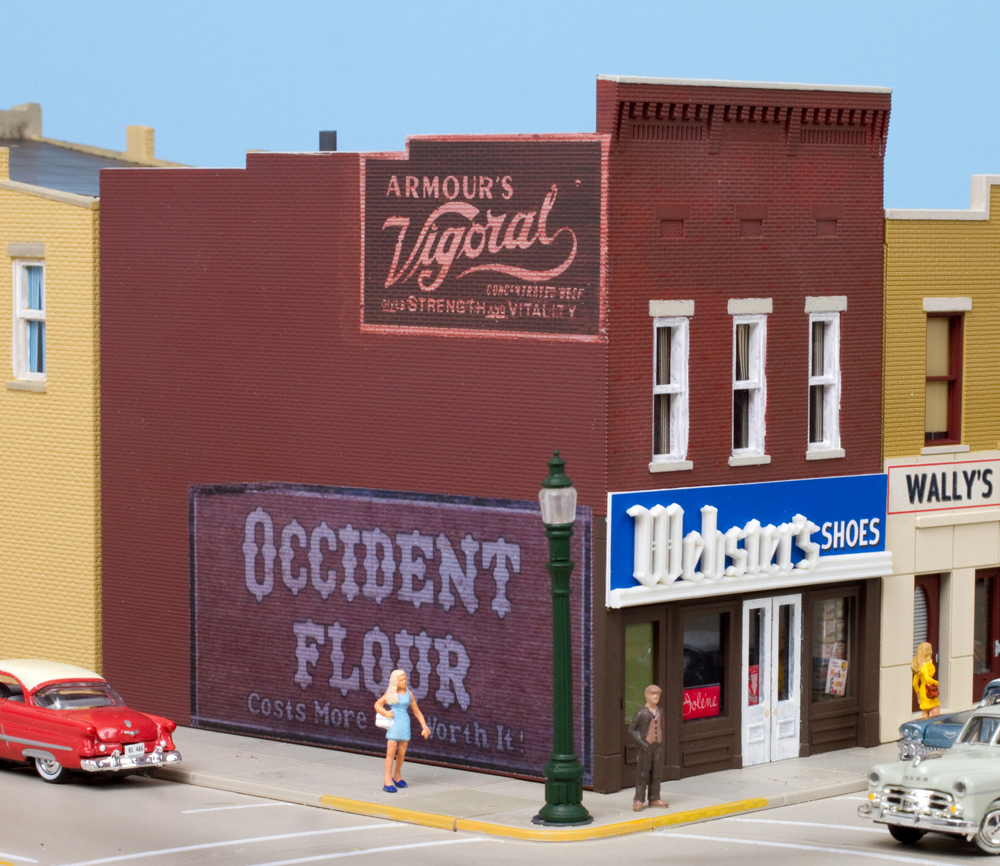 Signs from swizzle sticks: When my wife, kids, and I visited the General Store Antique Mall in Kewaskum, Wis., I wasn't really thinking about model railroading (although I did run into a fellow modeler at the store). Instead, I planned on enjoying an hour or two browsing the dozens of booths in the two-story building with my family on a rainy Saturday morning. Then, as I was exploring one of the booths, I spotted a pile of plastic swizzle sticks and the model railroad switch flipped on. The sticks had raised lettering with names like "Boulevard," "Camelot," and "King's Inn Gourmet Room." I figured these sticks could be used as business signs for HO and N scale structures or be harvested for lettering. At a buck a bundle, how could I go wrong?
A brief history of swizzle sticks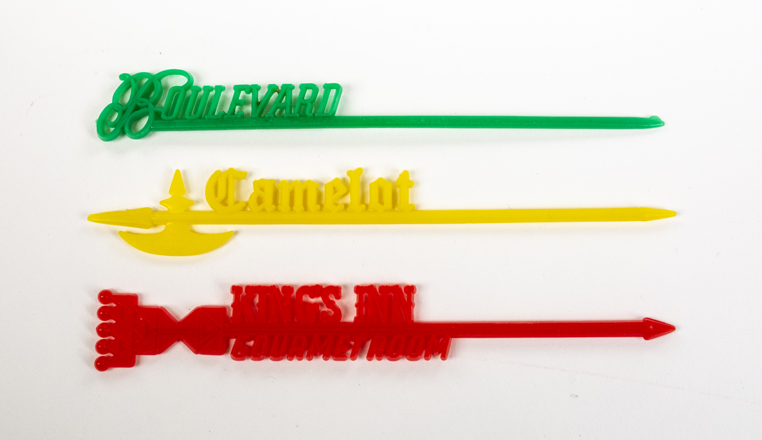 Jay Sindler is credited with the idea of combining swizzle sticks and advertising. He patented the idea in 1935 and started a business around it, Spir-It Inc.
Similar to model railroading, plastics and injection molding changed the face of swizzle sticks. By the 1960s, the sticks were offered in a seemingly endless variety of shapes and colors. Railroads, airlines, bars, restaurants, supper clubs, and casinos, among other businesses, used swizzle sticks as promotion tools and keepsakes. And people sure did save them. When I did a search on eBay for "vintage swizzle sticks," there were 12,000+ results.
Though plastic swizzle sticks aren't as common as they once were, they're still being produced by Spirit Food Service, the successor of Sindler's Spir-It Inc.
Swizzle sticks on your layout
I'm by no means the first person to hit on the idea of using swizzle sticks as signs. In fact, Jeff Wilson wrote about it in his book Modeling Structures in 2016. Chapter seven of the book is devoted to signs. There, Jeff shows how he combined part of a swizzle stick with a printed background attached to styrene to make a sign for a shoe store.
The next time you visit an antique store or online auction website, look for vintage swizzle sticks. They come in a seemingly endless variety of shapes, sizes, and colors; are easy to cut with a razor saw or sprue cutters; and can be sprayed or brushed with plastic-compatible paints.