How to re-stencil reporting marks: If you've waited at a grade crossing recently, you've probably noticed many freight cars with their original reporting marks painted out and new ones applied. This is done because the car's ownership has changed. Since repainting an entire freight car is costly, patching over old reporting marks is an accepted practice, especially on covered hoppers and boxcars. (Learn more about what those marks mean.)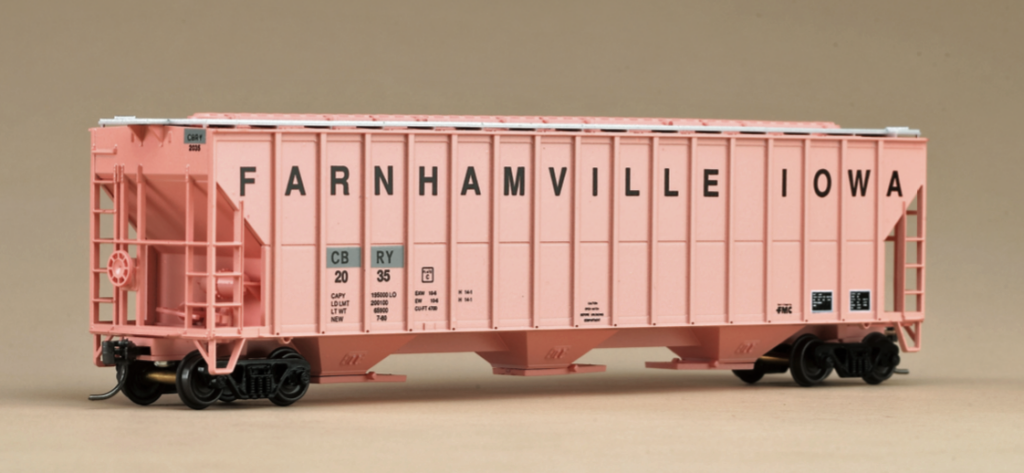 So how do you re-create this look on scale freight cars? You could try masking off the area around the reporting marks and apply paint with an airbrush. However, masking outside-post boxcars and hoppers can be tricky and time-consuming. An easier way is using bits of solid-color decal sheets called trim film.
There are a few tips to keep in mind with trim film. If you're using a light-colored sheet (e.g., white or yellow), you'll want to remove the original lettering on the car so it doesn't show through. To do this, brush Microscale Micro Sol over the lettering and let it evaporate. Lightly rub a pencil eraser over the lettering to remove it. Also, be sure to spray a layer of Testor's Glosscote onto the car so that the decals have a glossy surface to adhere to.
For my restenciling project, I purchased an Athearn HO scale private-owner FMC covered hopper. To show ownership change, I used pieces of Microscale's New York Central Gray trim film to cover the original reporting marks.
Cut the trim film as square as possible, but don't worry if cuts aren't perfect. Prototype restenciling is often hurried and can come out sloppy.
After the trim film dried, I lightly brushed it with Micro Sol to soften the decal film so it would settle down into the carbody details. After the decal had set overnight, I applied the new CBRY (Copper Basin Ry. Inc.) reporting marks using letters I cut out of a Microscale alphabet decal set.
Finally, I brushed Micro Sol over the new lettering. A few hours later, I came back with a sharp hobby knife and poked any trapped air bubbles. I then applied another coat of Micro Sol. Once the car was dry I sealed it with a light spray of Testor's Dullcote.