Passengers were the missing element on the daily Amtrak trains operating over my HO Ohio Southern until I discovered sets of seated figures made by Faller and Noch. Best of all, they fit right into the molded interior seats in Walthers' classic streamliners.
My Amtrak train represents a secondary turn-around run covered by the older Heritage cars, including a pair of coaches and a buffet-dome. All three have interiors easily viewed through wide windows. Passengers make these cars look even better.
Preiser sells several sets of HO passenger figures:
• Faller 151618 Sitting passengers has seven figures with legs.
• Faller 151617 Passengers has seven figures with legs.
• Noch NO15250 Sitting Passengers for H0 has double seated figures, no legs.
• Noch NO16050 Mega Economy Set Passengers for HO has 14 double seated figures, no legs.
• Noch NO16072 Mega Economy Set Sitting Passengers for HO has 35 double seated figures, no legs.
I used painted figures in my car, but if you happen to find unpainted figures [Preiser offered unpainted sets that are discontined. -Ed.] , Jeff Wilson's Back to Basics article on figure painting in the March 2003 issue of MR is a good reference. Remember that lighter, more colorful figures show up best, especially if the car isn't lighted.
Start by removing the car roof. (Walthers' car instructions explain how to remove the roof from each type of car.) I used a flat needle file to clean the paint off the bottom of each figure. Then I put a drop of liquid plastic cement on the seat and set the figure in place.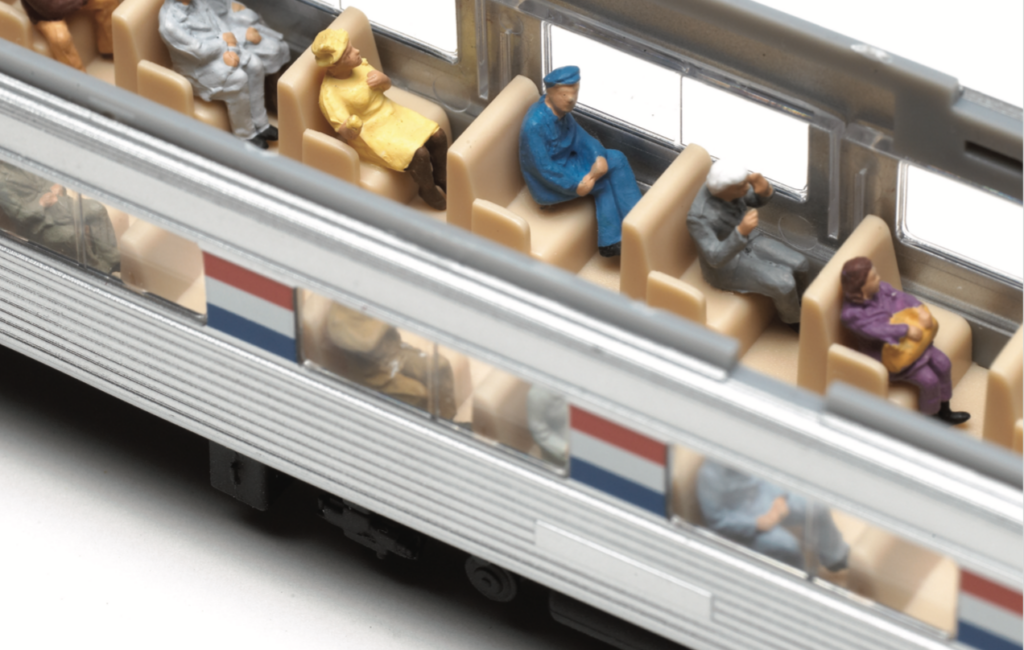 Recalling passenger seating preferences, I started with a mother and infant near the ladies' rest room. Other figures are spread throughout the car, filling most of the seats in front of the big windows and leaving empty seats where the view is more restricted. Window seats are most popular, but some prefer the aisle.
As I reassembled the dome car, I was careful to make sure the seated passengers didn't interfere with the window glazing.
My 48-seat coaches looked fine with 18 to 20 riders each. I used only two sets of figures for all three cars.