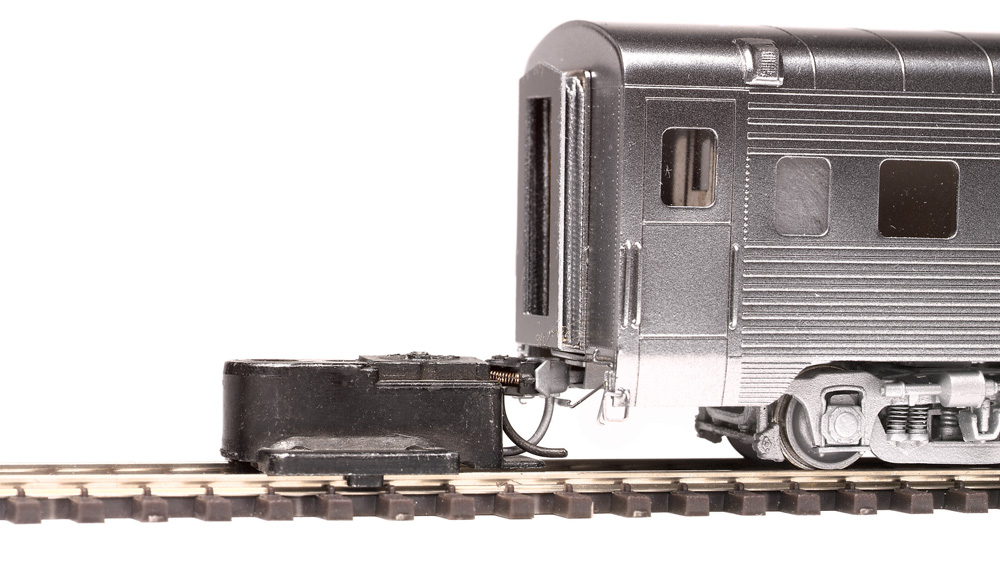 It's important to mount couplers at the correct height and to do so consistently on all cars. Because of their length, passenger cars magnify the chance for unwanted uncouplings when track isn't perfectly level.
Of course, having made the car height accurate, I don't want to change that, so to adjust coupler height I move the coupler box up and down, not the car. Down is easiest: Just add shims between the coupler box and the car body or mounting pad. You can use Kadee's no. 211 coupler box shims or cut your own from thin styrene sheet.
"Up" seemed more challenging until I realized I could make that "down," too. Kadee's no. 27 coupler has the shank offset to the bottom of the coupler head – "underset" in the manufacturer's coinage. That usually turns a too-low mounting into one that's too high – I'm rarely lucky enough for it to be just right – and of course, that can be shimmed down.
Sometimes the top of a coupler set back this far will interfere with the end of the car. That can usually be fixed by gripping the coupler's "glad hand" in a vise and filing the glad hand's projection on top of the coupler flush with the coupler head. If the coupler head's rear corner interferes with a mounting pad, as it may on brass cars, I trim the mounting pad with a cutoff wheel in a motor tool.
Passenger cars with no. 5 couplers mounted this way can be reliably backed up a 3-percent grade around a 32″-radius curve, and through no. 6-1/2 turnouts and crossovers.
I know this because my layout is still at a stage where half of all train miles are run in reverse. I should add that I weight my plastic cars to match National Model Railroad Association Recommended Practice 20.1 – about 7 ounces for an 85-footer. The brass cars are all heavier than the NMRA recommends, but I don't worry about that.
From The Model Railroader's Guide to Passenger Equipment & Operation (Kalmbach Books, 2006).