What are DCC sound decoders? Well, to put it briefly: A sound decoder is a computer on a chip that receives and interprets signals sent from the DCC base station and puts out an analog signal that makes an attached speaker produce the sound desired.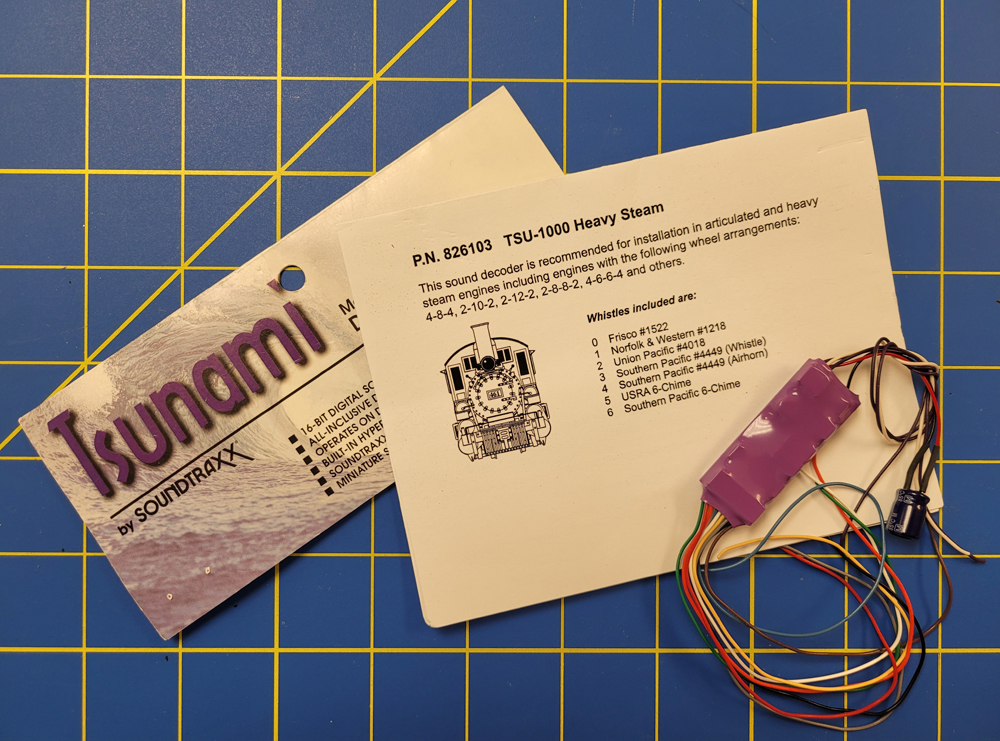 There's more to DCC sound decoders, though. There are two types of sound decoders: multifunction decoders, and sound-only decoders. In addition to producing synchronized sound effects, a multifunction decoder also controls a locomotive's motor, lights, and other functions. These days, a lot of locomotives come from the factory with a multifunction decoder, or at least have the option for it.
A sound-only decoder is a type of accessory decoder which only controls a single accessory – a speaker. It doesn't have the capability to also run motors and lights. A modeler might want a sound-only decoder to produce sound effects in a freight car or a stationary structure on the layout. They can also be used to add sound to a locomotive that comes already equipped with a motor-only decoder.
Modelers must do careful research when selecting a sound decoder for their locomotive. Sound decoders for HO scale locomotives tend to be larger than those decoders for N scale locomotives, and those for O scale or large scale locomotives are larger still, since their components must handle more current. Sound decoders are also available programmed with different sound sets for different kinds of locomotive engines. The variety of options in the DCC sound decoder market aligns with the variety of options in the locomotives market, suiting different models, eras, and scales.
Some sound decoders can be programmed by the user with custom sounds of their choosing, either downloaded from the manufacturer's website or uploaded from a desktop computer. This is an option for modelers who want a sound decoder for an uncommon locomotive for which a pre-programmed sound decoder isn't made. Programmable sound-only decoders can be installed in a caboose to produce a clickety-clack sound or radio chatter, or one could be installed in a cattle car to produce intermittent mooing from its inhabitants. They can also be used in stationary applications to produce the background noise of a factory or farm, or to sound a bell at a signaled grade crossing.
DCC sound decoders have a wide variety of uses that offers today's model railroaders the ability to enhance their locomotives, rolling stock, and layouts with a range of sounds, deepening the realism and impact of their layouts.