Parts of an Electro-Motive Division GP15-1 diesel locomotive
Electro-Motive Division (EMD) produced the GP15-1 diesel locomotive from June 1976 through March 1982. During that time, 310 units were built. The four-axle road switcher was equipped with a 1,500hp 12-645E diesel engine, a D32 generator, and D77B traction motors. Original owners included Chicago & North Western (25), Conrail (100), Missouri Pacific (160), and St. Louis-San Francisco (Frisco, 25).
Though the GP15-1 was the best seller, EMD also built the GP15AC (Nov.-Dec. 1982) and GP15T (Oct. 1982-April 1983). From the outside, the GP15-1 and GP15AC were identical. The major difference was that the GP15AC had an AR10 alternator instead of a generator. Missouri Pacific was the sole original owner of the 30 GP15ACs produced.
Rounding out the GP15 family was the GP15T. Original owners were Chessie System (25) and Apalachicola Northern (3). The GP15T had a single exhaust stack, a turbocharged 8-645E3C diesel engine, twin radiators, and a larger air-intake section. The Chessie System locomotives were the only GP15s equipped with dynamic brakes.
Through mergers, the GP15s wound up on Burlington Northern, BNSF Ry., CSX, Norfolk Southern, and Union Pacific. Though their numbers are dwindling on Class I railroads, GP15s can still be found on regional and shortline railroads, in lease service, and at various industries.
For this article, I took five photos of an Athearn Genesis HO scale model. Then, following an illustrated diagram in The Car and Locomotive Cyclopedia of American Practice (Simmons-Boardman Publishing Corp., 1984), I added callouts identifying many of the major parts of the Electro-Motive Division GP15-1 diesel locomotive.
If you'd like more information on the four-axle locomotive, read Andy Sperandeo's article "The GP15-1: EMD's down-sized road switcher" in the January 1990 issue of Model Railroader magazine.
Electro-Motive Division GP15-1 – Front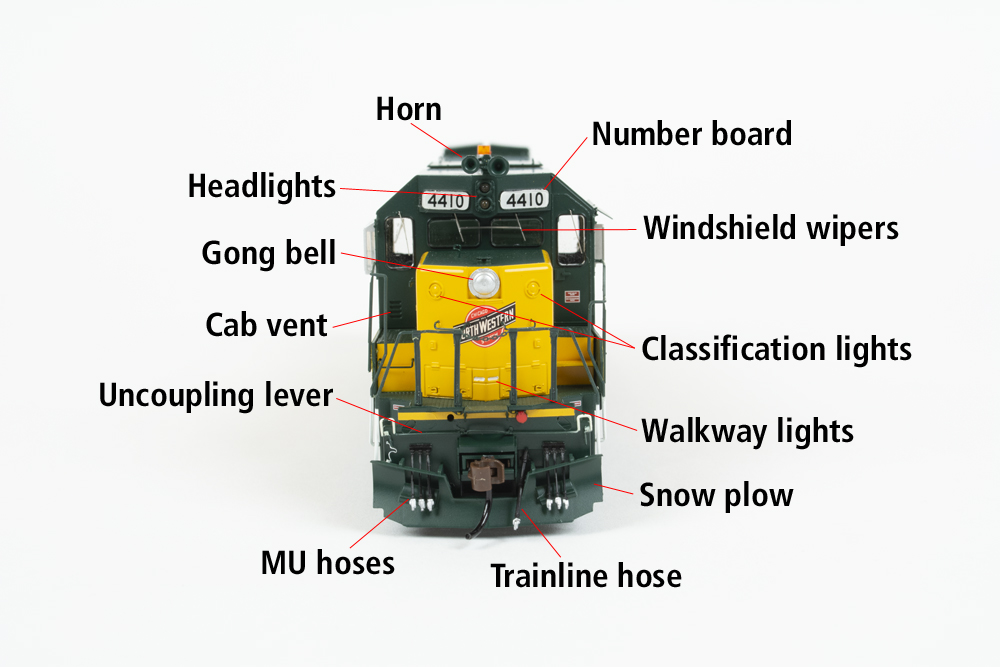 Electro-Motive Division GP15-1 – Engineer's side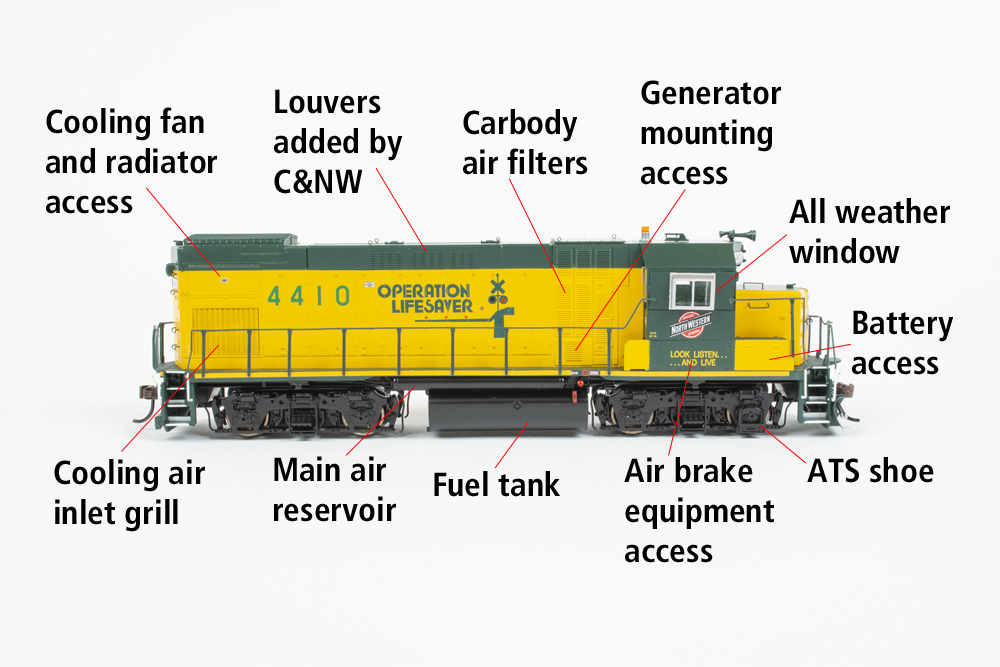 Electro-Motive Division GP15-1 – Rear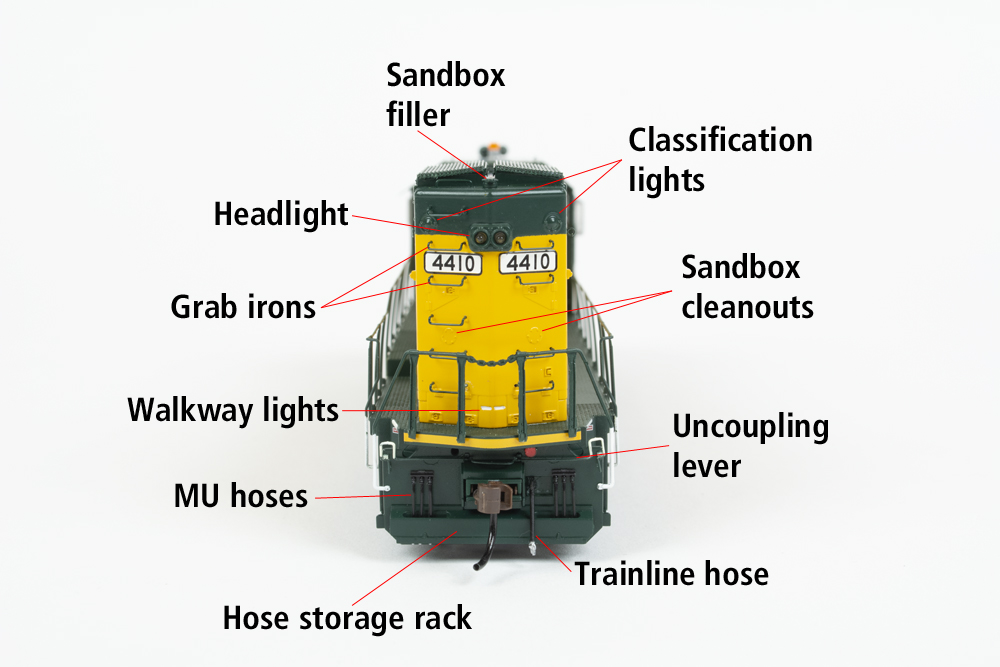 Electro-Motive Division GP15-1 – Conductor's side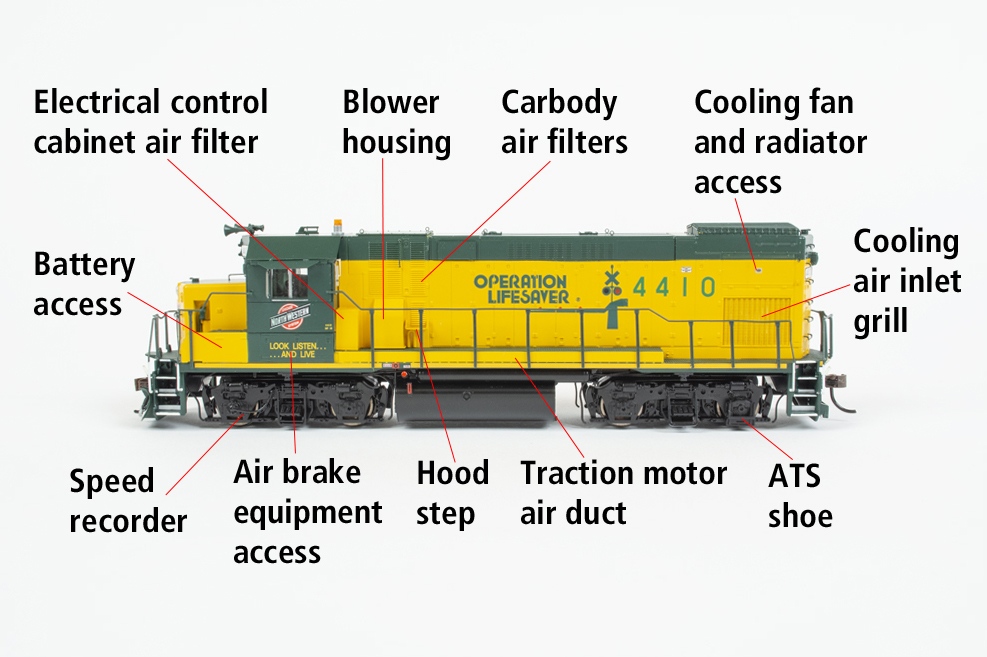 Electro-Motive Division GP15-1 – Roof