In model railroad snow plow rolling stock round-up, we thought it would be fun to take a look at models of snow fighting equipment available in N, HO, and O scales. This is not meant to be an exhaustive list. Rather, it's a look at some of the ready-to-run models and a few kits that are on the market today.
As you'll see below, the Russell snowplow has been a popular subject for model manufacturers. You can learn more about the prototype in Jordan Spreader & Russell Snow Plow from SilverLake Images LLC. The book, part of the Manufacturers' Catalog Archive, includes reproduction catalogs from the O.F. Jordan Co. and the Russell Car Snow Plow Co.
Walthers HO scale Russell snowplow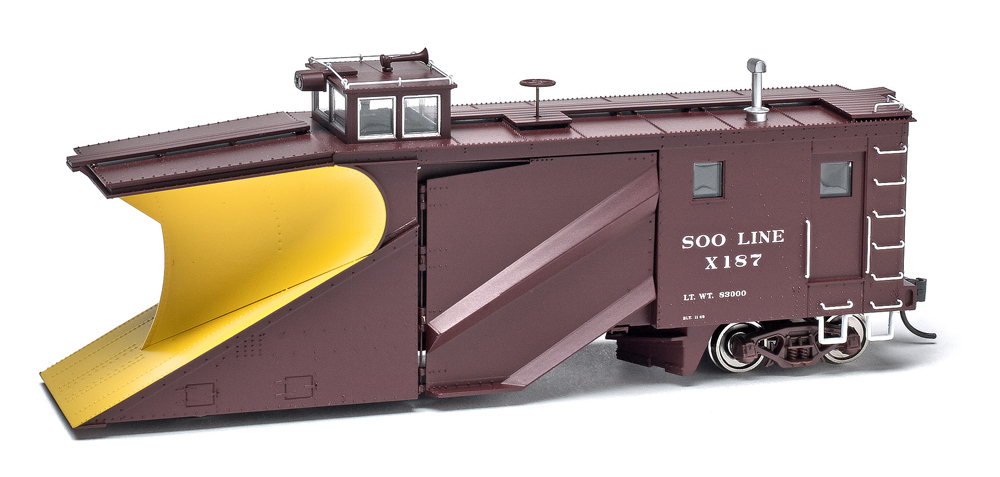 In late 1994 Wm. K. Walthers Inc. produced an injection-molded plastic Russell snowplow kit. The model had one-size-fits-all details, molded grab irons, and fixed wing blades.
Two decades later Walthers released a newly tooled Russell snowplow with prototype-specific details, wire grab irons, and positionable wing blades. The Proto-series model has been offered lettered for several railroads as well as undecorated. You can read my review of the model on page 80 of the December 2014 issue of Model Railroader.
Athearn HO scale rotary snowplow with B unit

The Athearn Lima-Hamilton rotary snowplow and Electro-Motive Division F7B unit date back to the manufacturer's "blue box" era. When Athearn launched its Ready-to-Roll product line in the early 2000s, it paired the models for an interesting snow fighting duo. A review of the Athearn rotary snow plow and EMD F7B was published on page 88 of the March 2015 issue.
In addition to the EMD F7B, Athearn has also paired its rotary snowplow with an ex-Model Die Casting (Roundhouse) oil tender.
Walthers HO scale Jordan Spreader

The Jordan spreader follows a similar path as the Russell snowplow in the Walthers product lineup. The model was initially offered as a kit in the late 1990s. In 2018, a newly tooled version was released as part of the WalthersProto product range.
The 2018 release, based on the Jordan Model 2-200 prototype, has many new features, including positionable wings and slopers, wire grab irons, and railroad-specific details. A review of the model was published on page 64 of the November 2018 issue.
Walthers offers the Jordan spreader decorated for several railroads, in painted but unlettered versions, and undecorated.
Atlas N scale Russell snowplow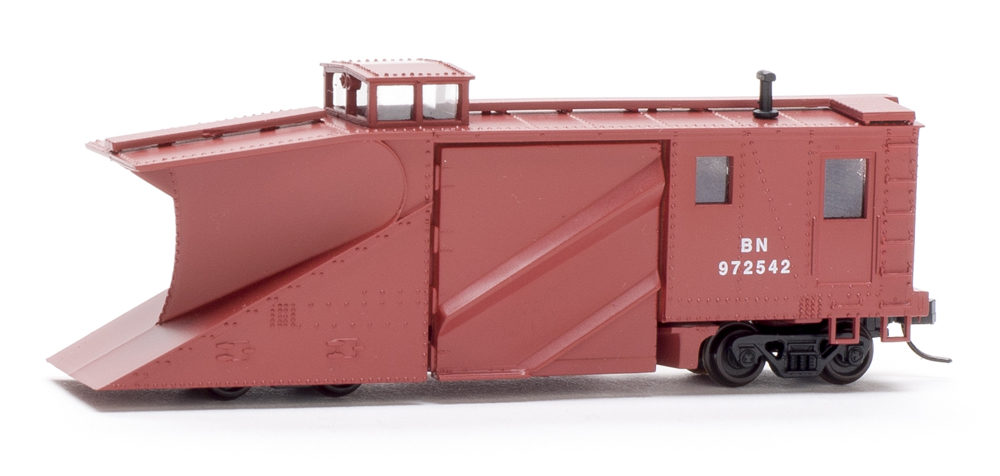 In June 2018, Atlas Model Railroad Co. acquired N scale locomotive and freight car tooling from Wm. K. Walthers Inc. Included in the sale was the Russell snowplow. Atlas has offered the snow fighter in more than 20 paint schemes over the course of three production runs.
The injection-molded plastic Russell snowplow features a separate, factory-applied smokestack and running boards; plastic wheelsets; clear window glazing; and a truck-mounted Accumate knuckle coupler on the rear. The molded grab irons and handrails are picked in a contrasting color as appropriate.
Atlas O Russell snowplow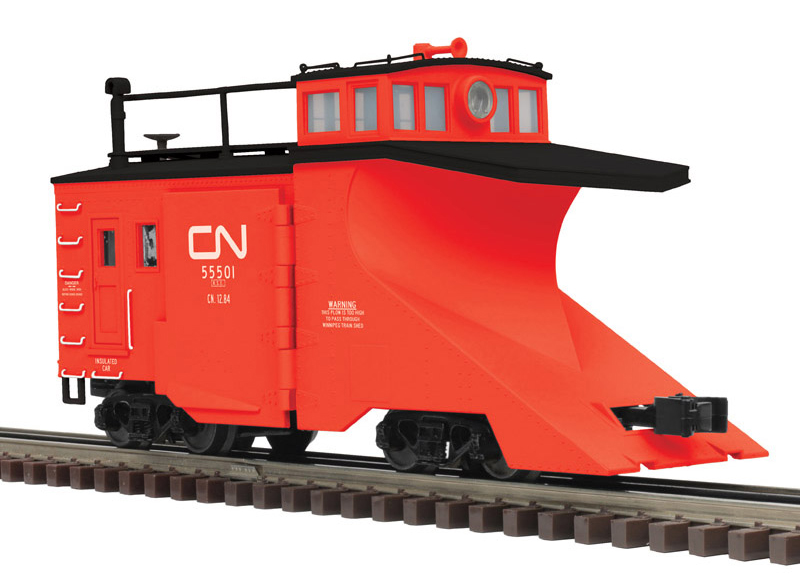 Another Russell snowplow joined the Atlas lineup when the manufacturer purchased select MTH O gauge tooling in March 2021. The Atlas O Premier line snowplow is only offered in a three-rail version, but the model has 1:48 scale dimensions.
The first run of snowplows was announced in the Atlas O winter 2021-22 Premier catalog. The Russell snowplow has an injection-molded plastic body; separate, factory-painted and installed metal grab irons and handrails; die-cast metal wheels, axles, and couplers; and a stamped metal floor.
Don't forget the kits
The five models mentioned above are ready-to-run models. There are also few snowplow kits to talk about in our snow removal roundup. Tichy Train Group offers a Leslie rotary snowplow in N scale. The injection-molded styrene kit, No. 2705, includes trucks and a drawbar for connecting it to a tender (sold separately).
Custom Finishing Models sells an HO scale jet snow melter (No. 7086). The white-metal kit is based on full-size track machines used to clear snow from turnouts.
Narrow gauge modelers will want to check out Rio Grande Southern plow flanger No. 02 from Durango Press. The HOn3 kit (No. 42) includes laser-cut walls, metal wheelsets, cast-metal parts, factory-cut lumber, and more.
We hope you enjoy our snow removal roundup. If we've left your favorite snow fighting model off the list, please leave the manufacturer name, scale, and item number in the comments field below.