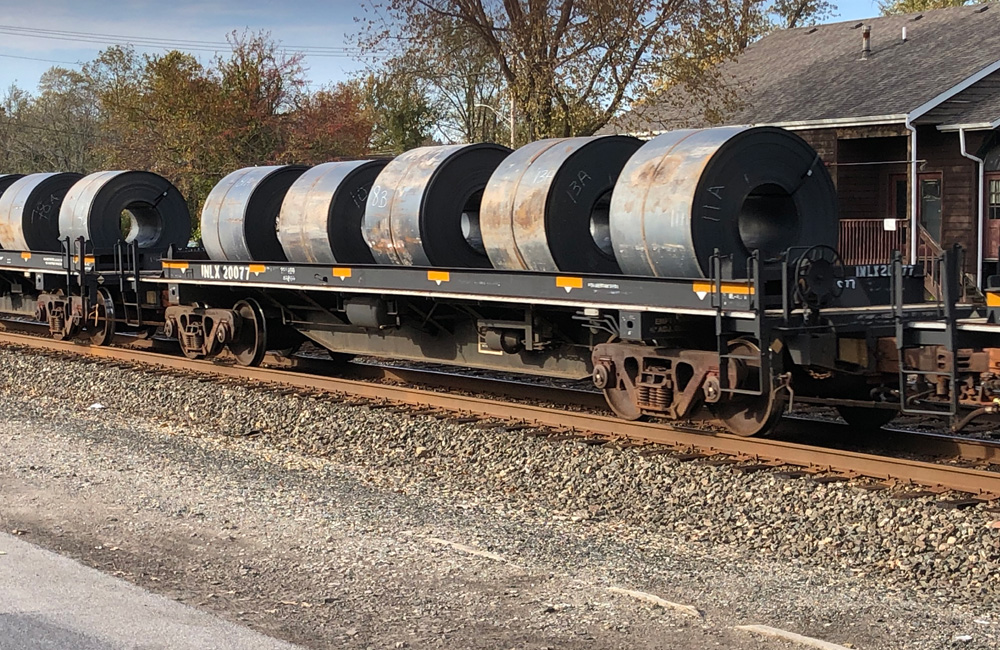 Q: I was wondering, what regulations govern hauling steel? What are the rules for hauling steel beams, sheet metal, and rolled steel? With steel beams, do they go by the weight of the beam or the thickness? What about sheet metal loads; do they go by thickness or quantity of the load? With rolled steel, how wide is the metal? What is the thickness and number of feet in the roll? – James Shepard
A: Steel products aren't considered a hazardous material like, say, crude oil or chlorine gas. If a train carrying steel products derails, it can be cleaned up without much potential environmental damage. So there aren't a lot of federal regulations governing its interstate transport.
Steel is a very dense material, so weight, rather than dimensions, is the governing factor when loading a freight car. It doesn't take a lot to reach the load limit of a typical freight car. Frequent Model Railroader contributor M.R. Snell wrote an article for our March 2016 issue, "Model realistic stacked steel plates." This article includes a link to an online calculator for figuring how much a particular volume of steel weighs. Since M.R. was building a load representing slab steel, it was fairly straightforward to calculate its weight based on its dimensions. The load reached the 37-ton weight limit of the flatcar he was using for his project in only four slabs!
This will be true no matter whether the steel you're moving is in the form of slabs, I-beams, ingots, or sheet-metal coils, like the ones on the Norfolk Southern train in the photo above. The car will reach its weight limit long before the car fills up, so your load will look realistic if you only use a few pieces. For another example, look at the Step By Step department in our October 2018 issue, "Three loads for open-top cars." Three steel coils is a full load for the gondola in that project.
As for what sizes steel lading comes in, that's infinitely variable. Sheet steel can be thick or thin, slabs can be narrow or wide, and extruded shapes like pipes, rods, angles, or I-beams can be long or short. Use what looks right for the car you're loading. And don't forget the banding, bracing, and blocking to keep that load in check. You don't want it sliding around inside the car when the train slows down or turns a corner.
Send us your questions
Have a question about modeling, operation, or prototype railroads? Send it to us at AskTrains@Trains.com. Be sure to put "Ask MR" in the subject.