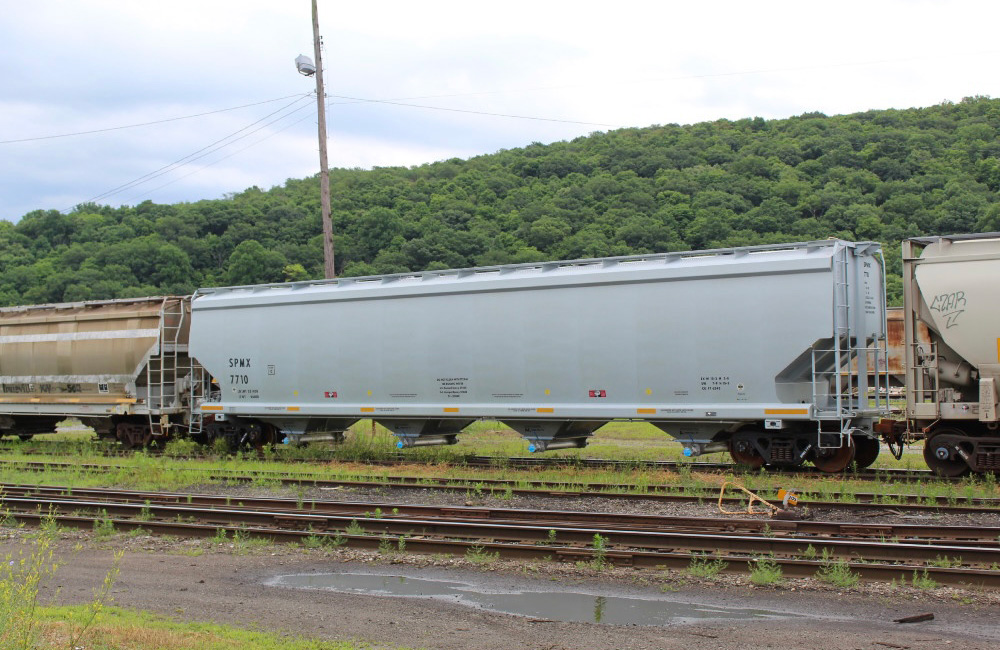 Q: What are the gray SPMX covered hoppers for? I see them everywhere, but never moving. – Carol Schuler
A: SPMX is a relatively new reporting mark – so new that it doesn't show up yet on many of the websites I use for reference. But that reporting mark belongs to Shell Polymers. That's a 6,245-cubic-foot, four-bay cylindrical covered hopper, used to transport pelletized plastic. Since pelletized plastic is a relatively low-density lading, the car is quite long for a hopper – 67 feet to be exact – without exceeding its 110-ton load limit.
The cars were built by National Steel Car in Hamilton, Ont., in June to October of 2019, part of job P7845/18. Shell ordered the cars to ship the output of the new Pennsylvania Petrochemicals Complex it was building in Monaca, Pa., on the Ohio River, west of Pittsburgh. According to an article in the New York Times, when it comes online, the plant will produce more than a million tons of plastic a year. Shell didn't want to depend on the vagaries of freight car availability to service its factory, so it ordered 1,750 of these covered hoppers, numbered from 6950 to 8699, from NSC.
Until the plant came online, though, the cars were on standby – which is why you saw them parked on sidings everywhere you went. Most of them – upwards of 1,000 – were stored at the Hollidaysburg Railcar Storage yard in Hollidaysburg, Pa., which is where the photo above was taken.
If you want to model these gray SPMX covered hoppers on your layout, I'm afraid they're too new for anyone to have put out a model. However, similar NSC designs have been produced. WalthersMainline has just issued a 60-foot, 5,150-cubic-foot-capacity covered hopper that has a similar profile, including NSC's distinctive top rail spotting feature. Walthers isn't offering an undecorated version, but the Cargill car (part no. 910-7726) has minimal printing, so redecorating it wouldn't be too hard. This model is only a three-bay hopper, but it's a plausible stand-in for the larger car – or maybe the start of a kitbashing project.
A decade or so ago, Walthers also used to offer a 64-foot NSC plastic pellet hopper that you still might be able to find in your local hobby store or at a train swap meet.
Send us your questions
Have a question about modeling, operation, or prototype railroads? Send it to us at AskTrains@Trains.com. Be sure to put "Ask MR" in the subject.