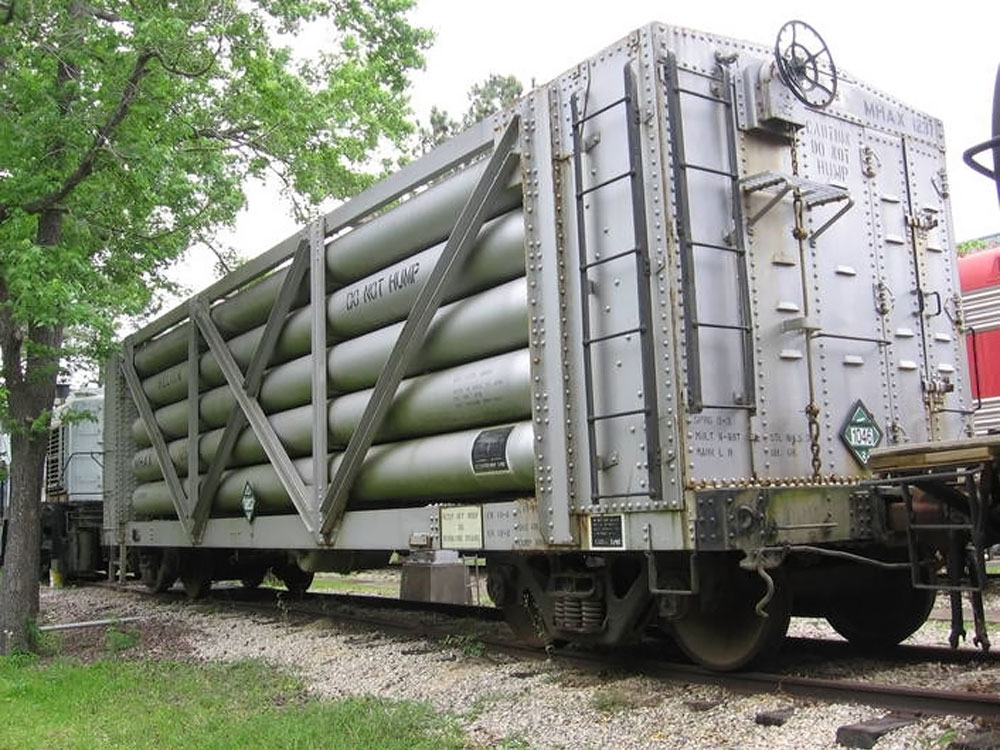 Q: I've always liked unusual rail cars — the more unusual, the better. I wonder how many readers might be stumped by the identity of the rail car in this photo? Hint: It's pretty heavy; otherwise, it might just float away. – Greg Hodges, Powhatan, Va.
A: That car's not so mysterious; its unique appearance makes it fairly easy to identify. And it's been available as a model kit since at least January 1938, when the first ad for an O scale wood model from Hawk Model Airplane Co. appeared in Model Railroader. That's a US Government helium car (the MHAX reporting marks correspond to the Department of the Interior Bureau of Mines Helium Field Operations). The first 14 cars, built for the U.S. military by General American Tank Car Co. (now General American Marks Co.) in 1930, had 28 cylinders and two diagonal braces on the open-frame sides. The next group, built by GATX in 1942 and 1943, had the same 30 cylinders and four diagonal cross braces per side as the car in your photo. You're right about them being heavy; at 243,400 pounds empty, they were some of the heaviest freight cars ever built. But that was due to the weight of the high-pressure metal tanks, not to hold them on the rails. A full load of helium at 3,000 psi didn't make them lighter; it added just over 1-1/2 tons.
This US Government helium car and those like it were used to ship helium from federal extraction facilities in the region of the Oklahoma Panhandle, north Texas, and southwest Kansas, all of which were served by the Atchison, Topeka & Santa Fe. The destinations were federal government sites such as the U.S. Naval Air Stations in Lakehurst, N.J.; Hitchcock, Texas; and Tillamook, Ore., as well as NASA's Cape Canaveral and Cape Kennedy. Defense Department use of lighter-than-aircraft was dialed down in the early 1950s, but Department of the Interior rail shipments of helium to military research and NASA destinations continued until the government privatized the helium production industry in 1996. A detailed article about the Santa Fe's helium operations was printed in the fourth quarter 2014 issue of The Warbonnet, the magazine of the Santa Fe Railway Historical & Modeling Society.
The design of these cars has changed little since the second GATX batch in 1943; the biggest change was the omission of the roof walk in the late 1950s. The 30-cylinder design, with roof walk, is the one represented by Ambroid's well-known HO scale craftsman kit, first announced in MR's August 1962 issue. MR's new editor, Eric White, wrote an article about his experience building this vintage wood car kit in our December 2017 issue. Model manufacturer AHM sold a ready-to-run plastic version in the 1960s and '70s that can occasionally be found at railroad swap meets and dusty hobby-store clearance bins; MR contributor Alain Kap wrote about how to upgrade these cars in August 2014. And I wrote about how the prototypes were loaded and unloaded in "Ask MR" in June 2018. Helium tank cars may be rare – only about 200 of the prototypes were ever built – but their unique look means that more modelers know about them than you might think.
Send us your questions
Have a question about modeling, operation, or prototype railroads? Send it to us at AskTrains@Trains.com. Be sure to put "Ask MR" in the subject.