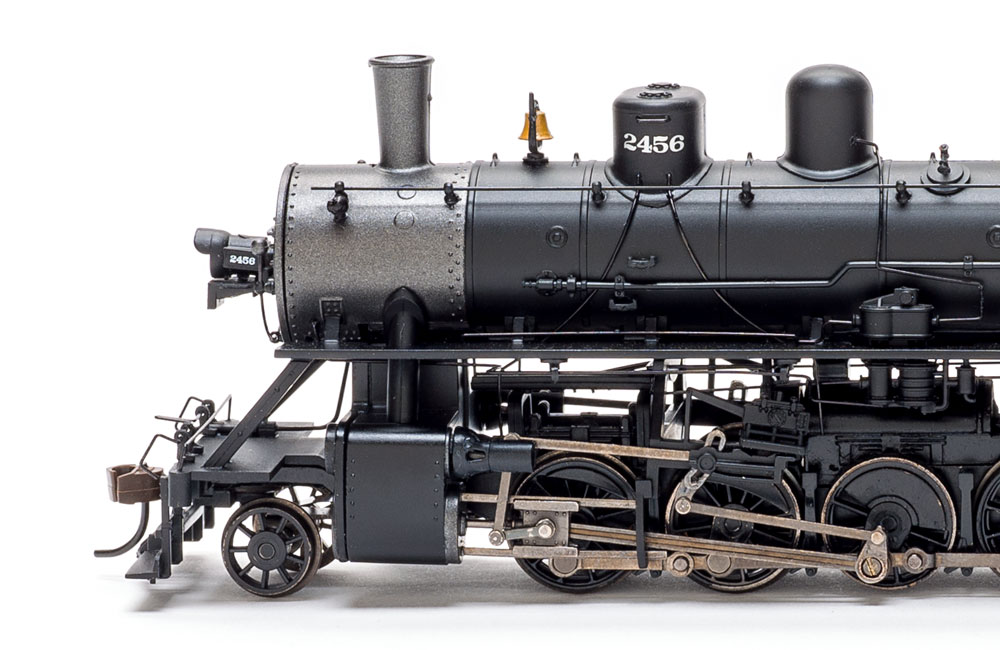 Q: I have two HO scale steam engines that both have the same problem. Their front trucks are always derailing. They are very light. Do you have any ideas how to fix this? – Ted Zieger
A: Your locomotives' front trucks should want to stay on the track of their own accords. If they're derailing, there are a number of possible reasons.
The first and most likely is that something is interfering with the trucks' ability to swing freely to track through curves, turnout frogs, and the like. Perhaps the screw, rivet, or pin the truck pivots on is too tight. Or maybe an obstruction on the frame, pilot, cylinders, or running gear is cramping the front truck's style. If there's a spring that's supposed to put pressure on the truck to hold it to the rails, it might be too strong, causing resistance when the truck is supposed to pivot. Turn it over in a foam locomotive cradle and look for these possibilities.
Another problem could be the wheels. While you've got the locomotive wheels-up, make sure the pilot truck is in gauge. Also check the wheels' flange depth. If the flanges are too deep, the wheels might have trouble with turnout frogs, guard rails, grade crossings, diamond crossings, and wayward spike heads. Older locomotives tend to have deeper flanges that might not play well with modern, low-profile track and turnouts.
It's also possible that the problem isn't the locomotives, but the track. If the derailments consistently happen at the same places on your layout, you might have an out-of-gauge turnout, a shallow frog flangeway, a kinked rail joint, an obstructing power feeder, ballast in the flangeway, or something of the sort. Or maybe a flextrack curve is tighter than it's supposed to be. If it's a subtle problem, your steam locomotives' light front trucks might be the only wheels on your fleet sensitive enough to pick up on it.
Good luck finding your problem.
Send us your questions
Do you have a question about modeling, operations, or prototype railroading? Send it to us at AskTrains@Trains.com. Put "Ask MR" in the subject and be sure to include your full name and hometown.