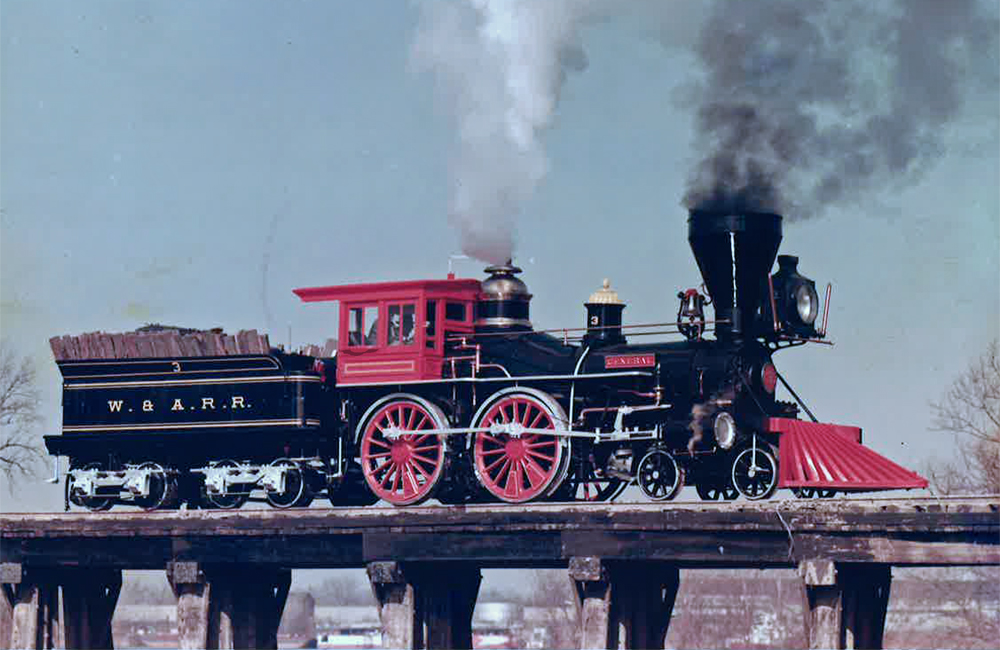 Q: The 4-4-0 American steam locomotive The General burned wood for fuel. Why didn't it burn coal? – Alexander Brennan
A: The ubiquitous 4-4-0 model called The General is modeled after a famous prototype – the Confederate locomotive of the same name, which was commandeered by Union spies in 1862 at Big Shanty, Ga. The subsequent pursuit of the stolen engine by the train's conductor, William A. Fuller, using several other locomotives was the subject of the movie The Great Locomotive Chase. The prototype is preserved and on display at the Southern Museum of the Civil War and Locomotive History at Kennesaw, Ga.
The General was built in 1855 for the Western & Atlantic, a 5-foot-gauge line running from Marietta, Ga., to Chattanooga, Tenn. At the time, wood was a far more plentiful and easier to acquire fuel source than coal for a Southern railroad. Back then railroads were few and far between and often couldn't interchange cars with other roads (especially those with nonstandard gauges, like the broad gauge W&A). Also, West Virginia coal country was considered the wild frontier. So The General would have been designed with a firebox and steam tubes optimized for wood fuel, as many locomotives of the day were. Coal would become practical only after railroads had penetrated the coal-rich Appalachians, making the fuel cheap and plentiful.
To read more about The General and the movie The Great Locomotive Chase, check out the April 2012 issue of Trains magazine.
Reader tip: Take operator overhang into account
I would like to amplify your response to the question about how close to the edge to run track. I also consider how close to waist height the track is. Middle age and older anatomy being what it is, track should not be near the edge without plexiglass protection where tight aisle-ways or higher levels might cause an operator to brush against the fascia. Closer to eye level might seem more hazardous because of the greater height to fall to the floor, but inadvertently bumping rolling stock happens much more at waist height. The added depth away from the edge is important any place an inattentive move might derail rolling stock. You may not even notice the danger except under operating session conditions; solo operations don't cause requests for one operator to move so another can get by. – Dave Vetter
Send us your questions
Have a question about modeling, operation, or prototype railroads? Send it to us at AskTrains@Trains.com. Be sure to put "Ask MR" in the subject.