Q:  I have two questions on decorating Baltimore and Ohio diesels. I would like to know what color the fuel tank, air reservoir, and trucks were on a B&O GP7. Second question, what type of horns did these locomotives have, and where were they placed on the locomotive?– Barry Geiger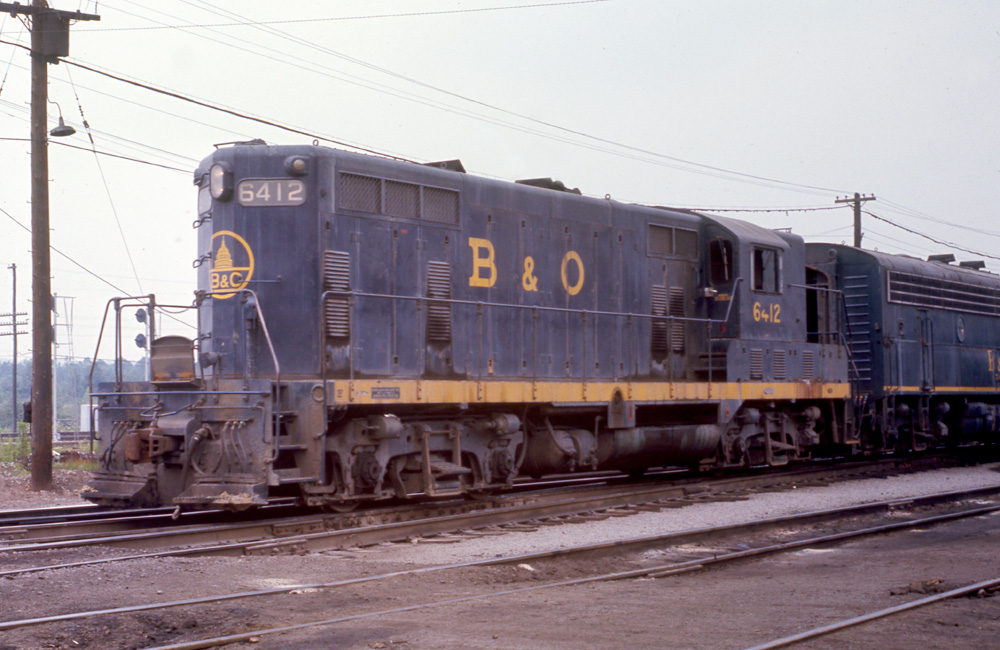 A: The Baltimore & Ohio had one of the handsomest passenger diesel paint schemes I've ever seen. The body was a deep blue, the top was a medium blue-gray, and the center of the body bore a very dark blue, almost black, band bordered by thin yellow stripes. Though this scheme was developed for (and in my opinion looked best on) cowl units like the Electro-Motive Division E7 and Alco FA2, variations were worn by Baldwin sharknoses, steam-generator-equipped EMD hood units, and even the railroad's Baltimore Harbor car float tug, the Hugh L. Bond Jr.
Freight hood units and diesel switchers, on the other hand, got a considerably less flashy paint scheme. These unglamorous workhorses had often had a wide yellow sill stripe, and sometimes a single yellow pinstripe high on the hood, but for the most part they were solid B&O blue. This kind of livery is often called a "dip scheme" because it appears as though the entire engine was dipped into a vat of paint. This scheme persisted mostly unchanged all the way through to the railroad's merger into the Chessie System in 1973.
Tru-Color Paint, available through Wm. K. Walthers as well as local hobby stores, has acrylic hobby paint to match the colors in B&O's diesel schemes. The passenger and freight schemes alike were based on a deep Royal Blue also used by the Chesapeake & Ohio. The two railroads also shared the same yellow paint. The gray used on the B&O passenger scheme is likewise the same as C&O Gray. The color of the band on the passenger scheme was called Bando Blue.
But you asked about decorating Baltimore and Ohio diesels' undercarriage. Photos in B&O color books like Trackside along the B&O 1957-1958 with Edward P. Griffith (by Walter A. Appel, Morning Sun Books) and Baltimore & Ohio: New York to Cumberland (Stephen J. Salamon, David P. Oroszi, and David P. Ori, Old Line Graphics) show that regardless of the paint scheme, everything under the sill on a typical B&O diesel was painted black. In most of those photos the black is quite faded, so anything from a Steam Power Black to Grimy Black would do, depending on the age and degree of weathering of the diesel in question.
Most early diesels were delivered with unmelodic single-chime Wabco horns. Nathan developed several multi-chime horns in the early 1950s, which B&O management tested and liked. Starting in 1953, all B&O diesels were delivered with Nathan horns – five-chime on passenger units, three-chime on freight power, and two-chime on switchers. Older diesels were refitted with Nathans, as well, as maintenance schedules allowed. The B&O's GP7s were delivered in 1953, so they would all be equipped with three-chime horns. Prototype photos show they were mounted in the center of the long hood.
Send us your questions
Have a question about modeling, operation, or prototype railroads? Send it to us at AskTrains@Trains.com. Be sure to put "Ask MR" in the subject.