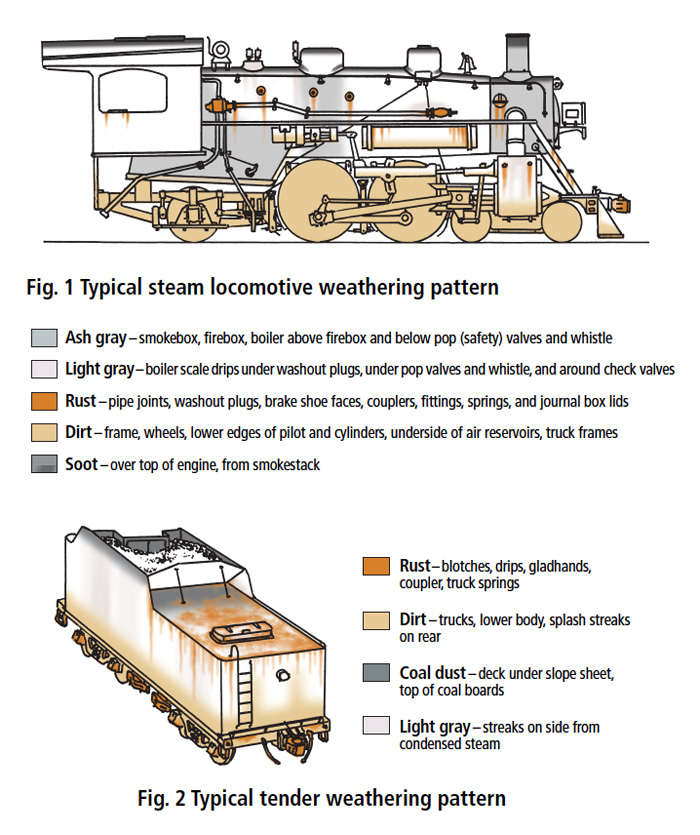 Q: I'm writing you to ask how to weather steam locomotives as well as my log cars, bobber cabooses, and other railroad cars. I would also like to weather some of my buildings. Can you give me some ideas on what to use in weathering my layout? – Russell C. Brenchley, Cottage Grove, Ore.
A: The first thing to do when you set out to weather steam locomotives (or rolling stock, or anything else on your layout) is to study photos of the prototype. The point of weathering is to make our shiny plastic models look more like the real thing. But modelers often seem to figure that more weathering equals more realism. The prototype railroads couldn't make any money if they let their motive power rust away, so they took care of them as much as time and budget allowed. The same was true of their rail cars. Any prototype rolling stock that looked as worn out as some of the models I weathered in my early days of the hobby would be immediately shipped off to the rebuilding shops or the scrapyard.
That's not to say that old and beat-up rolling stock was never found on the railroads, but it shouldn't be the rule. The amount of weathering you apply to a model should depend on how old it is, what kind of jobs it did, and how well maintained it would be. New rolling stock, of course, wouldn't have had time to rust, fade, or wear. Freight cars that haul messy, heavy cargo like coal, ore, livestock, and scrap metal would get dirtier and more worn than those that carry relatively clean ladings like paper, automobiles, plastic pellets, and food products. Steam engines and the cars that ride behind them pick up more soot than diesel or electric locomotives and their consists. And the cars and locomotives assigned to passenger duty and crack fast freights are more often cleaned, maintained, and repainted than those on second- and third-class trains. It's easy to reflect this variety on your model railroad's roster, giving the viewer an immediate grasp of which engines and cars have been around longer and worked harder than others.
As for the actual tools and techniques you need to weather steam locomotives and rolling stock, you have a wide variety of options: drybrushing, paint washes, weathering powders, and airbrushing. How to use them is beyond the scope of this article, but we've published a lot of articles and books on the topic over the years. Try MR contributing editor Pelle Søeborg's book Done in a Day or Jeff Wilson's Basic Painting & Weathering for Model Railroaders, both available in the Kalmbach Hobby Store.
If you have access to our online archive or a big box of Model Railroader back issues, look up "Weather a Boxcar" in our February 2023 issue, "How to weather a modern road locomotive" in December 2022, "Detail and weather war emergency hoppers" from November 2021, "Basic weathering with pastel sticks" in January 2016, and Tony Koester's "Weathering a steam locomotive in 7 minutes" from November 2013. And for techniques to weather structures, you can find the article "12 classic weathering tips" in that same issue.
Send us your questions
Have a question about modeling, operation, or prototype railroads? Send it to us at AskTrains@Trains.com. Be sure to put "Ask MR" in the subject.