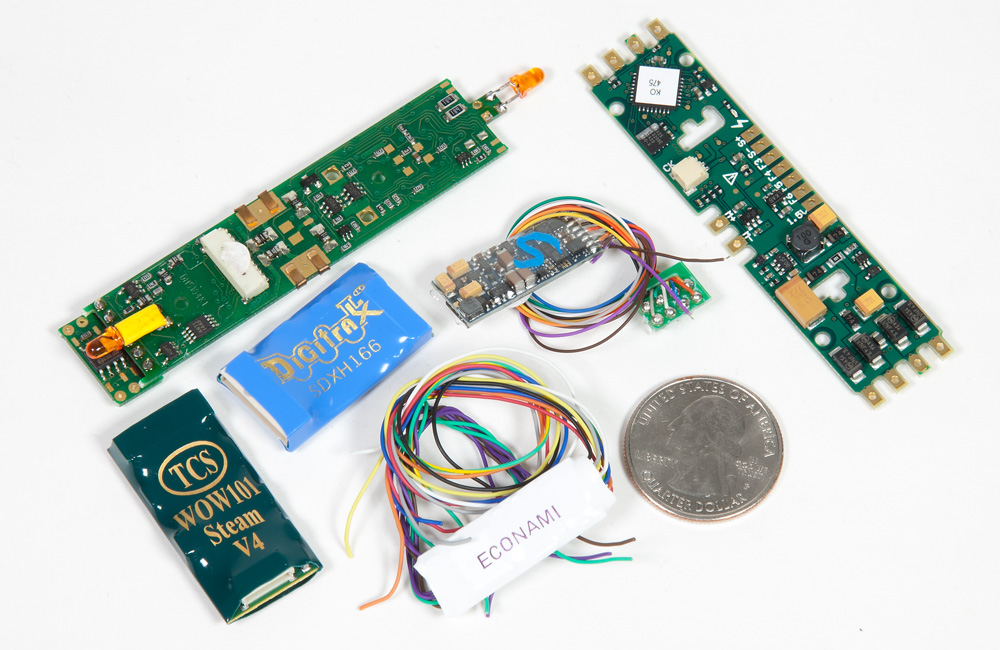 Q:  I would like to add a speaker to a decoder in my Atlas locomotive. But I plan to run it on a DC analog system. Can I still put the speaker on or can I not? – Zachary Chevalier
A: There are such things as motor-only and function-only DCC decoders, so to know if yours is in fact a sound decoder, you'll have to check the outputs. If your decoder is wired, check the color of the wires. The wiring color standard for DCC does not cover speaker wires, so different manufacturers use different colors. Most use brown and brown-and-white striped wires for speakers, or purple and purple-and-white. Other manufacturers might use purple for auxiliary lighting outputs or other uses, so if you see brown or purple wires that aren't attached to anything, check the documentation your decoder came with before you go hooking up a speaker to what could be a lighting output.
If your decoder has soldering pads rather than a wiring harness, look for tiny stamped-on labels that say what the outputs are, like the ones in the top-left decoder in the photo above. (Note the top two of the row of side contacts are labeled "S+" and "S-" – those are the speaker outputs.) If your decoder's soldering contacts aren't labeled, rely on your decoder's documentation, which can be found on the decoder manufacturer's website.
Now, with all that being said, the short answer is yes. If your decoder has speaker outputs, it's a sound decoder, and you can hook up a speaker to it. If your decoder was manufactured in the last 15 years or so, it's likely a dual-mode decoder that should work on a direct-current layout, so you should get sounds under DC, as well. You won't get much more than the motor sounds out of it, but it should work.
Check out our book DCC Projects & Applications, Vol. 4 for more on installing decoders and similar projects.
Send us your questions
Have a question about modeling, operation, or prototype railroads? Send it to us at AskTrains@Trains.com. Be sure to put "Ask MR" in the subject.