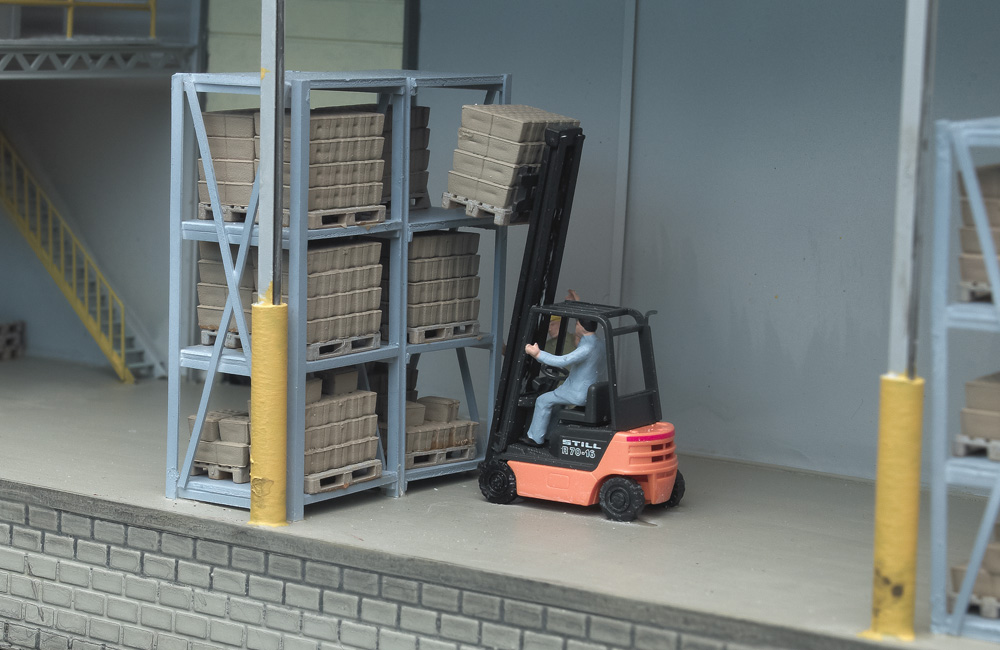 Q: I model some small industries and businesses in the early 1950s. Were pallets and forklifts in common use at that time? – Chris Gabel, Loveland, Colo.
A: As you alluded to, the development of the pallet went hand-in-hand with the development of the hand-operated pallet jack and its motorized version, the forklift. Prior to that, freight was most often packaged in wooden crates that were either built to suit by shippers or in bulk by box factories that were ubiquitous in steam-era cities. The earliest patent for something called a "Lift Truck Platform" was issued in 1924. The use of forklifts and pallets became more prevalent in the 1930s and really took off during World War II, when American industry was forced to develop faster and better ways to package and ship manufactured goods. It wouldn't be unusual to see pallets in use everywhere from the 1940s on.
Q: For my fictional Susan River & Western RR, set in Northern California and Nevada in the early-to-mid 1960s, I need to develop a numbering system for the few pieces of equipment owned by the railroad. The four Electro-Motive Division GP7s have been numbered 10, 11, 12, and 14. I also need appropriate numbers for cabooses, bulk-end flatcars, wood-chip hoppers, and maintenance-of-way equipment. What guidelines or requirements exist for such a numbering system, such as minimum amount of numbers required? – Ross Stevenson, Susanville, Calif.
A: There are no hard-and-fast rules or requirements on rolling-stock numbering, but I have observed some common practices that you might adopt to increase the verisimilitude of your freelanced road.
The number of digits used in a road number is chosen so there will be enough available numbers for the rolling stock the railroad might conceivably own in the future. As such, locomotives tend to have fewer digits than the more plentiful cars. On larger roads in the early diesel era, passenger locomotives tended to have low numbers, one or two digits, while freight engines usually had four. Since locomotives are often bought in batches, multiples of the same type of engine should be consecutively numbered, at least to start with. The absence of no. 13 in your Geep fleet might point to a wreck in the railroad's past (as would befit that unlucky number), or it might have been sold or leased to another railroad.
While locomotives typically have no more than four digits, freight cars often get four to six digits, depending on the age and size of the railroad's fleet. Though the chance of even a large Class 1 railroad having 999,999 freight cars is slim, six-digit freight car numbers leave room to accommodate the gaps that occur when batches of cars reach obsolescence and are scrapped. Railroads also tend to numerically group their cars by type, meaning that 10000-17999 might be boxcars, 18000-19999 insulated boxcars, 20000-23999 flatcars, 24000-24999 bulkhead flats, and so on. Within those groups, there might be large gaps to leave room for future purchases of the same kind of car to be consecutively numbered.
As time goes on and a railroad grows, the fleet might grow to need more digits to keep track of everything. While older cars that need to be renumbered for the new system might get all new numbers, some might simply get an additional digit stenciled before its existing number. Such a patch job might make for an interesting paint scheme to apply to some of your cars.
I've also observed that railroads that use five digits for their freight cars will sometimes use six digits to distinguish cabooses, maintenance-of-way equipment, and other non-revenue cars.
And though some railroads number their passenger cars, many instead give them memorable, customer-friendly names. Usually, cars of the same type will be named following a theme. For example, diners and lounges might be named for trees, observations for lakes, sleepers for presidents, coaches for major cities, and so on. Head-end cars like baggage or RPOs would still be numbered, though.
Send us your questions
Do you have a question about model railroading you'd like to see answered in Ask MR? Send it to associate editor Steven Otte at AskMR@MRmag.com