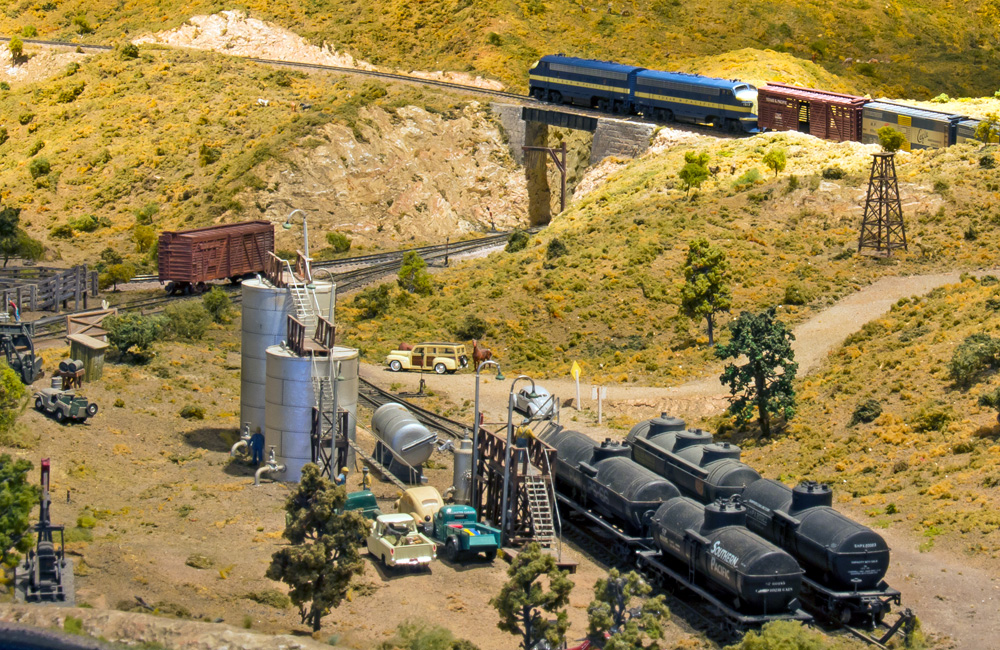 Q: I'm planning to model Farmington, N.M., on my HOn3 model railroad. I've studied the article "Railroading in the Oil Fields" in the January 1960 Model Railroader to learn as much as possible about creating a realistic model of an oil field. The article has some very detailed information. An Internet search for Farmington gave me a photo of the Denver & Rio Grande Western depot and a minimal photo of the tank car loading platform, but little else. But what I'm still missing is how the oil gets from the oil pumps to the storage tanks and the railroad tanker car loading facility. There's nothing like a pipe connection at the pump itself. Do you have more information on what should be included in my model? – Art Schmidt
A: Oil travels from the wellhead to the storage tanks in pipes. Though the wellhead assembly is above ground, the pipes leading to the storage tanks can either be above ground or buried to protect them from weather, truck traffic, and other hazards. So you can simplify your oil-field modeling by saying your piping is underground.
So what does an oil field scene need? The first thing is an oil pump. Walthers makes models of a modern walking-beam (or "horse head") oil pump in HO no. 933-3170 and N scales no. 933-3248. Alexander Scale Models makes HO scale no. A-7430 and O scale no. A-430 models. Atlas O has an operating pump that's available in many colors; no. 66904 is the black version.
Place a storage tank or a backdrop photo of one near the pumps, add a tank car loading platform on a spur track, and you've got a realistic scene. The photo above shows such a scene on the HO scale Texas & Pacific Ry., in the Jefferson Historical Society & Museum in Jefferson, Texas. (The oil well is at lower left.) A scene like this is a great way to model a busy industry in a small space, especially if you depict most of the oil field with prototype photos glued to the backdrop.
Send us your questions
Got a question about modeling, operation, or prototype railroading? E-mail it to us at AskTrains@Trains.com. Include your full name and hometown and put "Ask MR" in the subject.