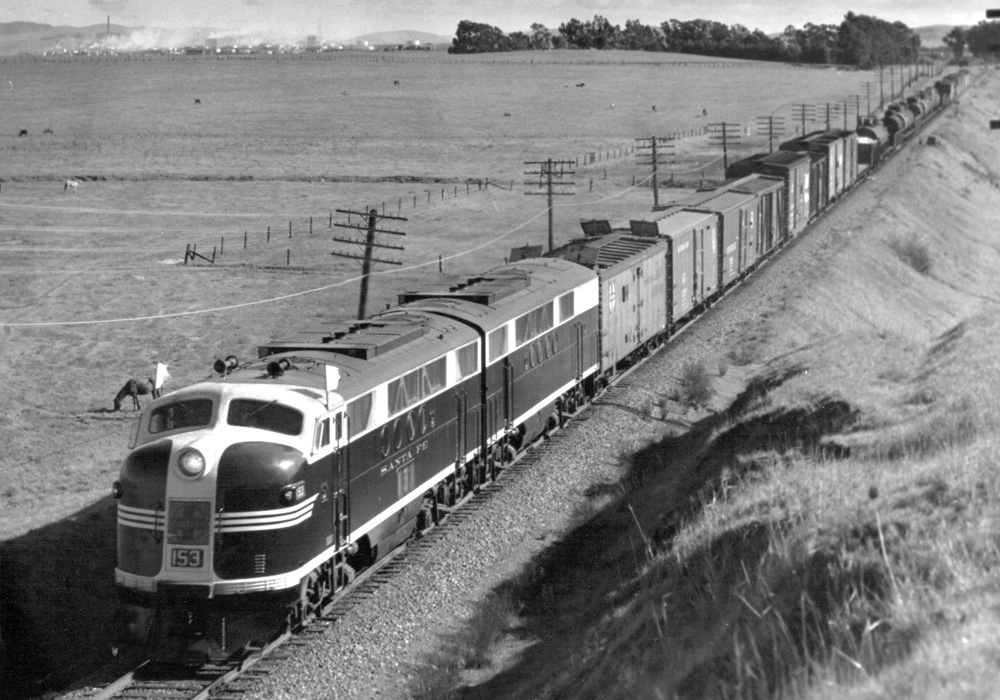 Q: I've heard about a freight train the Atchison, Topeka & Santa Fe operated in the early 1970s and earlier in California called the NCX. The few references I've seen indicate it was a hotshot intermodal train. This train sounds interesting, especially since it ran at the same time as the famous Santa Fe Super C. There's not much information on this train on the internet, but it sounds like a good train to model. Please share anything you have. – Steve Novotny, South Pasadena, Calif.
A: Tom Hoffman, Kalmbach Media's librarian and a crack researcher, found for me a great document about train NCX, aka the Northern California Express, on the website of the Santa Fe Railway Historical and Modeling Society (sfrhms.org). This report, compiled by society members John Thompson and Stuart Forsyth, has a ton of great detail about this train. Search the web for "Santa Fe freight train NCX" to find the full text.
Northern California Express was an eastbound regular manifest running from Los Angeles to Richmond, Calif., in the San Francisco Bay area. (Although it ran north, in Santa Fe parlance, anything away from Los Angeles was considered timetable east.) Its westbound counterpart was designated SCX (Southern California Express).
Though its schedule changed over the years, it generally left from Los Angeles' 1st Street Yard after dark and arrived in the wee hours of the morning at San Bernardino. There it would drop off locals for SB and change crews, cabooses, and motive power, switching to a four-unit set of EMD F units (FTs, F3s, or later F9s). It might also pick up a helper or two for the climb up Cajon Pass to Barstow, which always took place after midnight. In Barstow it would pull into B Yard, cut off any locals, and change directions. After the climb through Tehachapi Pass into the San Joaquin Valley, cars bound for Reno, Nevada, or farther up the Pacific Northwest were handed off to the Southern Pacific or Western Pacific at Stockton. The train then headed west to terminate in Richmond Yard.
Train NCX is often confused with Train No. 134, and for good reason. When NCX left the 1st Street Yard, it did so as First 134. Although NCX was listed in the ATSF timetable as "134 – NCX," it was not actually 134, since that train only went as far as San Bernardino. Train NCX was treated as if it were the first section of 134 solely to give the train priority from L.A. to San Bernardino. North of there, neither traffic nor priority were as much of an issue, so the class 2 train could proceed under its own schedule.
A typical NCX consist was 50 to 80 cars long. Most of its boxcars carried less-than-carload lot (LCL) traffic from freight forwarders in Los Angeles. Other significant cars were boxcars of manufactured goods, class XAR automobile boxcars, perishable reefers (usually blocked at the front of the train to be cut off at San Bernardino), the occasional flatcar, and tanks of crude oil, refinery products, asphalt, liquid sulfur, and sulfuric acid. Not seen on this priority freight were lumber, gondolas, stockcars, or for the most part empties. Only specialized empties, like auto boxcars with internal racks, requested by shippers would ride on NCX as "waybill empties."
The most common reporting marks seen on freight cars carried by NCX were from western lines, including ATSF, WP, SP, Great Northern, Northern Pacific, and Spokane, Portland & Seattle. Eastern road names seen on the train included Milwaukee Road, Canadian National, Canadian Pacific, Illinois Central, Chicago & North Western, and Missouri Pacific. Most tank cars bore marks from ATSF and Union Tank Car (UTLX), though Union Oil (UOCX), Shell (SCCX), Shell Chemical (SCMX), Associated (AOX), and Richfield (ROX) were also seen. Reefers would be almost all Santa Fe Refrigerator Despatch (SFRD).
Motive power for the first part of the journey from Los Angeles to San Bernardino would be a pair of 2-10-2 steam locomotives in early years, later to be replaced by a pair of EMD Geeps. Past San Bernardino, duties would be handled by a four-unit set of EMD FTs, F3s, or F9s. Helpers would be 2-10-2s even into the early diesel era. And when you swap motive power, don't forget to change out the caboose, too!
Send us your questions
Do you have a question about model railroading you'd like to see answered in Ask MR? Send it to associate editor Steven Otte at AskMR@MRmag.com.