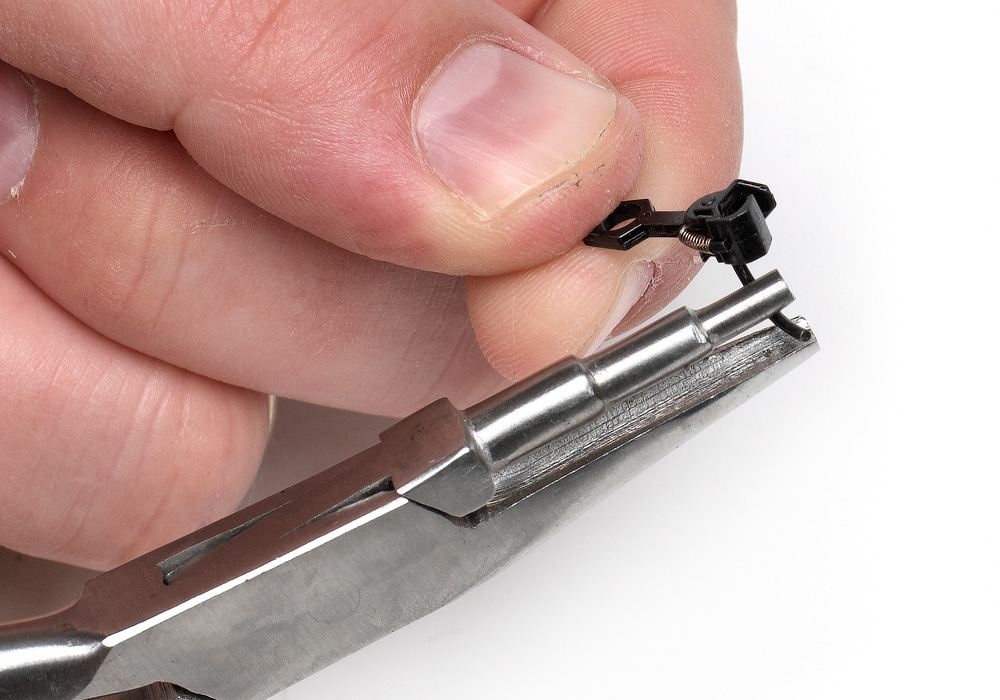 Q: I have a Bachmann stockcar whose couplers hang down so low that the pins catch on turnout closure rails, grade crossings, or crossing diamonds. How can I get them up to the right height? Will a coupler shim work, or do I need to do something else? – Joseph Kuepfer, Milverton, Ont.
A: That depends on whether it's the coupler's trip pins that are hanging low, or the entire coupler. The easiest way to find out is to get a coupler height gauge. Kadee makes them in all common scales. Place the gauge and the car on the track and couple the car to the gauge; if the car's coupler is at the right height, they will match up.
If the couplers on your car turn out to be mounted too low, there are a couple ways to adjust them. One way, which you mention, is to add thin washers or shims between the car's trucks and its kingpins, raising the entire car body and the couplers with it. These come in thicknesses of .010" and .015", so they're good for subtle height adjustments.
If the couplers are misaligned by more than that, you might want to replace the couplers with underset shank couplers. As the name implies, the shank of these couplers is mounted at the bottom of the knuckle, which shifts the coupler head up.
However, you might find that the couplers are mounted at the correct height and it's just the trip pins themselves that are dragging. There's an easy fix for that, too, and it's called a trip pin plier. As seen in the photo below, this tool has one round jaw and one concave one. Gently squeezing a low-hanging coupler trip pin between these jaws can curve it upward so it clears your turnouts and crossings. Adjust your trip pins bit by bit and check throughout the process to make sure you don't bend them up too far; pins that are bent up too far won't respond to uncoupling magnets reliably. There should be a place on your coupler gauge to check this.
Send us your questions
Do you have a question about model railroading you'd like to see answered in Ask MR? Send it to senior associate editor Steven Otte at AskMR@MRmag.com.