Acrylic paints for airbrushing
While there are many different areas of the model railroading hobby that we can all explore, one common theme involved in almost all of these areas is paint. Whether you are painting entire backdrops, buildings, vehicles, or even figures, paint is a product that is necessary for model railroading. If you're airbrushing, it is very important to know the various acrylic paints for airbrushing available on the market.
With the discontinuing of the Floquil and Polly Scale paint lines, two that were popular with model railroaders, what are good alternatives? This list will focus on acrylic paints that are ready to airbrush with or easily thinned to use with an airbrush. As a modeler I prefer acrylic over enamel in many applications because of the easy cleanup, quick drying time, and use overall.
Acrylicos Vallejo Model Air
Manufacturer: Acrylicos Vallejo, 08800 Vilanova i la Geltrú, P.O. Box 337, Barcelona, Spain, (+34) 93 893 60 12 https://acrylicosvallejo.com/
Price: $4/17ml (0.57 oz.) bottle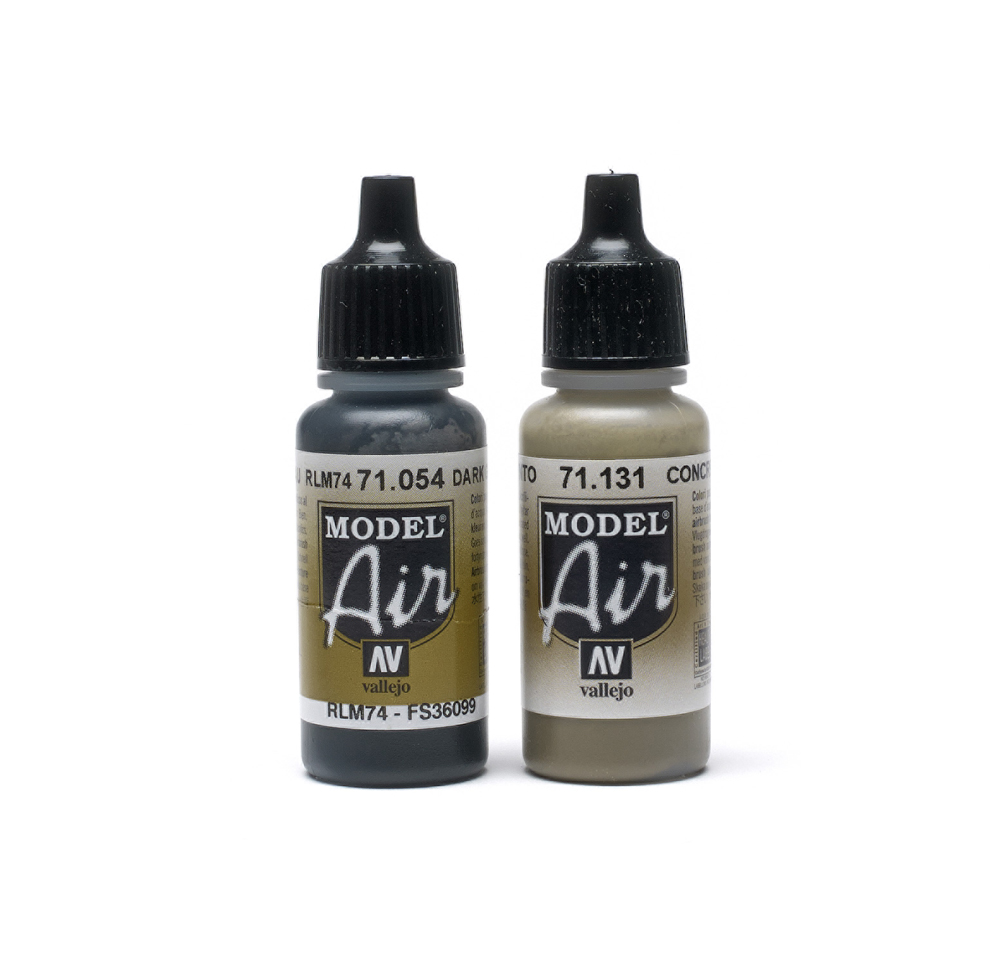 With more than 100 colors available, Vallejo Model Air paints are a great place to start when looking at acrylic paint options. Although Vallejo does not sell color-matched colors for specific railroads, these can be used out of the box on buildings, vehicles, and other scenery items. Many hobby stores carry the large line of Vallejo Model Air paint, so if you are looking for one specific color, that would be a great place to check. Model Air paints are ready to spray out of the bottle by pouring directly into an airbrush cup and do not need to be thinned. If desired, Vallejo Airbrush Thinner can be used in a ratio of 3:1 to thin the paint. The Kalmbach Hobby Store carries a variety of paint sets that include an assortment of 16 colors each, giving modelers various color options in one group. Find them here:
Right On Track Models Modelers Decals and Paint Airbrush Paint
Manufacturer: Right On Track Models, 10711 SW 216th St. Bldg. 100 Suite 204, Miami, FL 33190, https://ace-custom-decals.myshopify.com/
Price: $4.95/1 oz. (30ml) bottle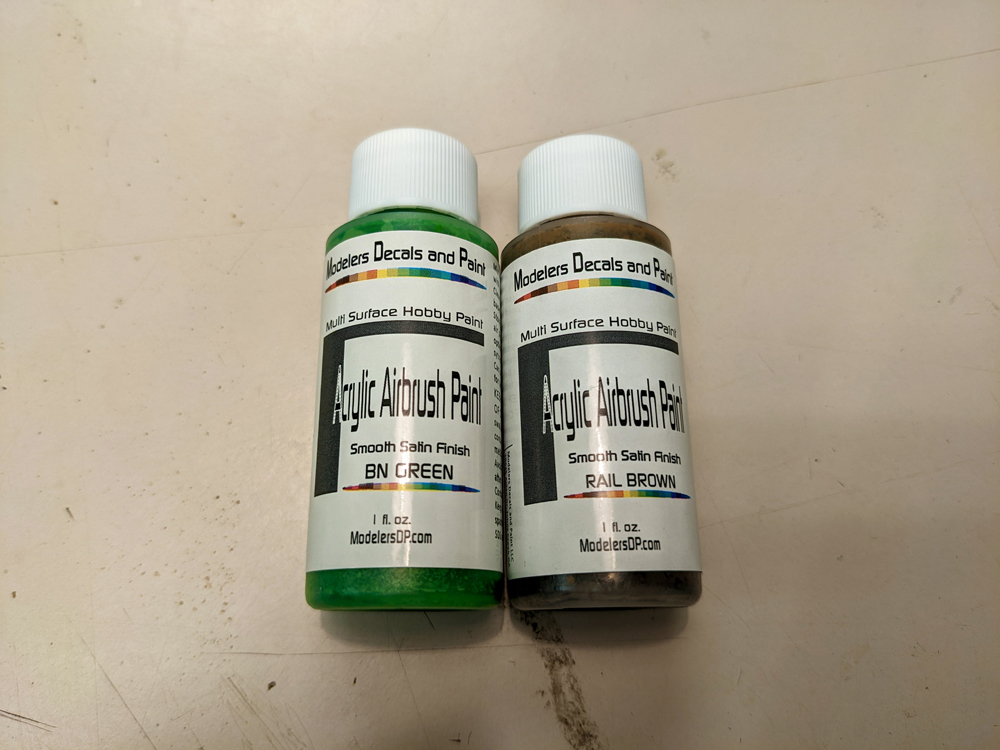 While the Vallejo Model Air offerings do not have any railroad-specific colors, Modelers Decals and Paint line contains select railroad colors. On top of generic colors such as "Engine Black" and "Box Car Red," are "Conrail Blue," "Pullman Green," and "BN Green." This paint is ready-to-use in an airbrush and even comes in an oversized bottle for easy color mixing. Instead of color assortments, purchase specific colors of Modelers Decals and Paint's Acrylic Airbrush Paint in the Kalmbach Hobby Store.
Tru-Color Paint
Manufacturer: Tru-Color Paint, P.O. Box 74524, Phoenix, AZ, 85087, 714-488-9779, https://trucolorpaint.com/
Price: $7.19/1 oz. (30ml) bottle; $12.95/2 oz (59ml) bottle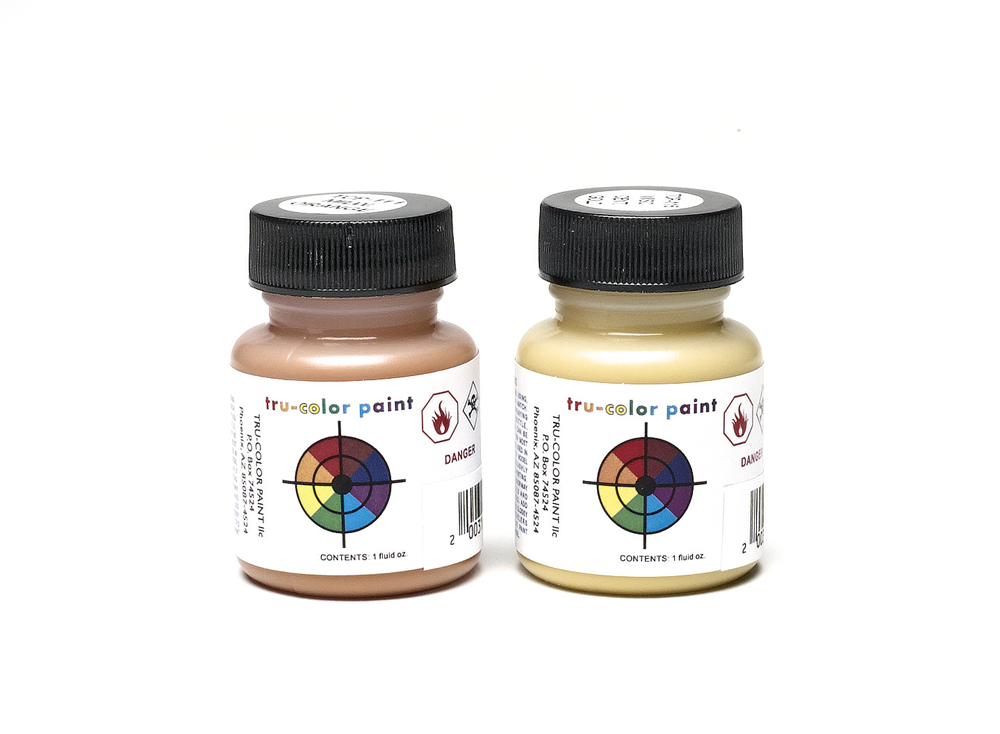 Tru-Color acrylic paint is a favorite of mine. There have been few colors that I have looked for that Tru-Color hasn't had. On top of clearly naming each of their paints, the Tru-Color website is full of information and databases. These paints come in one- or two-ounce bottles and can be purchased individually. Many hobby stores carry a range of Tru-Color colors, and the brand was popular at the store I worked at with modelers looking for a Floquil alternative. These paints are formulated for airbrushing, though they are solvent-based acrylics, which means ventilation is necessary when using these paints. If thinning is needed, Tru-Color's TCP-15 thinner is recommended.
Tamiya Acrylic
Manufacturer: Tamiya America, 36 Discovery, Ste. 200, Irvine, CA 92618, 800-826-4922, https://www.tamiyausa.com/
Price: $2.90/10ml (0.34 oz.) bottle; $3.80/23ml (0.78 oz.) bottle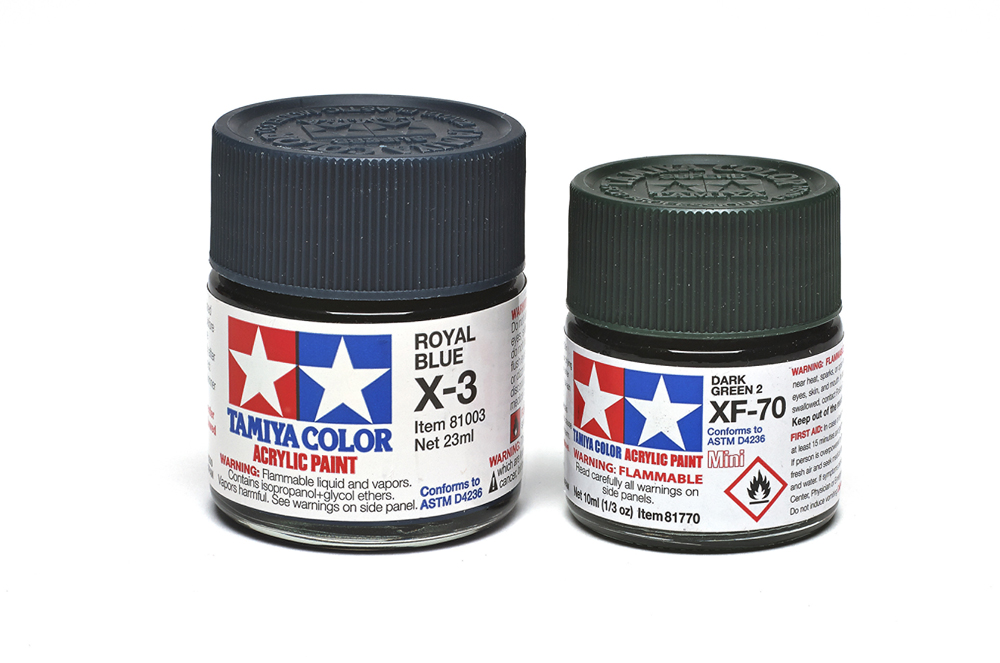 Tamiya is another manufacturer that does not offer railroad-specific colors but does have many useable colors for your layout. They offer a variety of primers and base colors that provide a great foundation for further painting. They also offer transparent colors which I have found work well on clear plastic where light will be shining through. In order to use Tamiya Acrylic in an airbrush it must be diluted with 30 to 40 percent Tamiya thinner or isopropyl alcohol; we recommend the Tamiya thinner for best results.