Kid-friendly garden railroading: We all know that garden railroading is a magical hobby, one that we enjoy sharing with other adult enthusiasts. But have you considered inviting a child to share in the fascination?
Kids of any age (and adults too) aren't given to stand by and idly observe a garden railway. Rather, most would prefer to participate in the vast number of the activities required to keep a railway operating. If you think of the garden railway as a safe place for a child to explore, it then becomes the art medium, the canvas, the clay, the circuit board, and the weather instruments for limitless learning. Even in its simplest form, a railway can be a particularly useful space to acquire and apply wisdom, learn new lessons, and gain invaluable experiences.
With that in mind, I invite you to read the ideas I've included here. Then, consider how you might find ways to encourage youth to engage in the same explorations and adventures in garden railroading that you enjoy. For even more ideas, please read my expanded regional reports!
Learn from live- steam engines
When kids of any age graduate to live-steam trains, it's good to know that engine kits can teach about their operation as they assemble the parts. At 10 years old, Lake, my grandson, built his own live-steam "project" engine (see this article to learn more).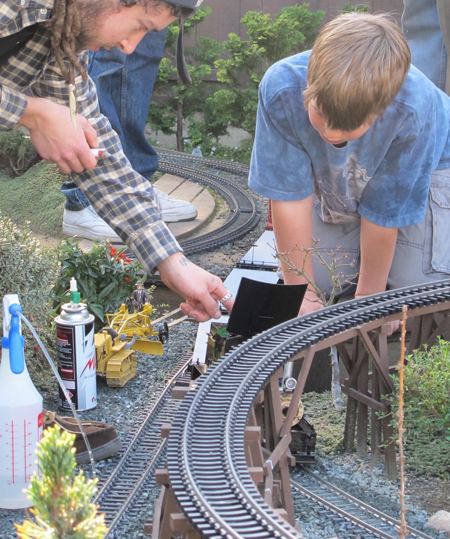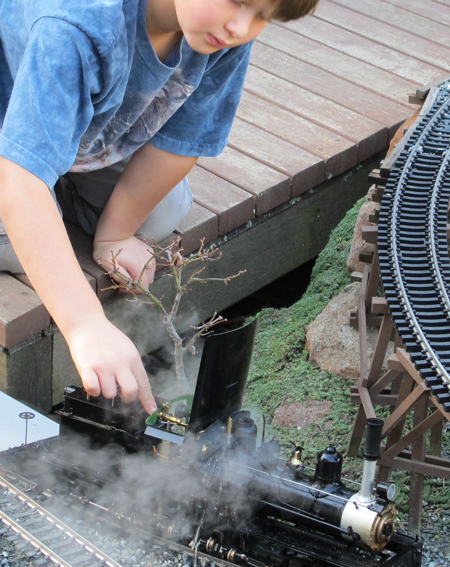 Now 20, Lake had been building and operating in the garden railway since age three, often showing much bigger kids what to do. In the photo on the top, he shows a child how to top off a live-steam Shay at Richard and Melinda Murray's busy Green Hills Railroad.
Age-appropriate toys and tools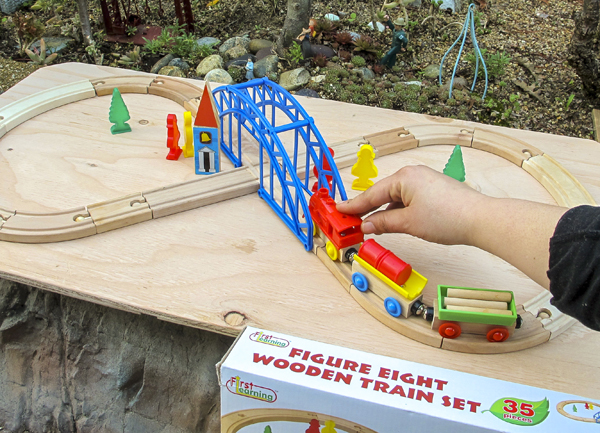 Start toddlers with wooden train sets, such as Brio and Fisher Price, and give them lots of playtime. Boards across chairs (or between trees) can become bridges. Bridger of Japan (bridgertrains.com) has created a Lego-style train with snap-together plastic track based on the STEAM (Science, Technology, Engineering, Art, and Math) educational principles. See the product review of LGB's Building Block Train Starter Set (#90463). Large scale trains are the next step and are available in affordable starter sets.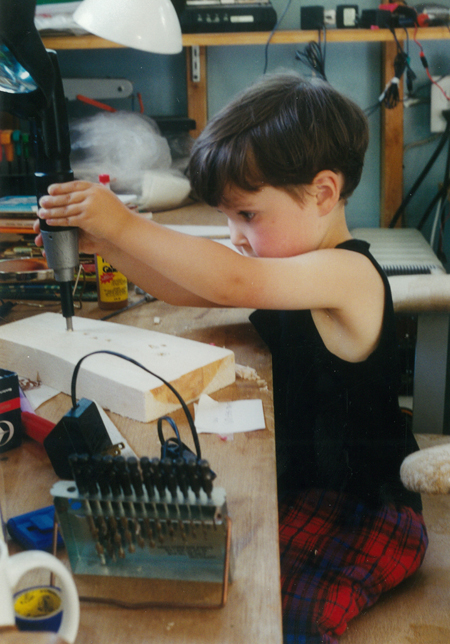 Also consider providing kids a toolbox, their go-to station for finding age-appropriate tools. To aid the discipline of putting things away, give each tool a dot of paint in their chosen color, and help them take pride in their tools' care. Read my online regional report about cordless drills—yes, even for toddlers.
Kid-friendly operating sessions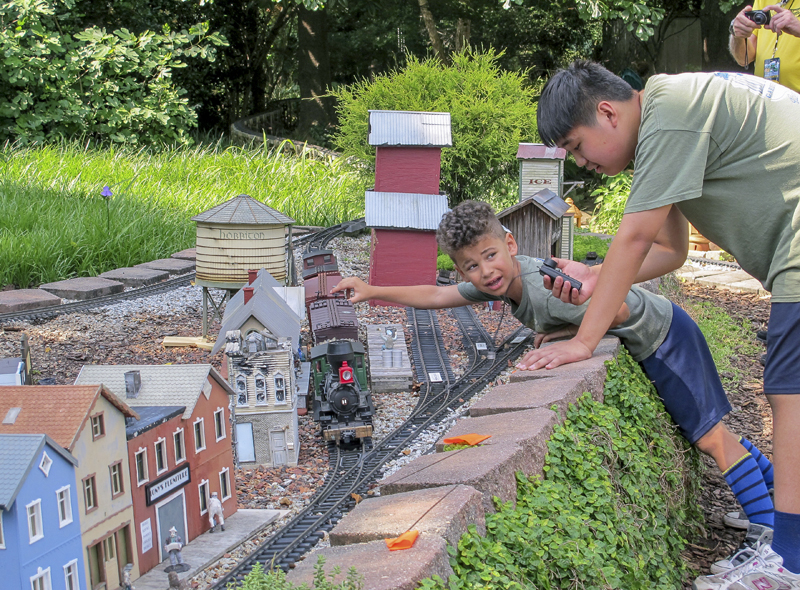 For years, Don and Jane Nute have invited neighbor children to operate trains in their Lake Town & Shire Garden Railroad (GR April 2014 issue, laketownandshire.net). During the 2018 National Garden Railway Convention, I visited Jane and Don's railroad, and watched an operating session with some kids. Nancy Norris photo
The Nutes use a simple operating system for coordinating car movement that includes siding markers, colored letters on steel washers, and labeled car loads. After some training, new operators team up with regulars to deliver cars on the mainline. All trains are local freight, allowing the kids plenty of opportunities to switch, load, or unload cars.
The kids are encouraged to ask questions at any point during the operating session. I heard one child call out the need to go into the flower bed to re-rail a derailed train. The kids aren't theirs, but still they notice and communicate necessary instruction. Learn more about outdoor operation sessions:
Outdoor operations
Lessons learned in 20 years of operations
Operator positions on the SJRP
The General Code of Operating Rules
Make mistakes to solve problems
Engineer a railway together, and let the child experiment. You'll need to be the voice of reason, though, because kids can let their imagination take them down grandiose paths. My grandson Lake was familiar with my warning: "You get to do that one time," as my way of saying that we all make mistakes (but will you please learn from them).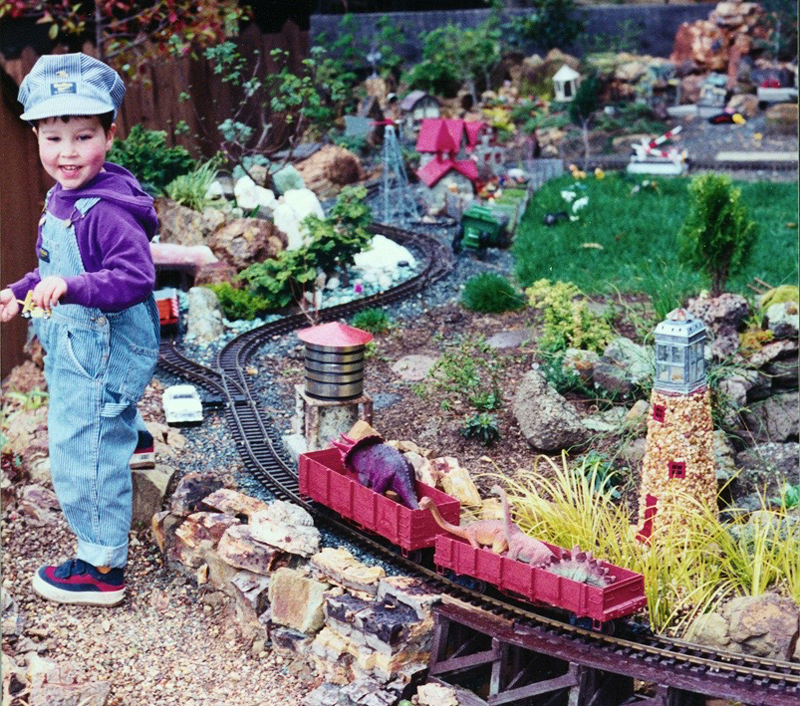 When Lake was four, he conducted his own experiment testing grades (see photo above). He lifted my nicely-ballasted track and supported it with two bricks. I looked over just as the train was toppling over. As I started yelling, he said, "One brick worked, but not two." He had to help the track-ballasting grandparent repair damages from this one-time physics lesson.
Use nature as a teaching tool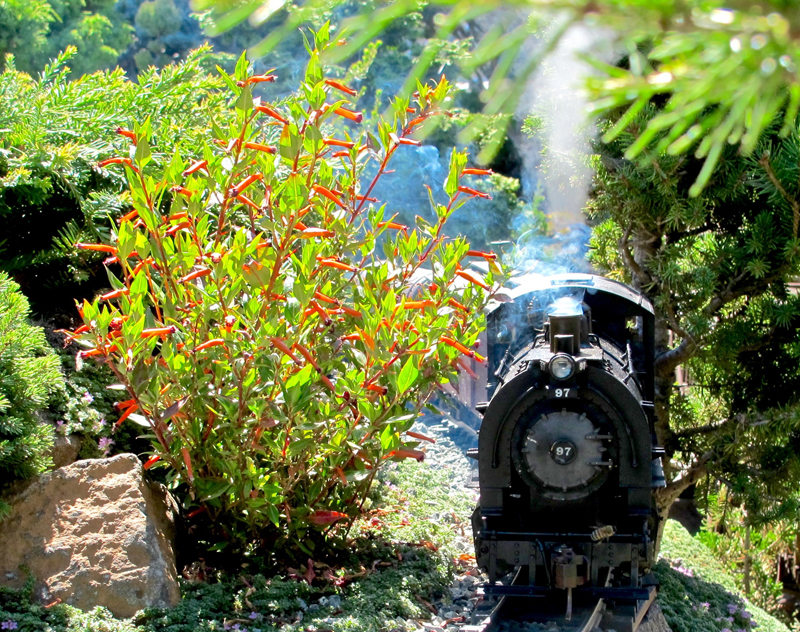 An example of learning in the garden starts with nature itself. Better than lectures, nature is an experience that registers on most of the senses.
When we plant charming little trees, we notice that some attract songbirds and curiosity leads to questions. We hear a house finch, then a nuthatch, and feel them swish by, engaging us to notice a chickadee flash by.
Scale fruit and vegetable plants teach lessons about colors, growth habits, and life cycles. At three years old, grandson Lake knew the names of all our edible railway plants, and he snacked on kumquats, calamondin oranges, Micro Tom tomatoes, and Trifetti peppers.
And don't be afraid to let a child maintain railway plants—you may be pleasantly surprised at the results. When Lake insisted on pruning trees, I relented with the condition that he keep one hand in his pocket while trimming soft-stemmed tips of branches (Lonicera nitida 'Baggesen's Gold'). The activity didn't last long, but he surprised me by pruning a nicely shaped tree!
Large scale to full scale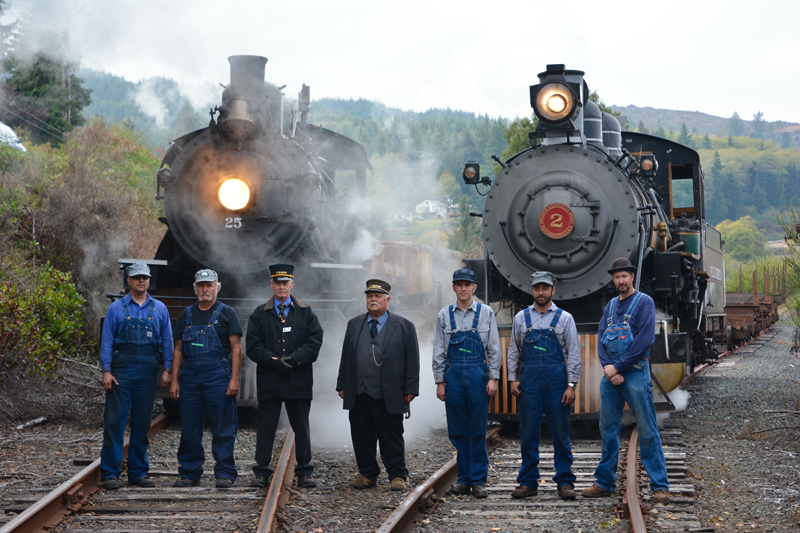 Since age six, not much has kept Trevor Park away from trains, and he plans to keep it that way. While away at college, Trevor (3rd from right) volunteers at the Oregon Coast Scenic Railroad on weekends. [Note: For more about young people involved in preservation, see Trains' series on Young Guns. -Ed]
If you'd like to hear a bit more about the FC&W and my involvement in the world of railroading, join the Fern Creek and Western Facebook group and take a look at TSG Multimedia's Importance of Young People in the Hobby Live Webcast.
Build something together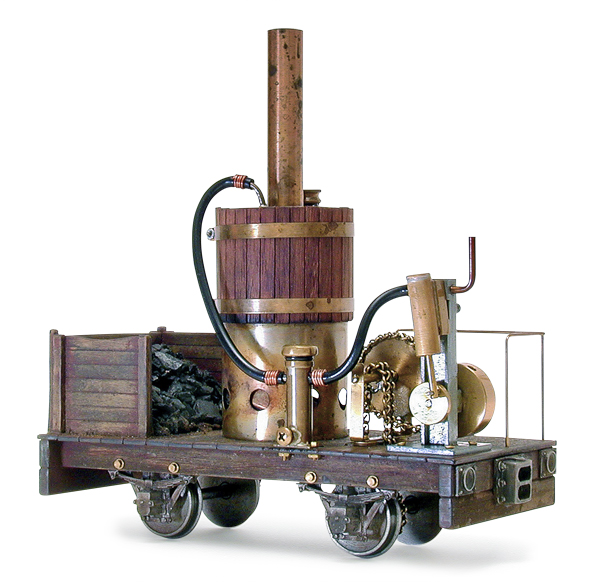 Many kids and adults have built a version of this live-steamer (modeling a logging locomotive) from downloadable drawings on Michael Martin's website. Find them at panyo.com/project/index.htm
Share your enthusiasm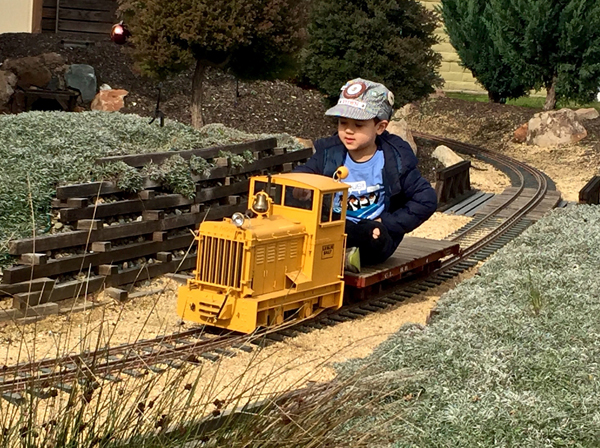 Squirrel Mountain Railway in Eric Maschwitz's front yard shows the neighborhood a compelling slice of life, and now his neighbor across the street has started planning his family's large-scale garden railway. Eric's son Ryden gets a lesson on how to run the Plymouth, flanked by dymondia hills.