Budget work train for DIY'ers
A budget work train made its way into my life since I needed a project to work on to de-stress from the rigors of graduate school — for a price a grad student can afford.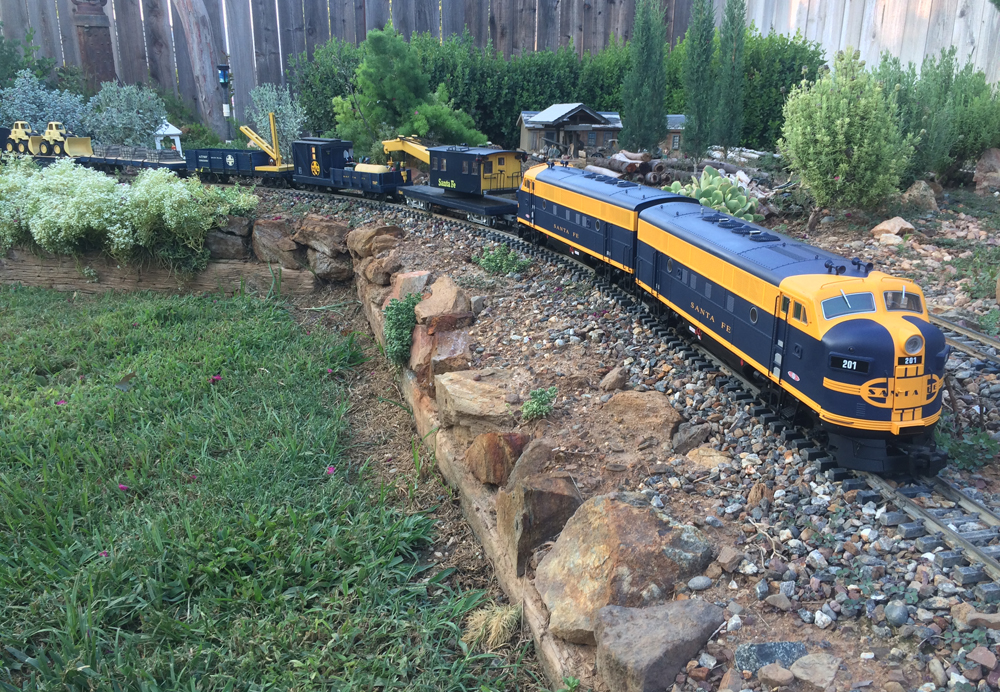 Wrecking crane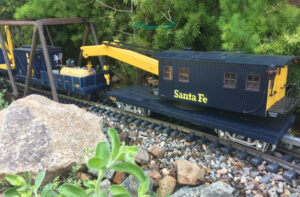 I wanted my budget work train to center around two main cars, a 250- ton wrecking crane and a custom-built work caboose to serve as a crane tender. The "big hook" is based on a 250-ton Santa Fe unit stationed in Amarillo, Texas.
I started by building a frame from craft wood and paint stir sticks from the local home improvement store. I used a pair of Bachmann passenger car trucks as these closely simulated the triple axles of the prototype. I couldn't use triple-axle trucks, as we have some curves smaller than eight feet.
I modified an old bobber caboose I had to form the cab of the wrecker, then made the boom out of some scrap metal. I shaped and attached the boom to the cab with simple brackets. The boom can be raised and lowered, and the cab rotates. To finish off the wrecker, I attached black boot laces to sewing spools to simulate cable reels.
Work caboose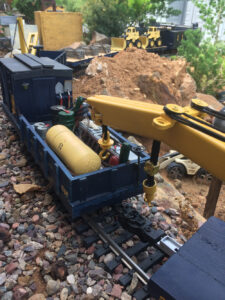 I used craft wood and paint stir sticks to build the frame and body of the car. Then I began work on the enclosed superstructure by building one wall at a time. I covered each wall in coffee stir sticks to simulate wood siding. A working orange LED light simulates a lantern.
I added wood side rails to enclose the deck and detail pieces such as tools and materials. The work tender includes custom-built wood toolboxes crafted from 1 x 1-inch wood covered with more coffee stir sticks to look like wood slats. I built an on-board fuel tank out of ¾-inch PVC pipe with caps on each end. A fuel hose was made using a brown boot lace and attached via a nut that I painted black to act as a fitting.
Flatcars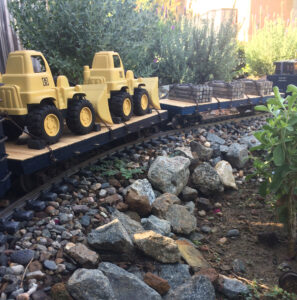 As with the previous cars, my flatcars started life as one-gallon paint stir sticks and craft wood to build a basic blank body, followed by adding coffee stir sticks to simulate wood plank flooring. I stained the flatcars to seal the wood and keep their natural color. I attached eight eye-bolts to each side to secure future loads.
Each flatcar load was secured using chain acquired at a local craft store; I weathered the chain a rust color. One flatcar holds a load of front-loaders to assist with heavy lifting and derailment clean-up. The other flatcar holds railroad ties for rebuilding track.
Derrick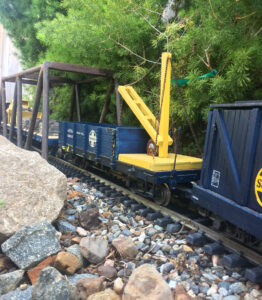 The final cars in the train were made from modified rolling stock I acquired second-hand from yard sales and online.
A modified Aristo-Craft wedge snowplow serves as a gondola with an attached working derrick to assist with clean-up operations. I modeled the derrick after the USA Trains brass derrick car. The derrick was built using simple balsa wood for the platform and various widths of craft wood for the boom and support structure. Model chain was added as a finishing touch.
Bunk and kitchen cars
I modified two Bachmann boxcar kits to make a bunk car and a kitchen car for the workers on the budget work train. I added two stovepipes to the kitchen car; one for the heater in the eating area and another to vent smoke from the kitchen.
I built sets of windows out of thin craft wood for both cars. I added false doors using coffee stir sticks painted to match the car.
Tank car
Between the kitchen and bunk cars is a tank car used to transport fresh water for the showers and toilets in the bunk car as well as the sinks in the kitchen and bunk cars. The water tank car is made from a Bachmann kit.
Coach and drovers caboose
The last two cars in the budget work train are a repainted Bachmann Jackson Sharpe coach and drovers caboose. The Bachmann transports the MOW crew to job sites. The drovers caboose includes the foreman's quarters.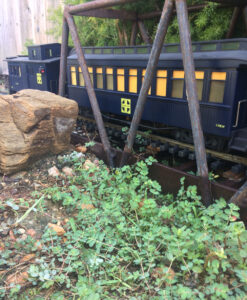 Painting the cars
Although prototypical Santa Fe MOW trains were typically painted silver or gray, I wanted to match the wrecker and dual F3 locomotives that transport the train. All cars were painted blue matched as closely as I could manage to that on the locomotives. The derrick car, wrecker, and tank car have touches of yellow for contrast. I used various decals to add appropriate markings and detail.
This train has quickly become one of my favorites, seeing a large amount of run time.