Permanent garden railroads you can visit
U.S. garden railroads
Alabama
Huntsville-Madison County Botanical Garden, 4747 Bob Wallace Ave., Huntsville AL 35805, 256-830-4447. Railroad operates from mid-March through December, www.hsvbg.org
Arizona
Double K Ranch (bed and breakfast with a garden railway), 3930 N. Smokey Topaz Lane, Tucson AZ 85749, 520-749-5345, www.doublekranch.com.
Gary Martin, 4625 E. Cerro De Aguila, Tucson AZ 85718. 520-299-7428.
Arkansas
The Sugg Model Train Garden, Garvan Woodland Gardens, 550 Arkridge Rd., Hot Springs AR 71913. 800-366-4664. gardeninfo@garvangardens.org, www.garvangardens.org
California
Fairplex Garden Railroad, Los Angeles County Fairgrounds, Pomona CA. Contact the Fairplex Exhibits Department for dates, PO Box 2250, Pomona CA 91769-2250. 909-865-4231, www.fgrr.org.
Legoland, 1 Legoland Drive, Carlsbad, CA 92008, 760-918-5346, http://california.legoland.com/.
The Living Desert and Zoo and Gardens, 47-900 Portola Ave., Palm Desert CA 92260, 760-346-5694, FAX: 760-568-9685. www.livingdesert.org
Loma Linda University Children's Hospital layout, 11234 Anderson St., Loma Linda CA 92354. Open year round. Located in the lobby of the children's wing. www.llu.edu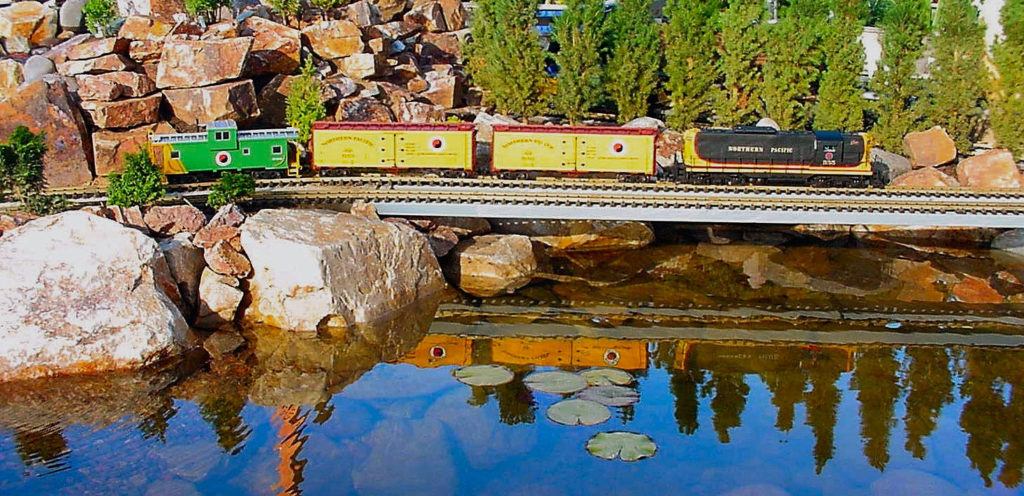 Walter Anderson's Nursery, 12755 Danielson Ct., Poway, CA. Contact David Ross, Manager, Walter Andersen Nursery, 858-513-4900. www.walterandersen.com
Colorado
Colorado Railroad Museum, Golden CO. Contact Alan Olson, 303-274-6092. The railroad operates primarily on Saturdays and special-event weekends, http://coloradorailroadmuseum.org/
Hudson Gardens, 6115 S. Santa Fe Dr., Littleton CO 80120, 303-797-8565, info-hud@ssprd.org, http://hudsongardens.org
Florida
Jack and Norma Russell, 18825 Atlantic Blvd., Sunny Isles Beach, FL 33160, 305-937-7225. Bed and breakfast, open every day, all year. Visitors may run trains and control switches and bridges.
Epcot, Walt Disney World, in the German pavillion, Lake Buena Vista FL. 800-445-4932, www.disneyworld.com.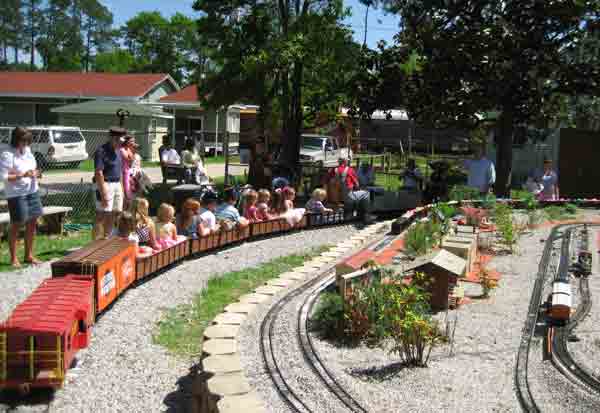 West Florida Railroad Museum, 5003 Henry St., Milton FL 32570, 850-623-3645, conductor@wfrm.org, www.WFRM.org. Contains an HO layout. The Jordan Lot Garden Railroad maintained by the Emerald Coast Garden Railway Club, and a model-railroad gift shop. The museum is open Friday and Saturday 10 a.m. to 3 p.m.
Tradewinds & Atlantic Railroad, 3600 W Sample Road (located in the North side of Tradewinds Park) Coconut Creek, Florida. Contains elevated 3 loops of G scale, one loop is dual gauge O scale, and 1 loop of 3 rail (Lionel) O scale, also a lower kids' level G scale and a model railroad gift shop.  7-1/2″ gauge ride on trains.  Open every 3rd weekend of the month from 10 a.m.-4 p.m.  info@livesteamers.org, livesteamers.org and Tradewinds & Atlantic Railroad on Facebook.

Illinois
Chicago Botanical Garden, 1000 Lake Cook Rd., Glencoe IL 60022. 847-835-5440. 10 a.m. to 6 p.m. through Sept. 3, 10 a.m. to 5 p.m. after Sept. 3, www.chicagobotanic.org.
Nicholas Conservatory & Gardens, 1354 N. 2nd St., Rockford IL, 61107. Open December-February. 815-987-8858, nicholasconservatory.com
Tinley Park District Mini-golf, 16801 S. 80th Ave., Tinley Park IL 60477-2363, 708-614-1854, http://www.tinleyparkdistrict.org/location/tinley-junction-mini-golf-and-batting-cages/
Indiana
Eiteljorg Museum of American Indians and Western Art, 500 West Washington St., Indianapolis, IN 46204. Railroad is open seasonally. Check website or call for dates/hours. 317-636-9378, eiteljorg.org
Talltree Railway Garden, c/o Taltree Arboretum & Gardens, 450 W. 100 North, Valparaiso IN 46385, 219-462-0025, info@taltree.org, www.taltree.org
Iowa
Reiman Gardens, 1407 University Blvd., Ames, IA 50011. Open November-January. 515-294-2710, www.reimangardens.com
Kentucky
Kentucky Children's Garden, The Arboretum, State Botanical Garden of KY, University of Kentucky, 500 Alumni Dr, Lexington, KY 40503. Open March-October. 859-257-6955, arboretum.ca.uky.edu/gardens/childrens
Louisville Zoo, 1100 Trevilian Way, Louisville KY 40213. 502-459-2181. Open 10 a.m. to 5 p.m. April through Labor Day; 10 a.m. to 4 p.m. the remainder of the year. Trains run April 1 through November 1, weather permitting. www.louisvillezoo.org
Louisiana
 New Orleans Botanical Garden, #1 Palm Drive, New Orleans LA 70124-4601, 504-482-4608. Open all year, except major holidays. Tues-Sun 10 a.m.-4:30 p.m. info@nocp.org, www.neworleanscitypark.com.

Maryland
 B&O Railroad Museum, 901 W. Pratt St., Baltimore MD 21223, 410-752-2490. Monday-Saturday, 10 a.m. to 4 p.m.; Sunday, 11 a.m. to 4 p.m.; closed on major holidays. www.borail.org
B&O Railroad Museum Ellicott City Station, 2711 Maryland Ave., Ellicott City MD 21043, 410-461-1945. Wednesday-Sunday, 11 a.m. to 4 p.m.; closed on major holidays.
Massachusetts
The Strawberry Patch, 2550 Main Street (Route 6A), Brewster, Mass., one mile east of the Brewster General Store. 508-896-5050. Open from 10 a.m. to 5 p.m. everyday, May through December.
Michigan
Castle Farms, 5052 M-66 North, Charlevoix MI 497920, 231-237-0884, 231-237-0994 FAX. The facility is open daily, year round. The railroad is operational May through October, 9:30 a.m. to 4 p.m. www.castlefarms.com
Fernwood Botanical Garden, 13988 Range Line Road, Niles MI 49120, www.fernwoodbotanical.org
The Wolcott House Bed and Breakfast, c/o Sean Rosekrans, 610 W. Silver Lake Rd., Fenton MI 48430, 810-714-4317, thewolcotthouse.com
Minnesota
 Minnesota GRS display, Wayzata Minnesota Depot, 402 Lake Street East, Wayzata MN 55391. Trains run Saturdays and Sundays, 1-4 p.m., weather permitting. Free admission, www.mgrs.org
Missouri
Missouri Botanical Gardens, Kemper Center for Home Gardening, PO Box 299, St. Louis MO 63166. Contact Steve Cline, director, 314-577-9561. Trains run from 9 a.m. to 3 p.m. daily, April-October. http://www.missouribotanicalgarden.org
Nebraska
Lauritzen Gardens, 100 Bancroft St, Omaha, NE 68108. Open May-October. 402-346-4002, www.lauritzengardens.org
New Hampshire
Hartmann Model Railroad and Toy Museum, Town Hall Road, PO Box 165 Intervale NH 03845. 603-356-9922, FAX: 603-356-9958. Open daily 10 a.m. to 5 p.m., info@hartmannrr.com or www.hartmannrr.com.
New Jersey
Railroad Garden at the Camden Children's Garden, 3 Riverside Dr., Camden NJ 08103. 856-365-8733. 9:30 a.m. to 5:30 p.m. daily, www.camdenchildrensgarden.org
New Mexico
Rio Grande Botanic Garden, 2601 Central Ave. NW, Albuquerque NM 87104. Rio Grande Garden Railroad is run from January through May, Wed.- Sun. 10 a.m. to 4 p.m and October through November, Wed.-Sun. 10 a.m. to 4 p.m. June through September; Daily 10 a.m. to 4 p.m. and in December; Wed. – Sun. 1 p.m. to 4 p.m. and also during the annual "River of Lights" 6 p.m. to 9 p.m. Contact Jon Stewart, Curator of Plants, at JStewart@cabq.gov, www.cabq.gov/biopark/trains
New York
New York Botanical Garden, 2900 Southern Boulevard, Bronx, NY 10458-5126. Railroad is open November-January. 718-817-8700, www.nybg.org
  North Carolina
Bobby's World of Trains, 113 Lewis St., Gibsonville NC 27249, 336-449-7565.
Gibson Garden Railroad, 200 East Main St., Gibsonville NC. Open from April to December on the first Saturday of the month, 9 a.m. to noon (weather permitting). Special events are listed on their Facebook page: https://www.facebook.com/16ggrrose. Structures are arranged to represent Gibsonville in 1855 and 1922.
Ohio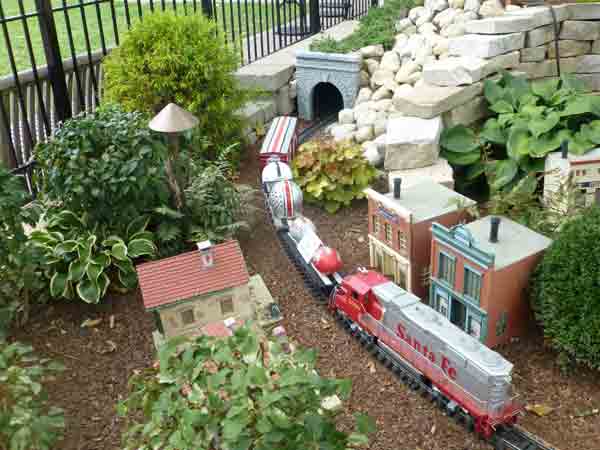 Easton Express Garden Railway, Easton Town Center, 160 Easton Town Center, Columbus, Ohio 43219. Open year round Mon-Sat 10 a.m. to 10 p.m. – Sun 10 a.m. to 6 p.m. The railway is free for viewing to the public and is located outdoors on the northeast corner of Town Square. Parking adjacent to display and in free parking garages. www.eastontowncenter.com
Entertrainment Junction, 7379 Squire St., West Chester OH 45069, 513-898-8000 or 800-898-4656, 513-898-8080 FAX. Open year round, Mon.-Sat., 10 a.m. to 7 p.m.; Sun., noon to 6 p.m. Closed on major holidays. www.entertrainmentjunction.com
Franklin Park Conservatory, 1777 E. Broad St., Columbus OH 43203, 614-645-8733, barnold@fpconservatory.org, www.fpconservatory.org. Open all year. Railroad open from May-October.
Glenwood Gardens, 10245 Winton Road, Cincinnati, OH 45231. Open year round. 513-521-7275, www.greatparks.org/parks/glenwood-gardens/the-highfield-discovery-garden
Krohn Conservatory, 950 Eden Park Drive Cincinnati, OH 45202. Open November-January. 513-357-2604, www.cincinnatiparks.com/krohn
Webster Street Market Garden Railroad, 32 N. Webster St., Dayton OH 54502. Open all year, Wed.-Fri., 11 a.m. to 4 p.m.; Sat., 8 a.m. to 4 p.m. www.dj-inabox.com/HGR/WebsterStProject1.htm
Oregon
The Children's Garden Railway at The Oregon Garden, 978 W. Main St., Silverton OR 97381, 503-874-8100. Open 9 a.m. to 6 p.m. daily. http://www.oregongarden.org/train-garden/
Southwest Oregon Large Scale Trains display, City of Medford Railroad Park, Berrydale Ave., Medford OR. Open to the public 2nd and 4th Sundays of the month, April through October, 11 a.m. to 3 p.m. Contact Thomas Goossen, 541-665-1131, gardenloco@aol.com.
Pennsylvania
Morris Arboretum of the University of Pennsylvania, 100 East Northwestern Avenue, Philadelphia PA 19118. 215-247-5777. Trains typically run Memorial Day through Columbus Day, then again late November through early January for a holiday display. 10 a.m. to 4 p.m. daily, till 8 p.m. on Thursday, www.morrisarboretum.org
South Carolina
Spartanburg Community College garden railway, Business I-85 and New Cut Rd., Spartanburg, SC 29305. 864-592-4600. Railroad runs weekdays from 9 a.m. to 5 p.m., during the weekends for special events. www.sccsc.edu
Tennessee
Crossville Model Railroad Exhibit, Crossville Outlet Mall, I-40 Exit 320 Crossville, TN 38555. https://www.facebook.com/pages/Crossville-Model-Train-Display-At-Crossville-Outlet-Center/264226957024469?hc_location=ufi
Nashville Garden Railway Society display, Hickory Hollow Mall, second floor, Bell Rd. (off I-24), Southeast Nashville, TN. Sat 11 a.m. to 5 p.m., Sun. Noon to 5 p.m. Contact Gerald White, glwhite@bellsouth.net or www.facebook.com/groups/145151582196285/.
Texas
American Wind Power Center, 1701 Canyon Lake Drive, Lubbock TX 79403-4908, 806-747-8734. Museum includes a permanent garden railroad. https://windmill.com
Clark Gardens Botanical Park, 567 Maddux Rd., Weatherford TX, 940-682-4856. Open all year, Mon.-Sat., 7:30 a.m. to 6 p.m., Sun, 10 a.m. to 5 p.m. info@clarkgardens.org, www.clarkgardens.org.
Gaylord Texan Resort & Convention Center displays in the atrium, 1501 Gaylord Trail, Grapevine TX 76051. Trains run daily from 8:30 a.m. to 10 p.m. www.gaylordhotels.com/gaylord-texan/
Rosenberg Railroad Museum, 1921 Avenue F, Rosenberg TX 77471. In partnership with Houston Area G Gaugers, trains run every 4th Sunday from 1 to 5 p.m. http://www.rosenbergrrmuseum.org
San Antonio Garden Railway Society public layout, c/o Texas Transportation Museum, 11731 Wetmore Rd., San Antonio TX 78247. 210-490-3554. Trains run Thursday, Saturday, and Sunday from 10 a.m. to 4 p.m. Evening hours during the holidays. www.txtransportationmuseum.org
Washington
Bellingham Railway Museum, 1320 Commercial St., Bellingham WA 98247. Contact Fred Dodd, 360-393-7540 or 360-223-5242, brm@clearwire.net. Open year round (closed major holidays), Mon., Thurs., Sat., noon to 5 p.m. www.bellinghamrailwaymuseum.org
Washington DC
United States Botanic Garden Conservatory, 100 Maryland Avenue, SW, Washington, DC 20001. Open November-January. 202-225-8333, www.usbg.gov
West Virginia
Kruger Street Toy and Train Museum, 144 Kruger St., Wheeling VW 62003. 304-242-8133. Contains an indoor large-scale layout. Also contains HO and O gauge layout, and displays of toy trains and toys from many eras. museum@toyandtrain.com, http://toyandtrain.com

Wisconsin
John Lamm of Jackson Inc., 2708 Sherman Rd., Jackson WI 53037, 262-677-3010. www.lammscape.com
Little Falls Railroad and Doll Museum, Catatact WI 54620, 608-272-3266, www.raildoll.org
Mitchell Park Horticultural Conservatory (aka The Domes), 524 S. Layton Blvd., Milwaukee, WI 53215. Railroad runs January-March in the Show Dome. 414-257-5600, https://county.milwaukee.gov/EN/Parks/Explore/The-Domes
Shady Lane Greenhouse, W172 N7388 Shady Lane, Menomonee Falls WI 53051, 262-251-1660, shadylanegreenhouse.com. Free. Call ahead to verify hours of operation.
Canadian garden railroads
Greater Vancouver Garden Railway Club layout, Art Knapp, 4391 King George Hwy., Surrey BC, Canada. 604-596-9201. https://www.artknappsurrey.com/trains-man-cave
Royal Botanical Gardens, 680 Plains Road West, Burlington, ON Canada. Open year round. 905-527-1158, www.rbg.ca
International garden railroads
Andi Engi's RhB Gartenbahn, Hotel Bellevue, CH-3823 Wengen, Switzerland, 41-079-682-05-28. Open all year. andi@engi.name, www.andiengi.com
Babbacombe Model Village, Devon England, 01803-315-315, www.babbacombemodelvillage.co.uk
Bekonscot Model Village, Warwick Rd., Beaconsfield, Buckinghamshire HP9 2PL, 44-0-1494-672919. Open February through November. info@bekonscot.co.uk, https://www.bekonscot.co.uk
Dundee Railways, N. Balgowlah, NSW 2093 Australia. Open most Sundays. Contact David McNeil, 19 Whiting St, Artarmon, NSW 2064, 04-19-22-22-32, david@daylight.com.au
France Miniature, 25 route du Mesnil, 78990 Elancourt St Quentin enYvelines, France, 08-26-30-40, www.franceminiature.com, info@franceminiature.com
Kolejkowo in Gliwice, Shopping Centre Europa Centralna, ul. Pszczyńska 315, 44-100 Gliwice, Poland. A 9700 sq. foot indoor display (largest in Poland) with 1500 feet of track. In addition to the local landmarks, it includes an American Western section. Open year round. (+48) 880 006 001, http://gliwice.kolejkowo.pl/en.
Kolejkowo in Wroclaw, Sky Tower 1st floor, ul. Powstańców Śląskich 95, 53-332 Wrocław, Poland. A 3500 sq. foot indoor display with 1700 feet of G-scale track and hundreds of local landmarks in miniature. Located in a former railway station on the edge of the Old Town. Open year round. (+48) 880 008 004, http://wroclaw.kolejkowo.pl/en.
Kuhberg, Kuhbergbaude 1, 08491 Netzschkau/OT Brockau, Germany, kuhbergbaude@t-online.de, www.Kuhberg-Netzschkau.de/
Large Garden Bumblebee Valley Railroad, c/o Stefan M. Kühnlein, Postfach 100702, 95407 Bayreuth, Germany. 0170-4231127. Open from Easter through October. Call or email to arrange a time and date. bumblebee-valley-lgb@t-online.de, www.bumblebee-valley.de
Le Jardin Ferroviaire de Chatte (The Garden Railroad of Chatte), 38160 Chatte, St-Marcellin, France. 04-76-38-54-55.
Le Jaritrain, Chemin neuf, 84210 Saint-Didier, France. 04.90.40.45.18. Open April-October. Groups can be accomodated with reservation. info@lejaritrain.com, www.lejarditrain.com
Madurodam, George Maduroplein 1, 2584 RZ The Hague, Holland. Open all year. info@madurodam.nl, www.madurodam.nl.
Merrivale Model Village Railway and Gardens, Peter Williamson, Marine Parade, Great Yarmouth, Norfolk NR30 3JG, UK. 01493 842097. Open March through October, 10 a.m. to 5 p.m., until 9 p.m. from July-September. www.greatyarmouthmodelvillage.co.uk
Mini Israel, Near Latrun, between Tel-Aviv and Jerusalem, off Highway 1. 972-8-9222444. Open March- November. info@minisrael.co.il, www.minisrael.co.il
Minimundus, Villacher Strasse 241, 9020 Klagenfurt, Carinthia, Austria, info@minimundus.at, www.minimundus.at. Open April through October.
Model Railway Village Southport, in Southport, Great Britian. Visit www.visitsouthport.com. Phone 01704 533 333 (24 hours)
Neverenuf Garden Railway, managed by The Railmodelling Trust, 29/10 East Patel Nagar, New Delhi, 110008, India, https://www.neverenufgardenrailway.com/index.html. The first garden railway in India (1:32 scale). Schedule varies seasonally. Check website or email for information.
Seaside Miniatures Park, 15 Marynarki Wojennej Street, 72-420 Dziwnów, Poland. A park with 3000 feet of G-scale track in addition to a couple of super-size trains to ride on. Open in summer only. (+48) 502 284 588, http://www.park-miniatur.pl/en/.
Swissminiatur, CH-6815 Melide, Switzerland. Open everyday March-October, 9 a.m. to 6 p.m. 011-41-91-6401069. FAX: 011-41-91-6401069, erik@rorsch.nl, Attn: Erik or visit www.swissminiatur.ch
Unnamed railroad, Guerlesquin Bernard, Kerilly, F-29620 Guimaec, France, 02 98 67 41 32. Please telephone before visiting.