The return of the MTH RS11: Making its first return to the MTH Premier Line since 2019, the Alco RS11 brings with it the grit and grind that we've come to love from Alco locomotives. From the unique angles on the frame to the cranking engine effects, this model will quickly become a favorite road switcher on any layout. With more than 426 units produced between 1956 and 1961, it's no wonder that MTH has brought this model back again; there are more road names to build.
The RS11 was developed by Alco as a road switcher with a 2-axle truck wheel arrangement. As the replacement of the RS3, the RS11 brought with it a V-12 prime mover which provided up to 1,800 hp, which is just what Alco needed to compete with EMD's GP9. Even with more tractive effort (64,325 lb.) and faster acceleration than the EMD option, the reputation of EMD continued to keep them out in front of Alco.
MTH offering is a sharp model with a balance of molded in detailing and add-on features. Previously a Rail King offering back in 2009, the Premier version doesn't seem to add many more options. There are not chains or drop walkways on either end of the locomotive, which would seem to be low-hanging fruit for MTH to add when shifting this model from a yellow box to a purple one.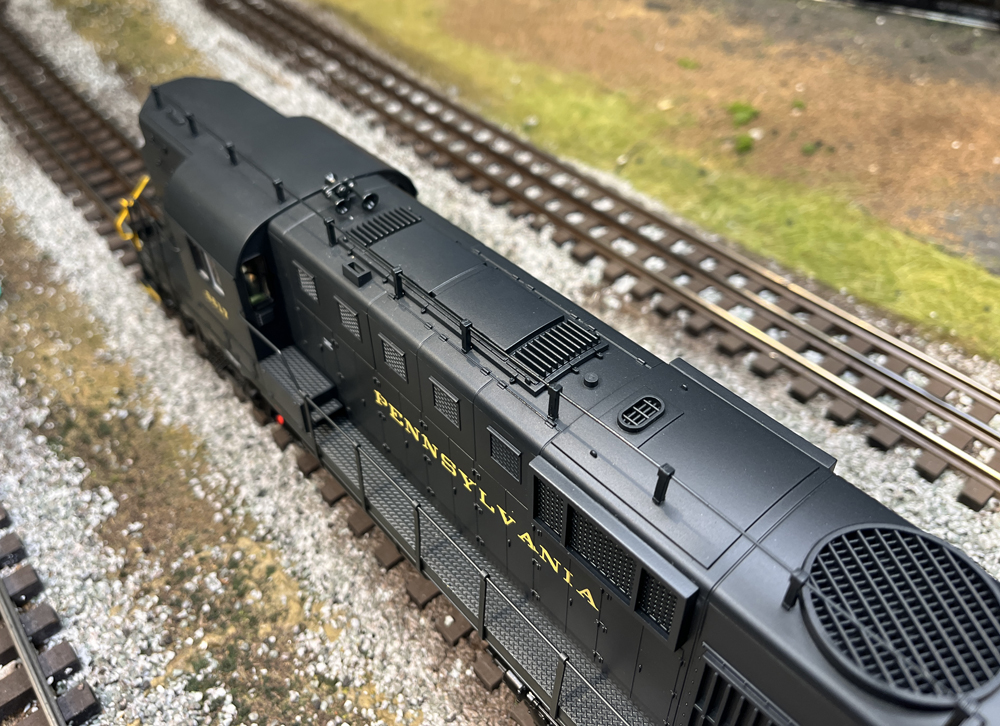 This model does feature Proto-Sound 3.0 control and freight sound effects. There is a small exhaust port which can be filled with a needle dropper. As we've come to expect with MTH, this smoke unit really pumps out the smoke! A die-cast frame offers solid weight, 4 pounds 9.1 ounces, for pulling longer passenger trains or heavy freight. There is molded-in safety tread on the decks and pilot steps. The Pennsylvania version we are looking at today features a dark Brunswick green with crisp lettering. The side vents are a combination of molded details and add-on screens, which create nice depth to the side of the model. The two cab figures are positioned for long-hood-forward operation. The Pennsylvania version features a train-phone antenna on the roof.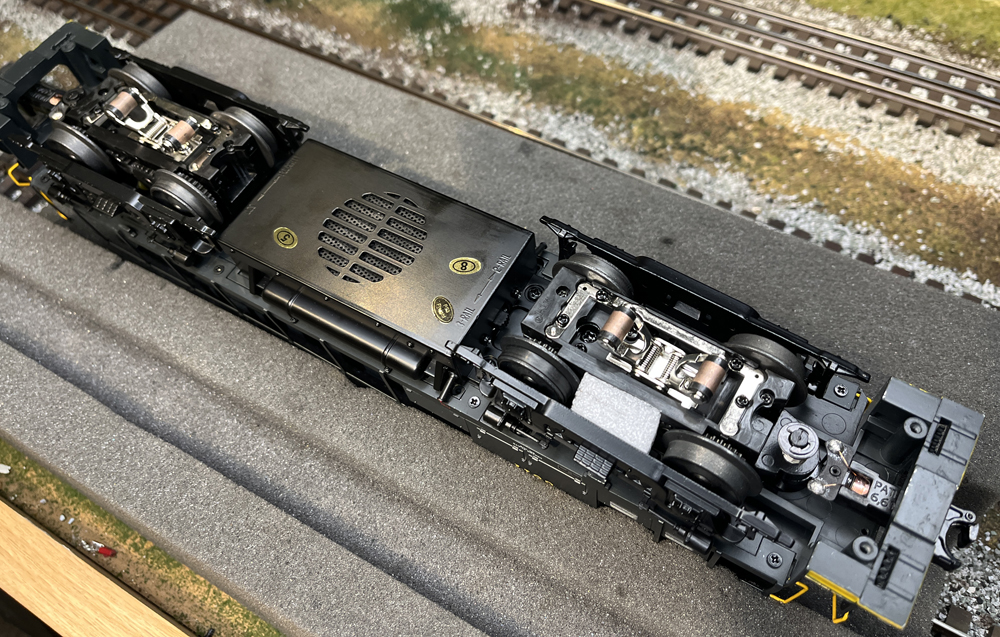 Modeling the prototype, both trucks have two axles in a B-B arrangement. Each truck is powered, with two pickup rollers on each. The pilots are attached to the trucks, allowing for navigation of tight 3-rail curves. Each truck features a Proto-Coupler, which is operable from a DCS remote or the Wi-fi app. The front and rear of the locomotive feature ladders and handrails. There are clear plastic inserts in the windows, with add on windshield wipers. Numberboards on the front and rear are illuminated, as are the marker lights on each end of the locomotive. A single speaker is housed in the squared-off fuel tank under the locomotive. At 14⅞ inches, this locomotive can operate on O-31 curves.
MTH Premier Line RS11
MSRP: $559.95
Road names: Louisville & Nashville (SKU: 20-21631-1 and 20-21632-1); Maine Central (SKU: 20-21633-1 and 20-21634-1); Pennsylvania (SKU: 20-21635-1 and 20-21636-1); and Southern Pacific (SKU: 20-21637-1 and 20-21638-1).
Custom runs: Chicago & North Western by Berwyn's (SKU: 20-21639-1); ALCO demonstrators by METCA (SKU: 20-21735-1 and 20-21716-1); Delaware & Hudson (SKU: 20-21643-1 and 20-21641-1 in blue) and Toledo, Peoria & Western (SKU: 20-21640-1 and 20-21641-1), both by Mr. Muffin's Trains; Central Vermont by Public Delivery Track (SKU: 20-21708-1 and 20-21709-1); Depew, Lancaster & Western by E-Z Catch (SKU: 20-21710-1 and 20-21711-1); Duluth, Winnipeg & Pacific (SKU: 20-21706-1 and 20-21707-1) and a Bicentennial DW&P, both by Pat's Trains (SKU: 20-21712-1).
Website: https://mthtrains.com
Get more O gauge action on the Chris's Trains & Things channel on YouTube.