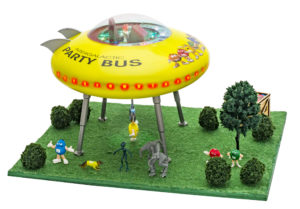 Price: $99.99 Stock no. 279-6130
Features: Illuminated flying saucer with changing lights; moving hoist with up/down action; M&M, alien, and Jack the German shepherd figures. Website: www.Menards.com/Trains
Remember a few years ago when Menards gave us the spaceship with aliens abducting cows for an interplanetary barbecue? Well, what if … and I say if … it's a two-way street? What if the cows go out, but the candy comes back?
When I saw this O gauge accessory work, I asked myself, "what if they aren't taking the little M&M's guy … what if they are dropping him off?" I mean, the parent candy company is called Mars, after all. Just sayin'.
Are there M&Ms among us?
Sure, go into any store and you'll find them to be a favorite. The Menards no. 279-6130 yellow M&M UFO scene capitalizes on one of America's favorite snacks.
The scene has a fully decorated base that includes grass, shrubs, a tree, a couple of space aliens, Jack the German shepherd, and several M&M figures (one of whom is rolling in a crate of freshly delivered M&Ms)!
The flying saucer is yellow, with 1950s-style tail fins and graphics of M&Ms people on the nose. The sides declare it to be an Intergalactic Party Bus! The command deck has a transparent dome and is loaded with controls and an M&M is at the controls.
The sinister side is below! The ship is suspended on four extended legs, but below that is a clamp, holding a little M&M guy. But wait, is it picking him up or putting him down? We may never know for sure! My theory is they're making a delivery and by delivering him head down, they make sure not to ruin his tasty chocolate goodness! But that's my take!
In dark light, the control dome strobes green, yellow, and red lights that flash around the saucer. There is an eerie green glow over the landing zone. Cue up the weird electronic musical sounds!
Actually the Menards M&M scene will fit right in with the firm's line of related M&M candy structures and rolling stock. The light show will also liven up your layout any time, especially around Halloween. Don't forget that model railroading can be fun, and funny as well.
You'll need a Menards Plug & Play power system (sold separately) for operation. There is a pigtail plug on the underside of the 121/2 x 10-inch base. Check Menards product nos. 279-4061, 279-4062, or 279-4050.
Add some otherworldly goodness and a product brand that makes just about everybody smile. The M&M UFO scene does both.