If you need a spot for your passengers to get on and off your trains, Menards has a new building for you. Its O gauge Amtrak Station occupies a footprint of approximately 12 x 8 inches. That size makes it perfect for almost any size railroad and particularly well suited for smaller ones. The single-story structure resembles some of the smaller stations Amtrak established after closing operations in larger, older, and mostly under-utilized passenger facilities.
This one, however, is no "Amshack," as some railfan wags have dubbed them. No indeed, this building is a nice, well-lit spot for passengers – and of course, Jack the German shepherd, who keeps an eye on the trains rolling by and the happenings on the platform. Also hanging around the facility arriving or departing are five traveler figures.
There's plenty of detail to the building, too. Flower boxes decorate the outside, and train schedules, a mailbox, and a trash can are ready for customers. Simulated air-conditioning units adorn the roof of the station.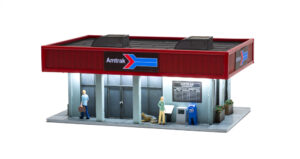 The place really comes to life when you plug in a 4.5-volt AC adapter (sold separately). A total of 30 LEDs light the station, and passengers should have no issues seeing where they're going! The four Amtrak signs animate and make the building a real attention-getter.
No matter what the size of your railroad, this building can be a transportation hub on it. Passenger trains can call here, as can buses. It works equally well in a city or semi-rural setting. Yet again, Menards has created an O gauge structure with good looks and a lot of utility. It's space-friendly and may look right on your railroad.
Price: $59.99
Stock no: 279-4523
Features: Fully assembled, 30 LED lights, illuminated animated signs, six figures, various small details. Uses 4.5V power sources nos. 279-4061, -4062, or -4050.
Website: menards.com/Trains