Menards Corrugated Auto Carrier is an O gauge model of the modern 89-foot vehicle transporter so prevalent on today's railroads. These are the most up-to-date versions of this type of car on the market in a traditional (non-scale) size.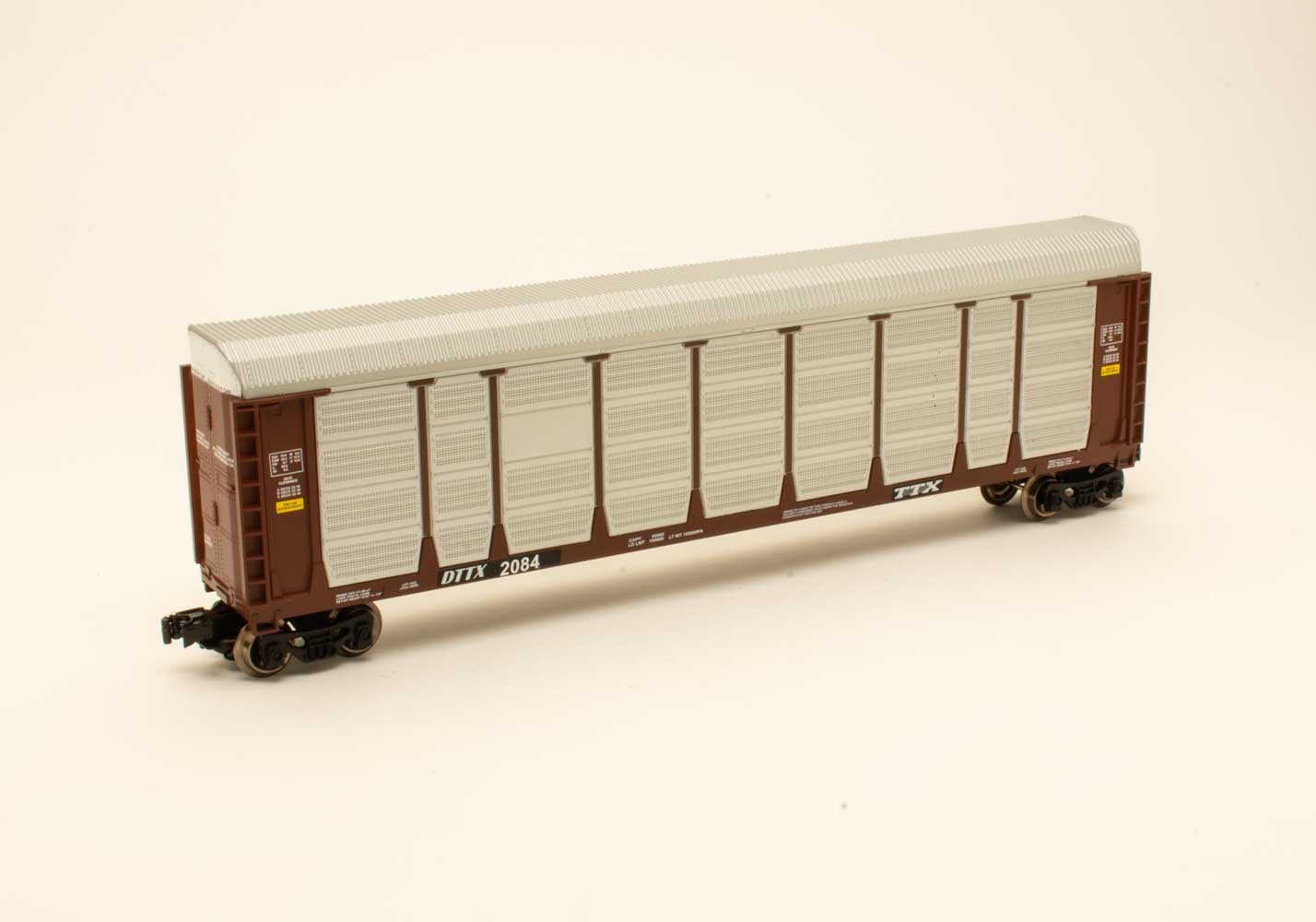 The car is named for its roof features. The sides of the car simulate the perforated sheet metal that protects the vehicles inside from prying eyes and damage.
Lionel released a traditional-sized auto carrier some years ago but it represents a previous generation that had corrugated sheet-metal slats attached to ribs. The Menards version represents the latest iteration.
Menards Corrugated Auto Carrier
These aren't your father's auto-hauling cars – the open-sided racks that, while fun to load with vehicles, went out of style decades ago. They offer full protection to the lading and are based on racks assembled on TTX (formerly Trailer Train) flatcars and leased to railroads.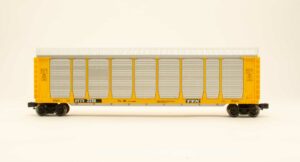 The models are 17.5 inches coupler to coupler. They have very free-rolling trucks and will get around an O-27 curve. However, you have to make sure there are no buildings or other objects inside the bend as there's a lot of overhang.
Menards offers a TTX yellow version and one described as burgundy on its website but called maroon on the box. I find it oxide red or brown. Whatever you call them, they are a are a good match for the paint on the prototype cars.
Checking the details
The cars are lettered with DTTX reporting marks and each has a unique number. There are various stencils on the car reminding workers to close and lock the doors before moving and that the car is excess height. The dimensional and trust data is tiny but still legible.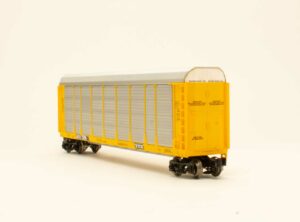 The plastic bodies are nicely detailed with a corrugated roof, ladders at each corner, and stirrups to get to them. Simulated brake gear is on one side at the end. Unfortunately, the end doors, while well rendered, are non-functional, so you can't actually put auto models in the car. The undersides have a basic frame with simulated rigging detail.
There were a few little issues I noted. One was no railroad markings. There's a flat panel on each side for this, but no sticker or anything to put there. Also, while I like that each car has a unique number, I wish more care had been taken to apply them straight.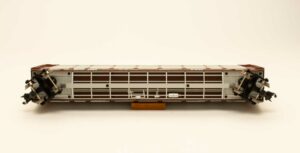 Nevertheless, I really like these. They are big and really look the part of modern auto haulers. They're perfect for putting together with long boxcars and modern locomotives to form auto trains that move both vehicles and parts.
They fill a niche and look great alone or in multiples. Menards sells them both ways. Individual cars (burgundy, no. 2799356; yellow, no. 2799354) are $39.99; four-car dealer packs (burgundy no. 2799357; yellow no. 2799355) are $129.96. You can find them at Menards.com/trains.