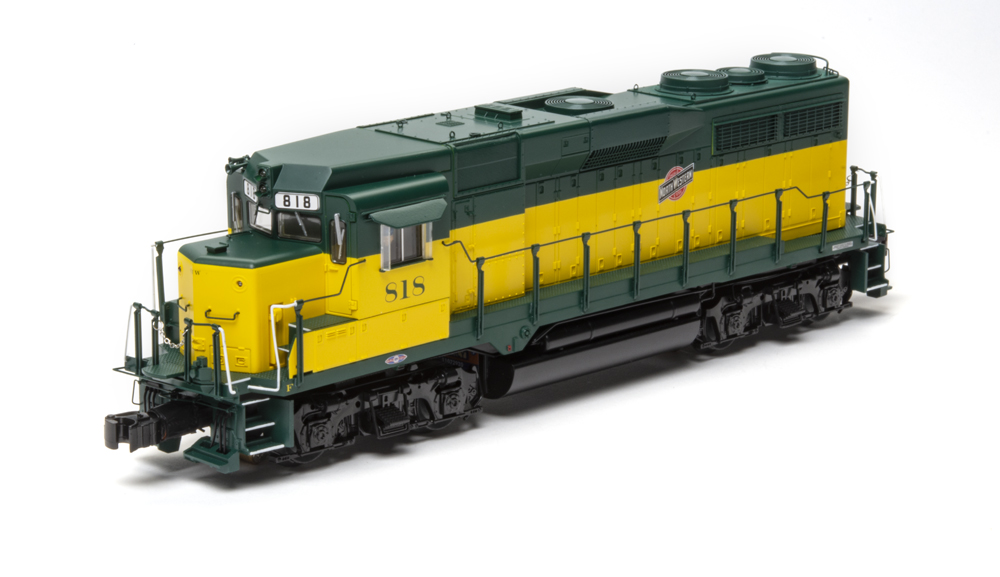 Electro-Motive Division's GP30 was a pioneer of sorts: a herald of the second generation of diesel-electric locomotion on American railways. By 1960 most American railroads had an idea of what worked and what didn't cut it in diesel operations.
Watch Lionel's Legacy GP30 run here.
Builders such as Alco, Baldwin, Lima-Hamilton, and Fairbanks-Morse fell to the wayside. General Motors' EMD and General Electric were winning the marketplace war – in fact, the latter's introduction of the U25B was countered by EMD with the GP30. The advantages of standardized large-scale production and common components helped secure the business for these manufacturing giants.
Between 1961 and 1963, EMD outshopped 948 GP30s in versions with and without cabs. Twenty-nine railroads bought the cab version; Union Pacific ordered 40 cabless B units. There are at least 20 surviving GP30s, a handful of them in occasional scenic railway service.
While the casual observer may mistake a GP38 for a GP40, the external appearance of the GP30 is unmistakable for anything else. Hearkening back to EMD's automotive roots (think about the Aerotrain), the GP30's roofline had a sort of streamlined style starting with the cab roof and extending to the rear radiators. Otherwise, the nose and body of the GP30 were similar to several thousand four-axle EMD locomotives that followed.
Opening the box
Lionel has offered up a good geographical range of road names for its new O gauge GP30. Our sample comes in the Chicago & North Western green-and-yellow livery.
The pilot has brakeman's steps, air and multiple-unit hoses, a simulated uncoupling lever, and quite unusually, a green handrail that extends forward from side to side, presumably for a brakeman to hold onto if standing on a footboard.
Both the front and rear decks have a diamond-tread drop-step and a safety chain. Handrails on both ends are white for better visibility.
The nose has two grab irons up front and a third on the engineer's side. The fireman's side has an airbrake pump. There are two classification lights on the nose. There are a sand filler cap and another grab iron on top of the "snoot." The cab is well lit and has add-on wipers on the front. The side windows have a sun shield and wind deflectors.
Just above the windshields are well-illuminated number boards. The roof line slopes gently rearward, and there's a double-­beam headlight in the center. A horn is situated above the engineer.
The body has good cast-in hinge, seam, and latch detailing. There are see-through air-intake screens just behind the cab (and you can see yellow from the cab). There are add-on lift rings above it on the turbocharger blister. The smoke unit exhaust is right behind.
There are four round fans, and the roofline begins to taper down after the first of them, which is for the dynamic brakes. Although they're non-functioning, fan blades can be seen inside them. There are four additional lift rings and a curved grab iron at the end of the roof.
The rear end has add-on grab irons, number boards, a twin-beam headlight, and a pair of classification lights. The die-cast fuel tank has detailing, and you'll find a cast-in fuel cap and sight glass on the frame.
Painting and decoration were very good. The yellow and green overall scheme looks excellent, and the Chicago & North Western shield is really crisp. But this isn't just another pretty face!
On the test track
I couldn't access the Lionel Legacy GP30 with the LionChief app on my iPhone, but Classic Toy Trains editor Hal Miller was able to do so on his Android phone.
At home I tried two other Apple devices. I deleted and then downloaded the app on two with no change. I was able to control it with a third device, an iPod Touch with a slightly older IOS I hadn't updated. This was a first! Once I established a connection, the model fired up quickly and the diesel sounds were excellent. The lighting package really popped in bright or dim conditions. Even the number boards stood out under normal room lighting.
The model has remote couplers front and rear. Be aware the rear coupler­ seems to extend a bit more than most four-axle EMD models I've seen.
I pulled a variety of freight and passenger trains with our sample. Other than some short grain hoppers that insisted on frequently derailing on straight track (!), there was nothing dramatic to report. I also ran a train of six scale heavyweight passenger cars (12 total "old school" incandescent light bulbs), and neither the train's weight nor the power draw had any impact on performance.
Speed ranges were good. My command low-speed was 10.0 scale miles per hour, and the conventional low speed was 12.2 smph. The high speed was 75 smph. Any faster and I think it would have flown off my O-72 curves!
I reviewed a previous release of this model back in 2006. This is still a pretty solid locomotive. Good performance, better low-end speeds, and a terrific livery.
The box for this locomotive specifies minimum O-31 curves, like the previous release. However, Lionel.com says O-36. While the GP30 looks better on the latter, it can indeed run on the tighter curves.
The Legacy GP30 is a locomotive that isn't too large for a traditional O gauge layout. It's also well detailed enough for a more scale-like environment. With the Lionel model's superb appearance and good performance, it should find a home on many railroads!
Facts & features
Price: $529.99 (no. 2133451)
Features: Two can-style motors, remote couplers, smoke, Legacy sound and control. Operates in conventional mode via TrainMaster Command or LionChief Universal Remote or Bluetooth LionChief app.
Low speed (cmd): 10.0 smph (conv): 12.2 smph
High speed: 75 smph
Current additional road names: (two road numbers per road name): BNSF (Burlington Northern repaint), BNSF (Santa Fe repaint), CSX (B&O repaint), CSX (Chessie repaint), Kansas City Southern, Reading & Northern, and Soo Line
Website: Lionel.com