The Menards Caboose Coffee Shop accessory has dropped, and it's going to make your O scale caffeine lovers very happy.
I love coffee. I also enjoy cabooses. This accessory mixes both very successfully. Really, what better use for an old crummy than a shop like this?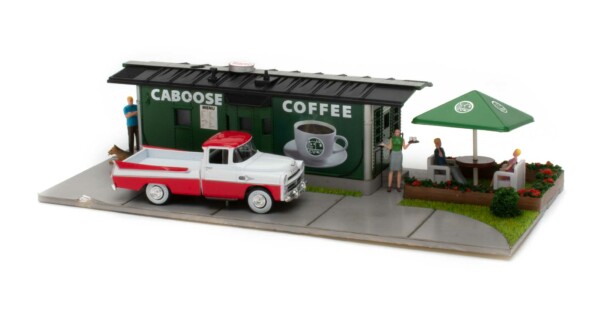 Like a lot of other Menards model railroad buildings, it gives maximum scenic effect while inhabiting minimal real estate. The whole operation occupies an 11×5-inch area, so all it needs is a narrow strip next to a road.
The Menards Caboose Coffee Shop
Operations at Caboose Coffee are moving at full steam as evidenced by the water-vapor "smoke" that puffs from the stack on the roof. This is the third item the company has used this system with and it works well. Just be sure not to use any mineral-oil based smoke fluid in it; that will ruin the unit.

Instead, fill it with distilled H2O, then plug in the 4.5V power supply (sold separately, No. 279-4062 or 279-4050). Not only will you get vapor, but a lighted interior, and exterior marker lights, too.
Other features include a die-cast Dodge Sweptside pickup, four figures, Jack the German Shepherd, and landscaping for the "grounds."
If your layout is in need of a structure but you don't have much room, the Menards Caboose Coffee might be just your cup of…well, you get idea. All you need is a narrow strip next to a road to add some interest to your scene.
O Scale Caboose Coffee Shop by Menards
Item No. 275-9034
MSRP: $69.99
Website: Menards.com/trains