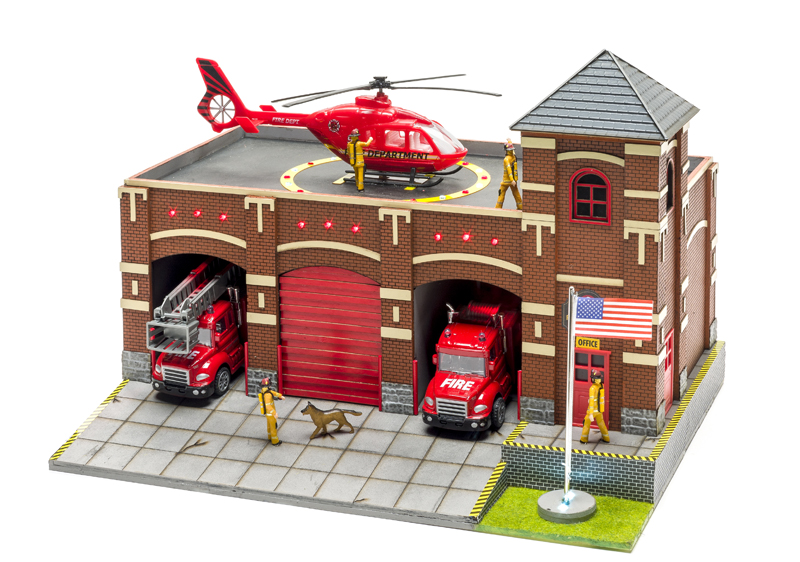 FIRE STATION NO. 9 BY MENARDS
Price: $109.99 Stock no.: 279-5927 Features:Helicopter with rotating blades, two moving fire trucks, five figures, and an illuminated American flag. Illumination/animation requires 4.5-volt power supply nos. 279-4050, 4061, or 4062, sold separately. Website: Menards.com/Trains
This is Menards' second entry in the O gauge fire-fighting game, and it's the most elaborate yet. Fire Station No. 9 is a stylish, modern three-bay building that will keep your train town safe.
OPENING THE BOX
From the ground up, this is as nice a contemporary building as any offered by Menards. The design has brick wall texture with beige architectural accents. The three vehicle bays (one is closed) have two modern trucks positioned inside. The left stall has a ladder truck; the right stall has a pumper. The ramp has concrete texture with safety stripes along the edges. A firefighter in full gear is standing on the ramp, and of course Jack the German shepherd is nearby, eager to hop on a fire wagon!
To the right is one of two doors leading into a two-story tower. In a patch of green on the right side of the station, you'll find an American flag on a pole. There are two LEDs in the base that provide illumination when the accessory is powered up.
As with Menards' One Police Plaza, there's a helipad. Two fire-fighter figures are also there, one near the door and the other preparing to board the chopper.
When powered, the helicopter blades rotate. The safety circle around the chopper kicks into overdrive with alternating red and white flashing safety lights. As attractive as this flashing light action is, it comes in second to the action down in the truck bays.
GET MOVING!
When the accessory is not powered, you'll barely notice the three LEDs above each bay. But when you apply the power, ka-bam – they begin flashing red!
Look down and you'll see even more action. Inside, red lights begin to flash, suggesting operating emergency vehicle strobe lights.
While this is happening, the ladder truck and the pumper alternately move in and out of their bays. You almost want to hear a siren, but that probably would get tiring to your ears pretty fast!
Your contemporary model railroad town will welcome this building. The enhancement of fire safety for your 1:48 scale residents has arrived.