TCA Fall York 2022 is a jumble of letters and numbers to the uninitiated. But to Classic Toy Trains and Trains.com readers, it means something specific and fun.
The York Train Show hosted by the Eastern Division of the Train Collectors Association is held bi-annually in April and October on the York, Pa., Fairgrounds. The shows get a lot of hype due to their sheer size and attendance compared to local events and swap meets. You can find threads popping up on online forums months ahead of York with countdowns and wish lists. All of this helps build excitement around the three-day event.
Unlike smaller train shows, York encompasses six different halls around the fairgrounds. The main hall, Orange, is held in the Weis Arena and hosts mostly dealers, TCA divisions, and manufacturers. There are also food stands, meeting rooms, and a small operating layout from the Lionel Collectors Club of America in the lobby.
I can take a solid day just to work through each booth in the Orange hall. You'll find art dealers, hobby shops, companies selling detail parts, MTH Parts, Classic Toy Trains has a booth, Trainz.com, Mr. Muffin's, and Grzyboski's, to name a few. Gryzboski's booth took up two sides of an aisle and I think I spent a solid hour of time looking through all of Joe's inventory.
TCA Fall York 2022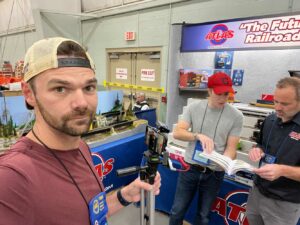 The Blue, Silver, Red, and White buildings are what the TCA calls "member halls." These are closed to non-TCA members and they contain tables purchased to sell personal collections. You can come across some dealers in these venues like Brady's Train Outlet and Toy Trains and Collectibles.
These halls have what feels like endless aisles of trains from prewar, to tinplate, to postwar, and modern. All scales can be found in these halls as well as 2-rail O scale.
You'll find more than just model trains in these halls. There are detailed figures, signs, lanterns, and bells from prototype locomotives. The last hall is the Purple hall which features operating layouts from three different clubs.
This is more than a train show. It's a train meet. This concept may not be easy to understand until you've attended at least one day at York. After attending a few you begin to slowly meet dealers and vendors as well as the other TCA members shopping. This year I was able to see a familiar face in almost every aisle I walked down.
We aren't just there to buy and sell trains but to connect with acquaintances that we haven't seen in quite some time. York also brings the opportunity to get together with friends and share our love for our hobby. It's not too often that we're able to sit in the same room as our friends from all over the country. Organized breakfasts, dinners, and evening get togethers are commonplace.
Getting together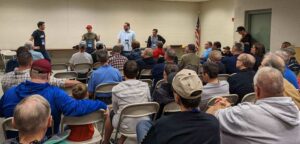 This year a social media mixer was added to the schedule for Saturday morning. It was an opportunity for four members with popular YouTube channels to share their experiences and answer questions from the audience. The meeting room in the Orange Hall was standing room only by the time the event kicked off.
It featured Chris Raines of RBP Trains, Jason Stuckert of Jason's O Gauge Trains, Eric Siegel of Eric's Trains, and Norm Charbonneau of Norm's Trains hosted it. There were door prizes provided by the LCCA, METCA, and Trainz.com. Appropriately, a young boy was the first winner of a piece of rolling stock and a Trainz.com shirt. When his ticket number was called his excitement was palpable as he shouted, "That's me, Dad!"
An older gentleman in the room yelled out, "and that's what this is all about!" I couldn't have agreed more, it was a moment I'm sure that you man is still thinking about today.
Still pretty great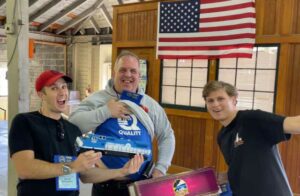 York may not be what it was 20 years ago, however, the world isn't the same as it was two decades ago, either. Markets shift, technology improves, and the way consumers purchase goods has changed. York was bound to change as time went on and this year I believe the Eastern Division of the TCA focused on ways to increase their attendance throughout the full 3-day event.
I always look back at York weekends with positive thoughts and memories. I look forward to April and seeing more young hobbyists walk the aisles of York and add to their collections and taking the time to catch up with old and new friends once again.
Get more O gauge action on the Chris's Trains & Things channel on YouTube.