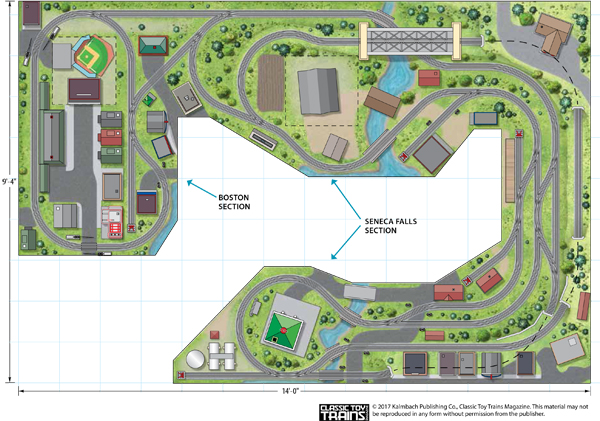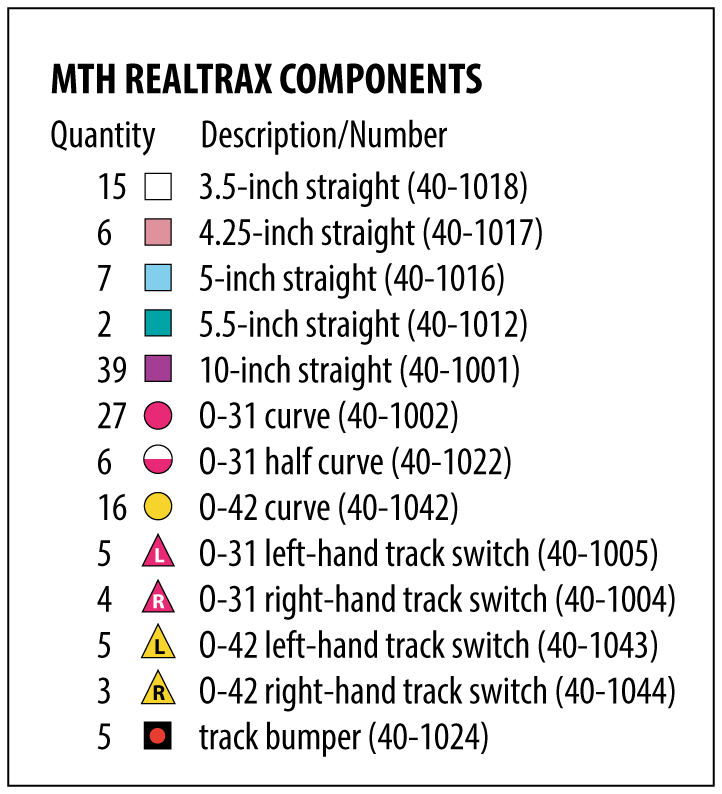 A client asked me to develop a track plan for him that focused on two of his non-train collecting interests: The movie It's A Wonderful Life, and the Boston Red Sox Major League Baseball club. An odd pairing you think? Not really. What are most toy train layouts but a salute to nostalgia and personal interests?
While it's wonderful to start collections, before we know it we have a basement full of collectibles sitting on shelves. In my client's case, many of these items are Boston Red Sox and It's a Wonderful Life buildings made by Department 56 and compatible products from MTH Electric Trains. He wanted to use them on an O gauge layout, but he had so much stuff and so little room.
The compromise was to try and model Seneca Falls, N.Y., the inspirational setting for the James Stewart and Donna Reed movie and tie it in (via accessories and a pile of MTH track) with Boston to make the Red Sox connection.
Think of the shape before filling it
If you begin with a good-sized room, it's tempting to fill the area with a very large table. But what a headache, both during construction, and for routine access afterward. The table has to be strong enough to walk on, and even a young person soon tires of crawling into tiny access hatches.
A walk-in design allows us to view our prizes close up and is much easier to maintain. Visitors are more immersed in the layout when, rather than standing on the outside looking in, they are standing in the middle of it surrounded by trains. The railroad is placed against the top and right walls, great for scene-setting wall backdrops but still making one or two lift-outs necessary.
Space is at a premium, and every element must be carefully in place. Computer-aided design makes it possible to move scale footprints around until everything fits and makes sense. Much easier than dozens of traced, erased, and pasted paper drawings.
Don't forget room for the Seneca River and some shore scenery. Boston could be built on a tabletop, but Seneca Falls has many elevations and is best constructed on an open grid. Counting the short overhead trolley line, we are able to keep three trains running at one time with space to store two or three more.
The 500 mile run between Boston and Seneca Falls are simulated by a wye that enables trains to run in either direction through Boston. The crossovers in Seneca Falls are reverse loops, which are easy to wire with three-rail track.
The track plan
The bulk of the layout is a general representation of the Seneca Falls area. There are variances in elevation and terrain typical of the area. There are good opportunities for cityscapes as well as fields and forests surrounding the town.
Train traffic is more "through" than terminating, so there are only a handful of sidings in Seneca Falls. One serves a loading dock; the opposite end serves as a station terminus. Another siding serves a flag company, and a fourth is a spot to park tank cars at an oil terminal. Boston has just one siding. Located behind a brewery, it's a great spot for beer refrigerator cars.
There is basically one main line with diverging lines that loop back to allow longer or shorter runs, as well as either ascending to a trestle or burrowing through a tunnel.
Planned into the Seneca Falls downtown area are the Bailey Building & Loan as well as a bar, drugstore, theater, high school, boarding house, and pizza parlor.
Industrial-type structures include an oil storage facility, two train station buildings, a loading dock, a manufacturing plant, and a Texaco facility.
The Boston area is represented by a simple loop of track with a single siding and an elevated bump-and-go trolley. Surprisingly, this design packs a lot of Boston Red Sox enthusiasm with branded structures ranging from a diner, service station, and restaurant to a theater, a railway station, and of course Fenway Park. My design made room for 17 structures to be placed in Boston, while I penciled in 20 for Seneca Falls.
So with ample space you can combine a number of historic or hobby interests into a toy train layout that reflects nostalgia as well as your hobby passions. Use this track plan as a template, and just imagine which of your favorite places or enthusiasms you can add to your three-rail creation!