Vintage toy trains in winter holiday scenes bring feelings of nostalgia. Relive the nostalgia with this selection of both current and vintage holiday-themed photos in O and Standard gauge scales. If you have a photo you'd like considered for a future gallery, contact editor@classictoytrains.com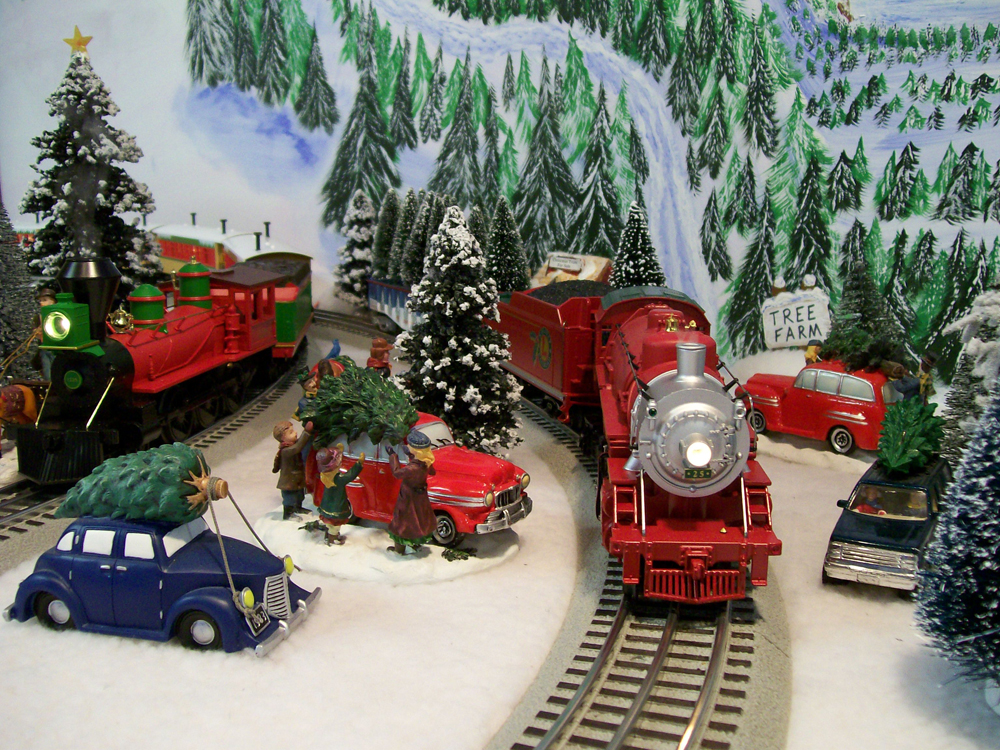 Gordon Hough's O gauge layout
Unlike the majority of toy train operators who put away their vintage toy trains in winter holiday scenes in the weeks after the new year opens, Gordon Hough insists on leaving his standing the entire year. With heart-warming scenes like this one, who can argue with him? While a family ties its Christmas tree to the roof of its car, a Lionel 2-8-2 Mikado pulls a gondola loaded with freshly cut evergreens to town. Sit back and enjoy the action on Gordon's cool 14 x 16-foot Winter Toy Trainland O gauge layout. Maybe he'll invite us in for a cold glass of eggnog at his home in Cambridge, Ohio.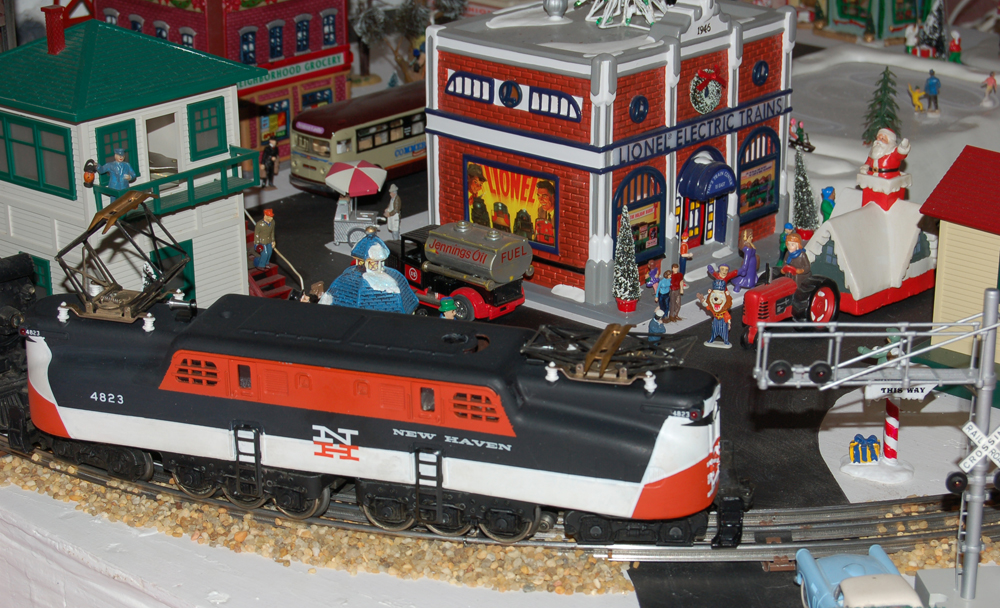 Charlie and Nancy Cuniff's O gauge layout
The two fellows assigned to the Lionel no. 445 automatic switch tower scurry into the chilly air in December to get a good look at the vintage Lionel GG1 that Larry Eyman decorated in New Haven colors. It's creeping through the O gauge layout that Charlie and Nancy Cuniff put down on the floor of their living room every Christmas. They live in Danbury, Conn., which was New Haven country, so it's no wonder that they rank this electric-profile locomotive as their favorite. Department 56 and Lemax buildings, plus a wide assortment of figures, fill their temporary model railroad.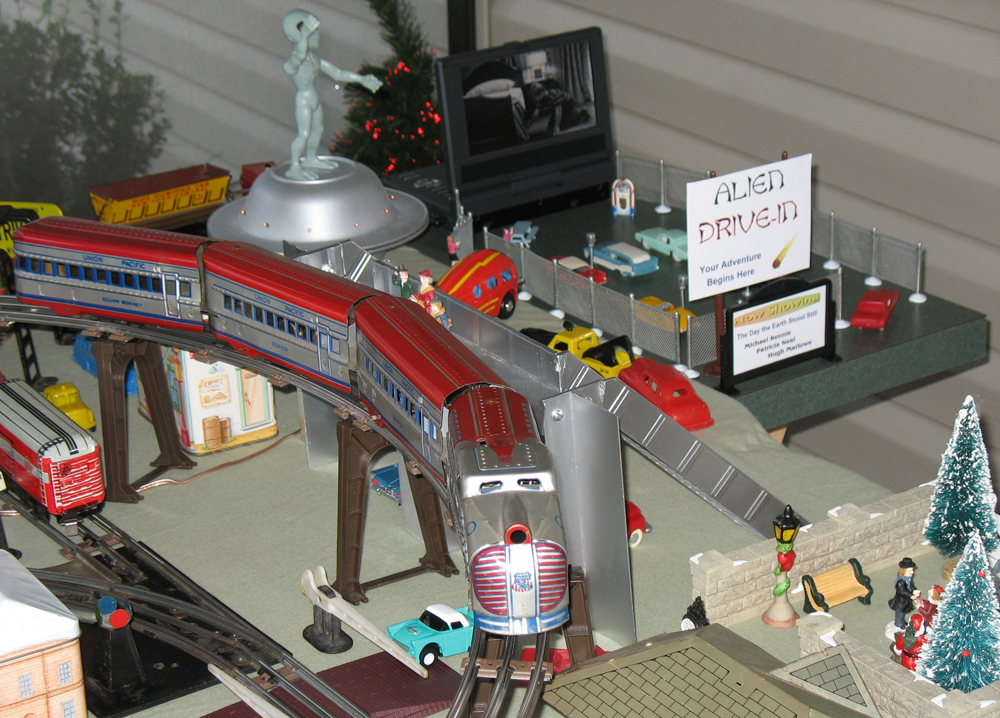 James Kramer's O gauge model railroad
Like one of the tabloids sold next to checkout counters at supermarkets, Classic Toy Trains likes to feature aliens. On James Kramer's O gauge layout, the extraterrestrials reside at a drive-in theater near a lot where Christmas trees are sold in Macclenny, Fla. That's the town where Jim runs his favorite prewar streamliners from the Marx line and watches such classic science fiction motion pictures as the original The Day the Earth Stood Still. Before taking this photograph, he made sure the movie was playing the unforgettable scene in which a boy pulls his Lionel layout out from under his bed.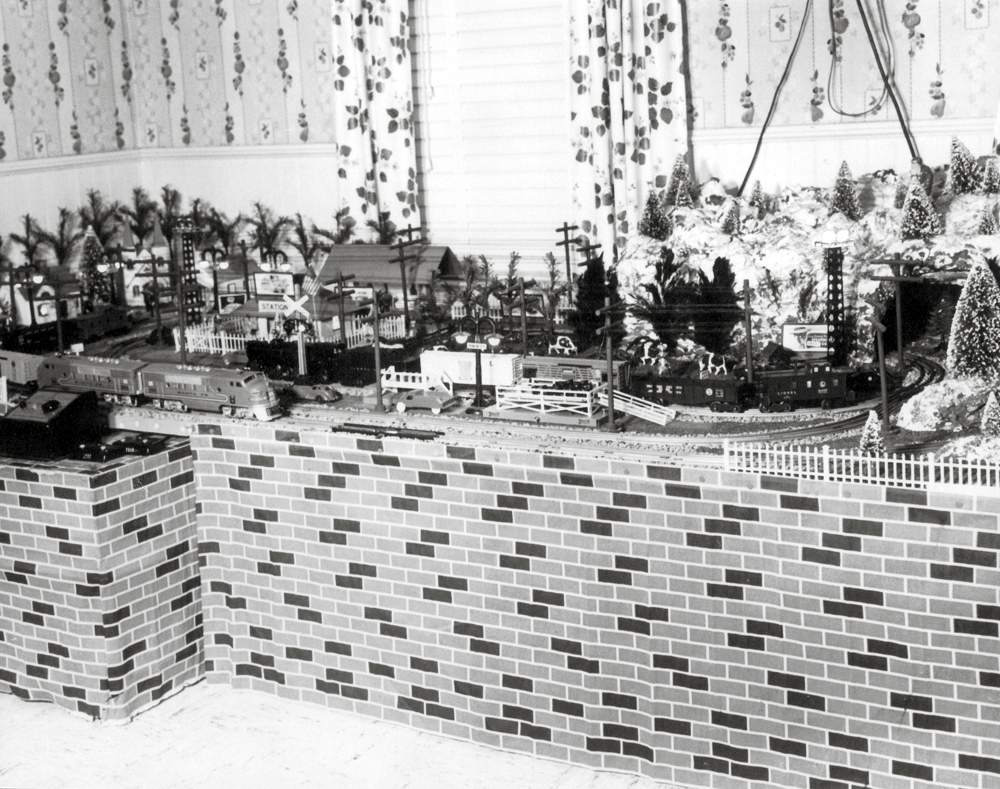 Robert Kaczmarek's O gauge layout
The black-and-white picture submitted by Robert Kaczmarek takes us back 60 years, to the holiday season of 1949. His father, Harry, had finished this 4 x 12-foot O gauge layout for the family's home in Buffalo, N.Y., and filled it with a new Lionel no. 2333 Santa Fe F3 A-A combination, along with the first of the no. 310 billboard sets and the exciting no. 3656 operating cattle car and platform. Six-year-old Bob spent hours running his new diesels, along with the Lionel no. 1437WS steam freight set that he had received two years before. In case you're wondering, Robert still has all of these classic trains and many others he has collected over the past six decades.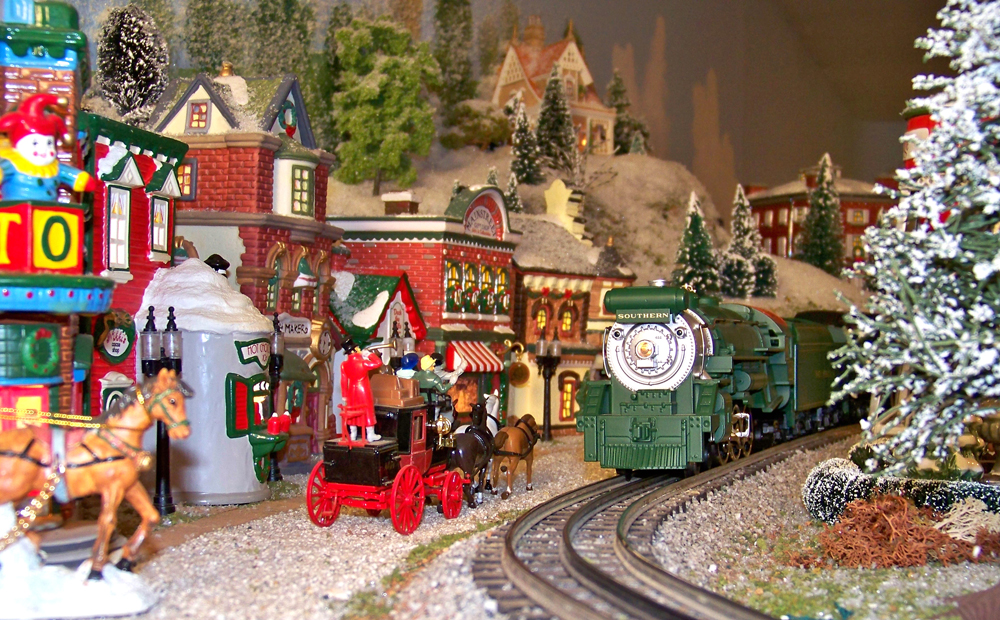 Charles Griffin's O gauge layout
Yes, towns like Blairsville, situated high in the Appalachian Mountains in northern Georgia, do indeed get snow in the winter. Or at least they do on the Misty Mountain Railroad, the nationally acclaimed O gauge layout that has been drawing tourists into the beautiful area that Charles Griffin calls home. He enjoys running models representing railroads from across the country, but especially loves the Southern Railway. Mark Mote was on hand to shoot the famed Southern Crescent passenger train as it led heavyweight cars by a stand of evergreens on a frigid day.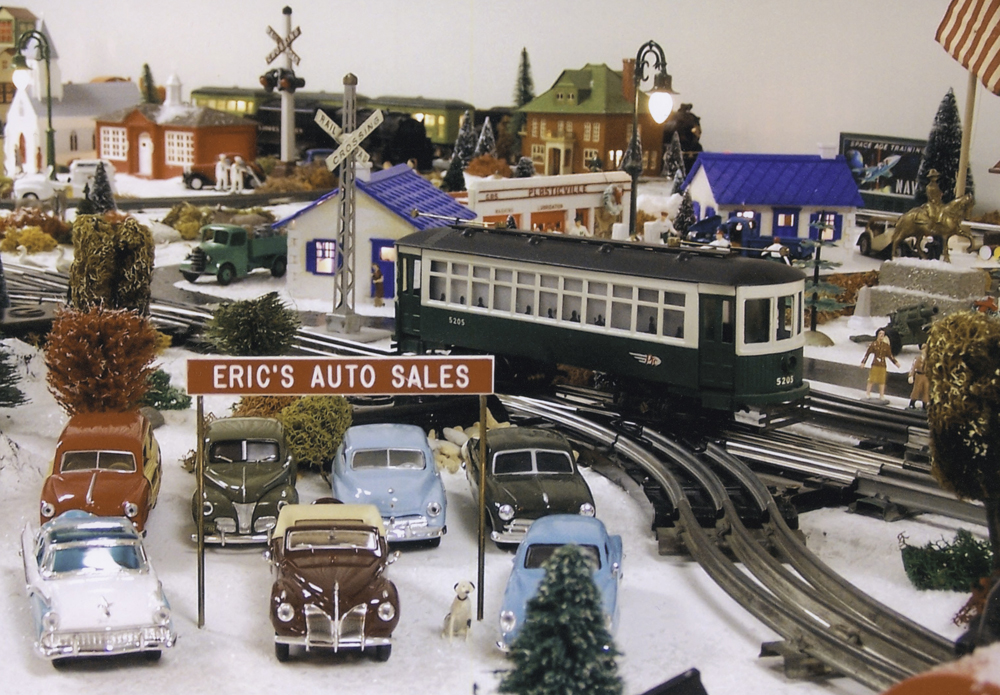 John Cassidy's O gauge layout
When you've been "playing with trains" since 1937, you come to know what you want to see on your model railroad. At least that's what John Cassidy says about himself. He enjoys running O gauge trains from all eras on his layout and creating vignettes using Lionel accessories and Plasticville kits that amuse his family and revive memories in him. John chose to name Eric's Auto Sales, not after an actual business in his hometown of Warwick, Pa., but in honor of his eldest grandson.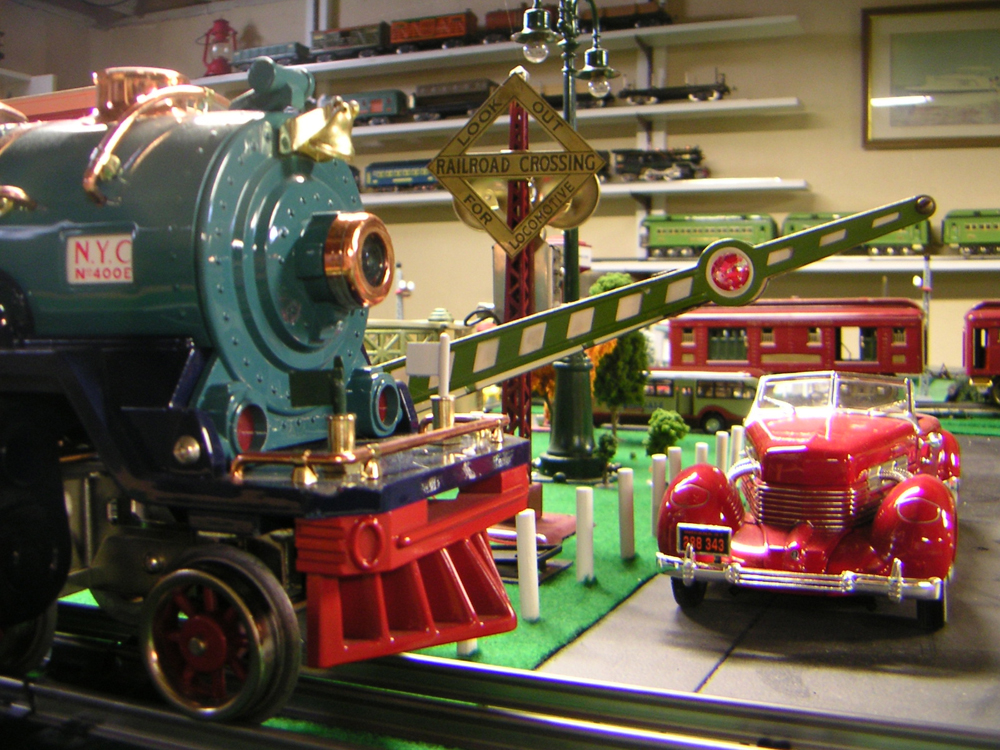 John Cafaro's Standard gauge layout

With so many of the greatest Standard gauge locomotives, cars, and accessories being reissued by Lionel and MTH, this is a perfect time to get your feet wet in that part of the toy train hobby. Of course, John Cafaro remembers when classics like the Blue Comet originally appeared in Lionel's catalogs and rose to the top of every boy's wish list for Santa Claus. These days, you'll find him running a new version of that iconic outfit on his 10 x 16-foot layout in Canton, Mich., while vintage signals and crossing gates keep wayward automobiles off the main line. His son and namesake never misses an opportunity to snap pictures of the action.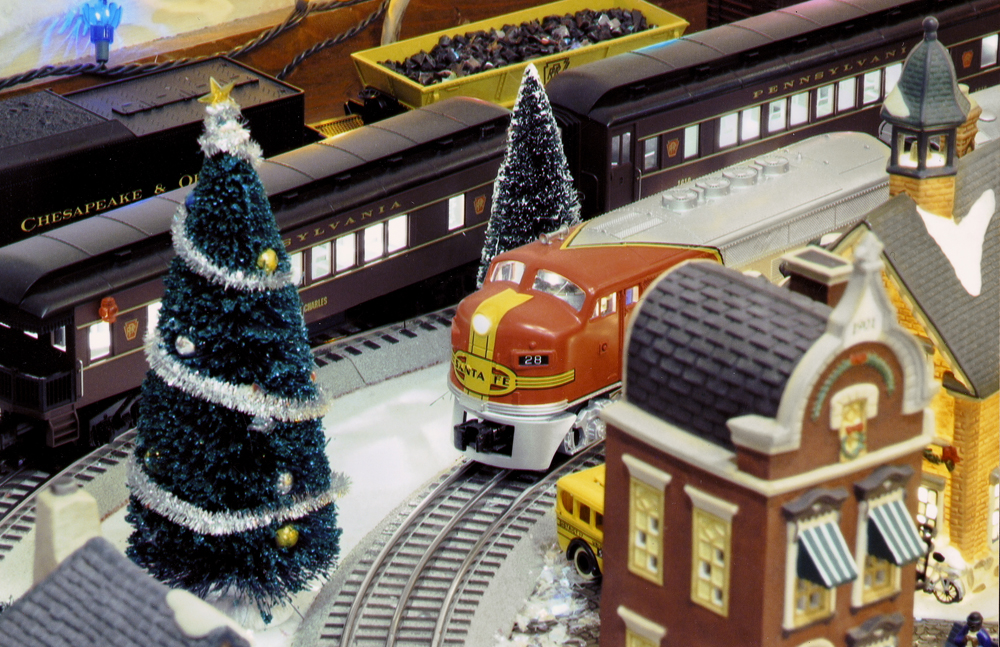 Harry Hale's O gauge layout
The energetic Boy and Girl Scouts in the largest town on Harry Hale's home layout get together every holiday season to decorate the evergreens growing adjacent to the track passing through. We can admire the youngsters' handiwork while checking out the Santa Fe F units and the Pennsylvania Railroad heavyweight passenger train that are visiting on a morning just a week or so before Christmas. Harry built this scene on the O gauge model railroad that he designed while living in Norcross, Ga. Now, though, he's hard at work on a brand-new layout in Baltimore, Md.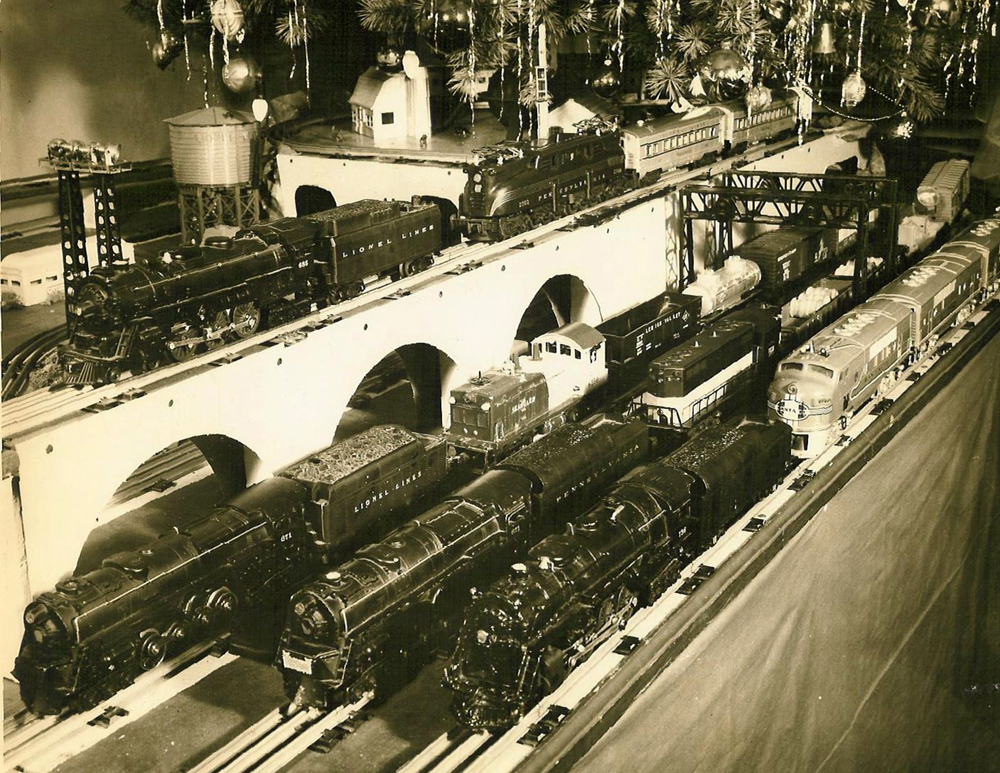 The Pedriani Family's O gauge layout
Neil Bishop doesn't quite remember how he and a former associate started talking about toy trains, but he was just astounded when Chuck Pedriani showed him a few pictures of the O gauge layout that was set up around his family's Christmas tree in the 1950s. This incredible picture, which Chuck's father took sometime in the middle of that decade, reveals a huge fleet of Lionel motive power. Included were steam turbines and small Hudsons, a no. 2332 GG1 electric, diesel switchers and road units, and, of course, an A-B-A combination of no. 2343 Santa Fe F3 diesels. Thanks go to Neil, a resident of Hollywood, Md., for sharing this unforgettable black-and-white shot.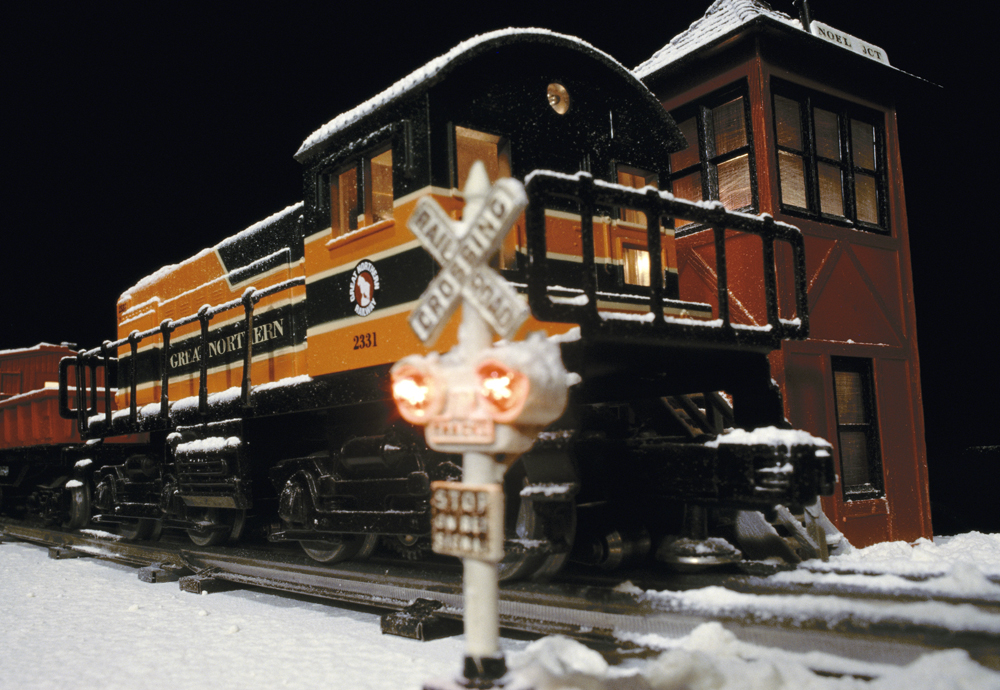 Jim Shaw's O gauge model railroad
Jim Shaw never revealed where the aptly named Noel Junction is located, but judging from the frigid picture that he took it must be in one of the loneliest corners of the Great Plains and not in his hometown of Portland, Ore. One look at the K-Line S2 switcher in Great Northern colors that has stopped at the Lionel switch tower and you begin to shiver with the cold and feel sorry for the crew members stuck working on this night in December. "Things will improve when spring rolls around," Jim told us.