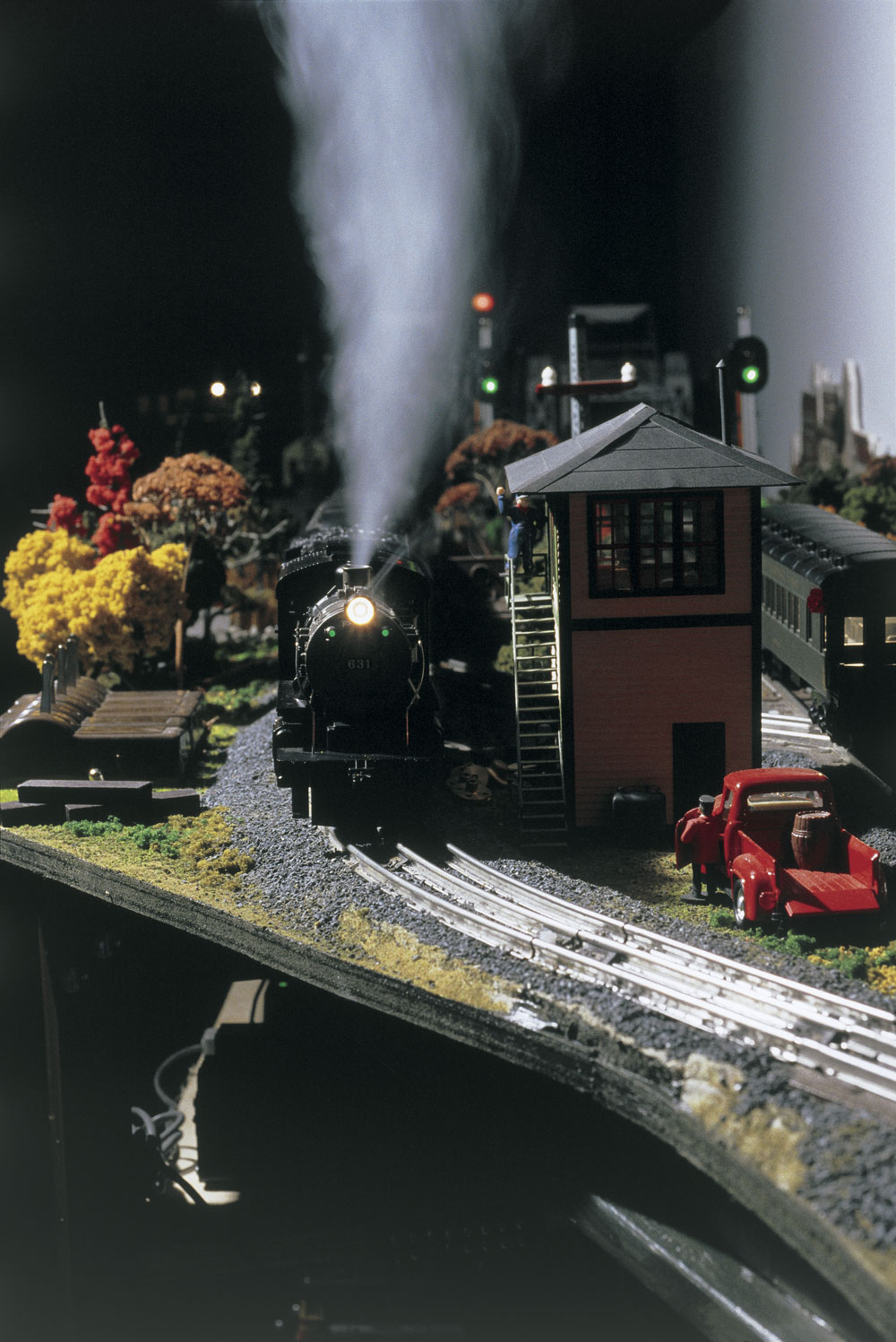 The evolution of miniature locomotives has been long and steady for more than a century. The beginning, of course, involved using electricity to enable them to move without being touched. Next came the introduction of functioning lights to models of steam and electric engines as well as to trolley and motorized units.
Everything that had been achieved by 1920 meant designers were eager to break the next frontier, which was sound. Lionel boldly announced the addition of a toy-like chugger and then a fairly authentic whistle by the middle of the 1930s. The wish by consumers of all ages for more realistic replicas of the locomotives they saw would keep driving innovation by Lionel and the A.C. Gilbert Co.
Smoke finally arrives
What youngsters and adults wanted next seemed obvious to the major manufacturers of toy trains in the U.S. by 1940: Smoke. How could O gauge locomotives be made to produce smoke that looked convincing to observers yet was safe for kids to use at home?
Engineers at both Lionel and A.C. Gilbert raced to come up with answers. They and the men above them knew offering miniature steam engines that dependably and safely produced smoke would give them a tremendous advantage in the marketplace.
In a fascinating coincidence, Gilbert and Lionel tied for first place in the early days of 1946. Both companies declared their new line featured locomotives equipped with smoke mechanisms. Equally fascinating was discovering they had taken different routes to bring out different kinds of units for their engines.
Two different kinds
Gilbert heralded smoke created by a special liquid. Eventually, a third key manufacturer, Louis Marx & Co., would also rely on fluid. Lionel, however, used pellets dropped into the smokestack of its engines to create plumes of smoke.
In our next installment, I'll focus on what Lionel introduced in 1946 and why its engineers and chemists needed to return to their drawing boards and labs until they had a better mechanism and an improved product to release for 1947.