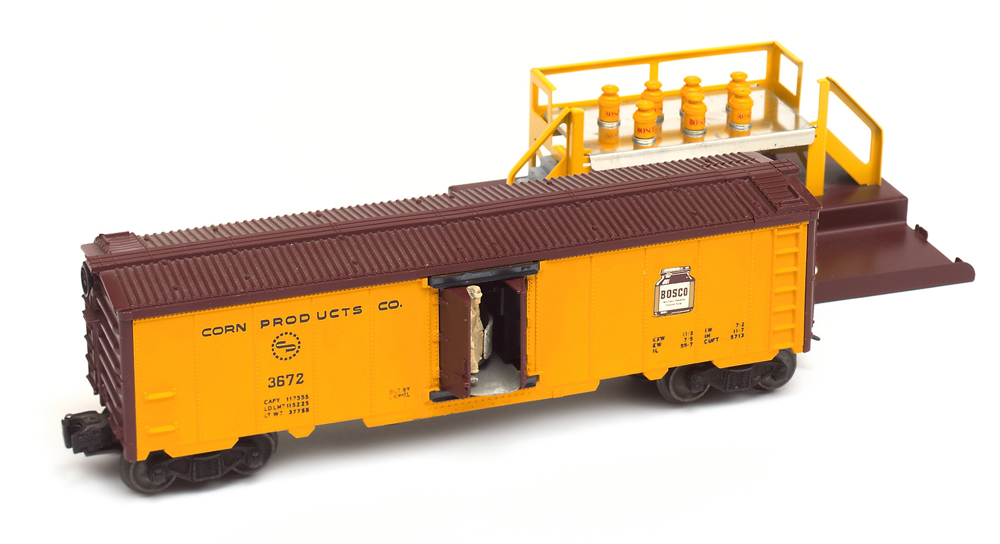 Lionel's automatic refrigerated milk car model No. 3672 is an updated version of the path-breaking car that Lionel enthusiasts of all ages loved when it debuted as the no. 3462 in 1947.
The evolution of the milk car that culminated with the 3672. It is known among collectors of postwar trains as the "Bosco car." What began as a short and simple operating car underwent slight modifications after making its debut in 1947. Thus appeared the nos. 3472 and 3482 models over the next 7 years.
Next, the popular little model, like virtually every other kind of rolling stock in the cataloged lineup, was improved by being given near-scale dimensions as well as additional color. The no. 3662, which arrived in 1955, impressed operators with its upgraded mechanism.
Lionel's automatic refrigerated milk car stayed in the catalog for several years, cataloging the 3662 through 1960 and then bringing it back four years later. That final run lasted from 1964 through 1966.
However, decision makers were too smart to let things slide. They figured out how to modify the familiar milk car while "milking" the model as a source of additional revenue. The key to their success was changing the graphics from the fictitious Lionel to those of an actual business whose representatives were more than willing to pay Lionel to decorate the near-scale car with their name and emblem.
History of the Bosco Car
The Corn Products Co., located in Bayonne, N.J., not far from the Lionel factory, made Bosco Chocolate Syrup. That item, popular with baby boomers who would pour it into glasses of milk to change the flavor, was perfect for promotion on miniature freight cars.
Lionel's venture with Bosco began in 1958. It updated its short "plug-door" boxcar as the no. 6014, molded out of orange, red, or white plastic and lettered for Bosco with the customary Pennsylvania Railroad keystone herald found on the opposite end of each long side.
A year later, a new version of the automatic refrigerated milk car appeared in the cataloged line. The 3672 looked snazzy and was almost certain to revive interest in a model whose long tenure in the freight car roster had weakened its appeal.
The 3672, which remained a cataloged item for only one more year, featured a yellow-painted body with unpainted brown doors, ends, and roof. Brown heat-stamped lettering and Bosco decals served as the milk car's decoration. The unloading platform was painted yellow and brown. Seven non-magnetic containers came with each model, and they were yellow with "Bosco" rubber-stamped in red.
Lionel included a Bosco car in only one outfit in each of the two years it was cataloged. Both were impressive Super O sets. There was the no. 2535WS in 1959; it was followed a year later by the no. 2553WS). The 3672 was offered for separate sale in 1959 and '60.
At some point, Lionel decided to manufacture and market version of the Bosco model whose shells were unpainted yellow plastic. Otherwise, the look was exactly the same. Those unpainted cars turn up more often than do painted ones and have slightly lower values.
The latest edition of Greenberg's Pocket Price Guide to Lionel Trains, 1901-2022 values the 3672 with a painted body shell at $132 in good condition and $348 in excellent. Versions of this eye-catching operating milk car with an unpainted body shell have lower values: $72 and $181, respectively. All these values are based on models coming with an unloading platform and the Bosco containers.
If you have recommendations about Lionel rolling stock or particular variations from the postwar period that upgrade a collection, please contact me at rcarp@classictoytrains.com