While I have been a part of the toy train hobby, I have attended many train shows and met other train lovers. And I've come to realize that there are hundreds of us that don't know enough about the value and rarity of different O and S gauge trains. We may not even be aware that there are reference books.
I was a part of this group. I had not memorized the numbers of vintage locomotives, cars, and accessories, and the existence of Greenberg guides was unknown to me. So I was prone to making mistakes. As you'll read here, my greatest find ended up being an "oops," but I have since learned a great deal. My subscription to Classic Toy Trains was my first real step in getting up to speed.
Let's go back to 1951
Before getting into much detail about my greatest find and how it helped me learn a few important lessons about collecting vintage American Flyer trains, let's go back to 1951 when, at the ripe age of seven, I got my first set.
For my birthday that year, my parents presented me with an S gauge set as well as a 4 x 8-foot layout with track already mounted on a sheet of plywood. Even better, there were many terrific accessories, including the American Flyer Nos. 583 electromagnetic crane, 596 water tower, and 771 operating stockyard.
The American Flyer layout was probably not new, but that didn't matter to me. I thought it was great and must have spent hundreds of hours playing with it. The freight train my parents gave me was led by a No. 312 4-4-2 Atlantic steamer and tender. I ran it endlessly around the loop of two-rail S gauge track. In the meantime, I built bridges out of Erector Set parts and loading stations for freight.
After 9 years of adding to my layout – on every birthday and Christmas and by earning money mowing lawns in my hometown of Albany, Wis., I took it down and packed everything away in boxes for later. By now I was 16, and the 312 was completely worn out. Girls had become my favorite gauge to play with!
Skip to 1972 and a landfill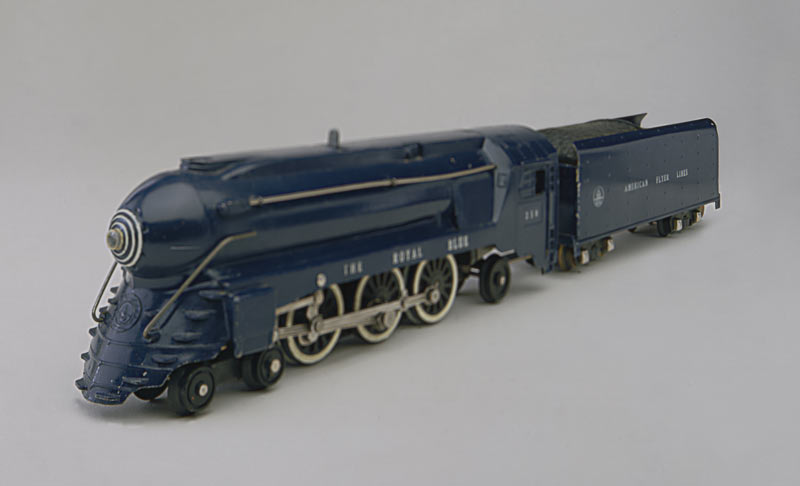 Now let's jump ahead to 1972, when I was a ripe old 28 years old. I had taken a load of stuff to the local landfill and, before leaving, was sweeping out the trailer I used. A pickup truck pulled in behind me, and the owner stepped out.
I noticed that in his hands he held a boxed American Flyer train set. I don't know why, but just as the guy began to throw it I ran out the back of the trailer and went high-stepping through the slime and trash. I caught the box – with the grace of a wide receiver on the Green Bay Packers – before it hit the ground!
"You can have that if you want," the fellow called out. Then he added, "But the locomotive doesn't work." Then, before I knew it, he was driving away.
I inspected my treasure, and memories came flooding back to me. The box contained an American Flyer No. 350 Royal Blue 4-6-2 Pacific and tender, along with three freight cars: nos. 631 Texas & Pacific gondola, 633 Baltimore & Ohio boxcar, and 630 Reading caboose with a light. I later learned this was set no. 48T.
Everything in the set, including the track and the transformer, looked very nice. The only problem was a broken wire inside the locomotive, which explained why the guy throwing it out had said that it didn't work. Otherwise, it was perfect.
Now jump up to 1992
I drove home with this cool American Flyer train set, but wasn't sure what to do with it. I had retrieved my boyhood Flyer trains and accessories from my parents' home a long time before. However, my wife wouldn't put up with my playing with old toy trains, so I had never set up anything. Instead, I tucked away the Royal Blue set with what had been mine and forgot about it for 20 years.
Okay, now we're up to 1992, and I was then pushing 50. I was working as a tool-room machinist in Monroe, Wis., and had about a million dollars' worth of machinery at my disposal – plus lots of spare time. I decided that my spare time could be put to good use if I started restoring my old American Flyer trains.
Even I knew that restoring those vintage trains would hurt their value. I wanted to run them at this point and not look at them or pack them up again.
After redoing several pieces of rolling stock and the operating accessories, I decided to start on my original 312 steam locomotive and tender. Then I realized that I needed some parts to finish restoring my Atlantic and get it running again.
Since the Royal Blue had never been a favorite of mine and had a 4-6-2 wheel arrangement (and no smoke or choo-choo), I decided that it would be a perfect "organ donor" for my 312. I used everything: bearings, axles, wheels, and side rods. Before long, all that remained of the Royal Blue was its bare chassis.
Learning a tough lesson
About the time I was completing the restoration of my 312, my foreman at the tool room walked over. Was I in trouble for using work time and company equipment on my trains? No, but he was sure unhappy about what I had done.
"I thought you were making a mistake," the foreman told me. Then he handed me a copy of Greenberg's Guide to American Flyer S Gauge (which I didn't know about) and pointed out that the 350 was worth more than the 312.
Heck, I didn't know that the foreman was interested in old toy trains. With the guidebook, he tried to get me to see I had made a big mistake with the 350.
My beautiful 312 steamer is sitting on my workbench, and I can almost hear it calling, "Build faster – lay track." In one of the drawers, next to the jars filled with parts, is the blue-painted tender that came with the Royal Blue. It's silent, but seeing it reminds me that I need to do some reading before acting.
So my greatest find is the Royal Blue set that a guy was ready to toss out almost 40 years ago. Too bad that it had to teach me a valuable lesson about what old trains can be worth. But maybe that's why it was such a great find – it taught me the importance of reading and learning in order to enjoy my train even more.